Disclosure: This post may contain affiliate links. I earn a small commission of product sales to keep this website going.
I wouldn't have to write this post if I only had one camera bag. But alas, I'm a camera bag junkie, and it seems like I have one for every occasion!
As such, I'm always moving gear between bags whenever I switch. And it requires more than just transferring the camera – there are all these accessories too!
As you'll see throughout this article, I keep all of these essential camera accessories in different pouches to quickly transfer them and keep everything together. This modular design ensures you don't forget any of these must-have accessories for your camera kit.
The must-have minimum camera bag essentials
These camera bag accessories should always accompany you when backpacking, hiking, or traveling.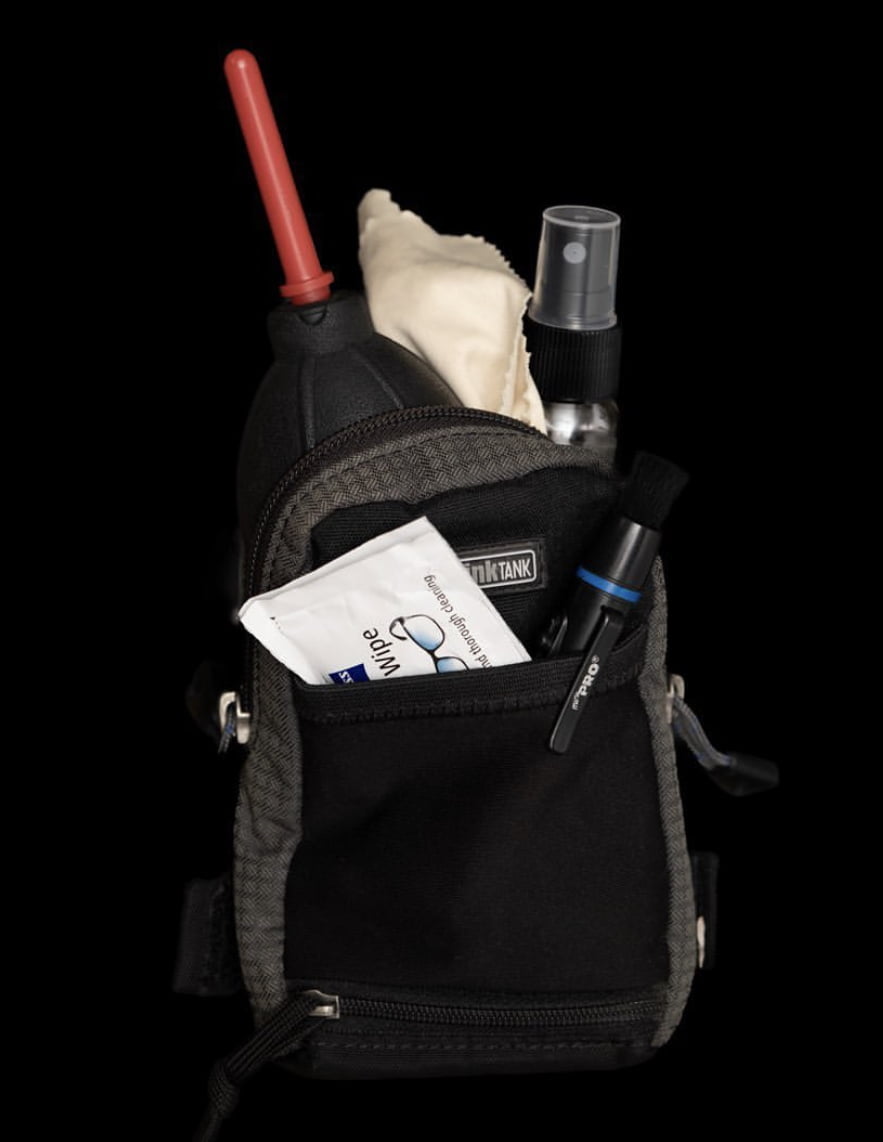 Lens Cleaning
I keep most of these items in a Think Tank Photo Little Stuff It so they're always together, and I can quickly move them from bag to bag. I will never forget any of these this way.
LensPen. For easily cleaning lenses. One side contains a dusting brush; the other holds a proprietary cleaning pad for quickly removing fingerprints. At around $10, buy a few of these essentials. Check out some options here.
Microfiber Cloth. For drying off lenses if they get spray from rain or waterfalls on them. Another alternative for dusting a lens.
Air Blaster. You might get dust on your camera sensor when changing lenses. You don't want to remove this dust with a LensPen or cloth! Instead, blast some air in there, so you don't touch the sensor. Then correctly clean the sensor when you're back home.
Lens Cleaning Wipes. These pre-moistened wipes, while not reusable, are great for quick cleaning and removing fingerprints or smudges from your lenses and LCD screens. A giant box like this will last you a long time.
You can save some money by purchasing a kit including a small Rocket-Air Blower, a LensPen, microfiber cloth, lens cleaning solution, and wipes. Then move it to the smaller, soft, flexible pouch. This lens cleaning kit is under $20.
Additional Camera Bag Essentials
Extra Batteries. This should go without saying, right? Read this article for some more tips on extending your camera battery life. Keep them charged at all times.
Extra SD Cards. Even if you carry a 64GB SD card and say, "I won't shoot through all of this!" that card can still become corrupted and fail. You should always have a backup! They weigh nothing and take up no space!
Smartphone with apps. It's probably with you anyways, and you should be taking advantage of some of the phenomenal photography smartphone apps available today.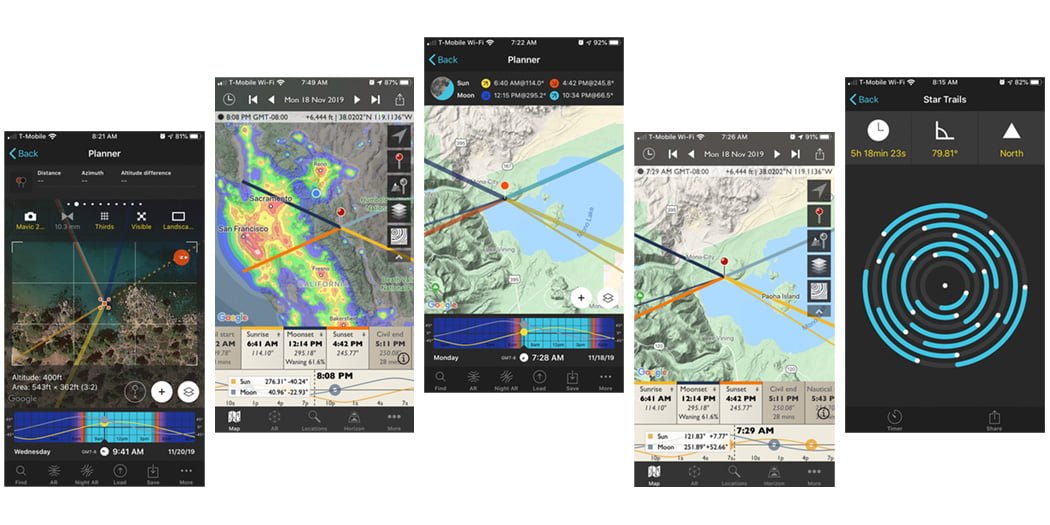 The Nice-to-Haves
WhiBal White Balance Card. Some outdoor lighting situations can be difficult to color balance. This most often happens when the light comes through foliage or reflects off of colored rock. This white balance card is about the size of an index card and is made of sturdy plastic. Put it in the same light as your subject and take a photo for color balancing in post-processing. There are some cheaper alternatives, but I'd recommend the WhiBal card for the most accurate results.
Lens Cleaning Solution. These small pump bottles do take up a small amount of space, but if you can afford it, bring one. Sometimes, the LensPen and lens wipes can't remove everything, and a bottle like this is nice to have. It's included in kits like the one mentioned above.
Small Portable Tripod. This may be essential if you plan on doing long-exposure photography, but at other times you can improvise. I'm a big fan of the MeFoto tripods; you can read more about those in this article.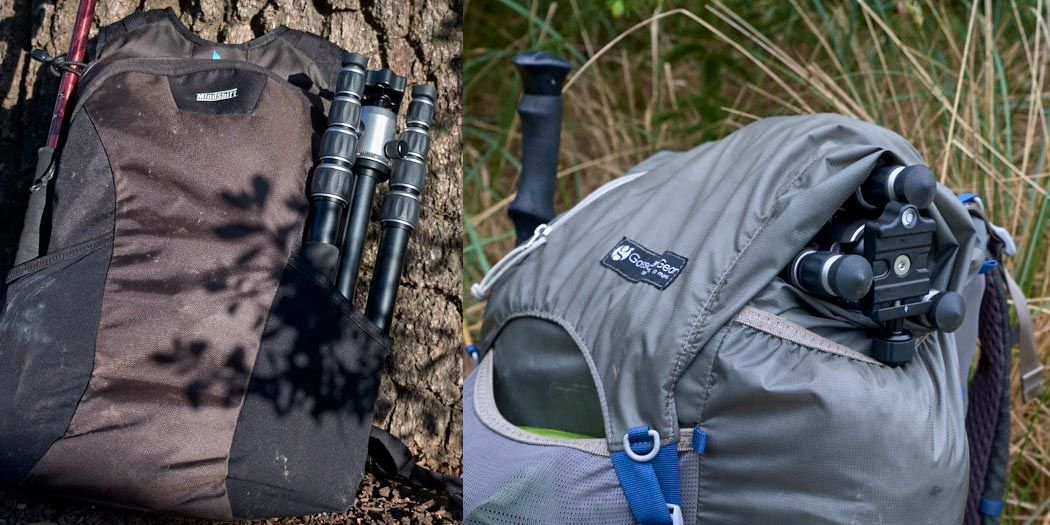 Tablet & external storage. If you have the room to carry these, it's the best way to process photos without a laptop!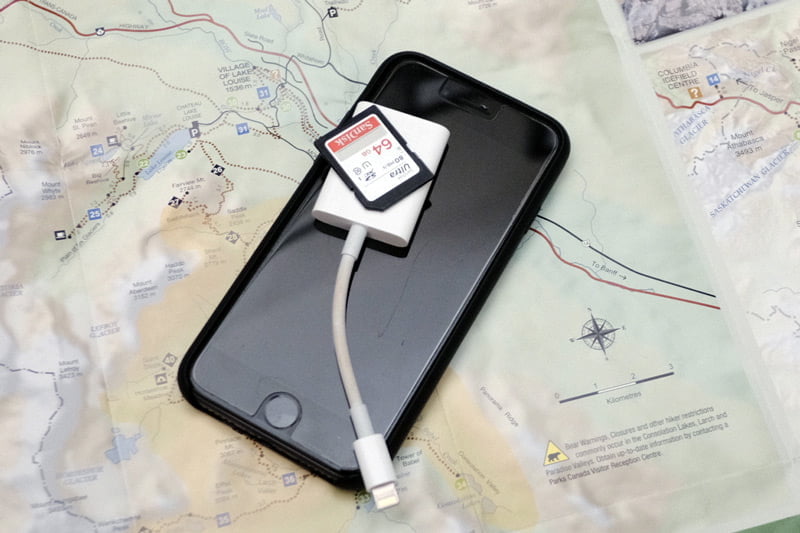 Rite in the Rain Notepad & Pen. The Rite In The Rain is my preferred method of taking notes over using a notes app on a smartphone. Bulletproof and much quicker. Taking notes will make your cataloging and post-processing much better!
Portable Battery Charger. And now that you're using a smartphone to record a GPS track, have backup storage devices, and probably burning through camera batteries, you need a way to keep these juiced up! Anker makes a great line of portable chargers; I've never run out of battery juice on extended trips using the Anker PowerCore 20100 (review here). Don't forget the cables!
Situation Dependent
Polarizing Filters. I usually don't have these on my lenses at all times, but they're wonderful for reducing glare on water & foliage and for making the sky a deeper blue in certain situations. Carry different filters that will fit on each lens you carry, or just carry one that will fit on the largest diameter lens you carry and use step-up rings to adapt it to other lenses. Hoya makes great mid-range circular polarizers – affordable value & a great product. Use something like the MindShift Filter Nest Mini to keep them safe.
Cable Release. There are many great uses for a cable release with intervalometer function. Use it to trigger a long exposure without shaking the camera; set the intervalometer function for snapping multiple selfies in rapid succession; astrophotography almost certainly requires an intervalometer & cable release.
Red Headlamp. For seeing what you're doing in the dark and without losing your night vision! Get a regular headlamp with either a red filter or dedicated red light like this cheap & simple headlamp from Black Diamond.
External Flash. Natural light portraits are great, but there might be times when you'll anticipate taking portraits of people and want an artificial light source.
Get the flash off the camera. You can buy cheap but reliable triggers & flash units from Godox; check out this article for how to assemble a cheap off-camera travel flash kit.
Carry a small light modifier if you have the room. The Rogue FlashBender is very portable; it can be used as a reflector, snoot, gobo, and even modified as a softbox with an additional small kit. Multi-use is the name of the game!
Rain Cover. There are many options for keeping your camera dry, from gallon-size Ziploc bags to the OPTech Rainsleeve to more advanced solutions like the Peak Design Shell. If there's rain in the forecast, or you anticipate being in a dirty, dusty environment, bring something to protect your camera from the elements.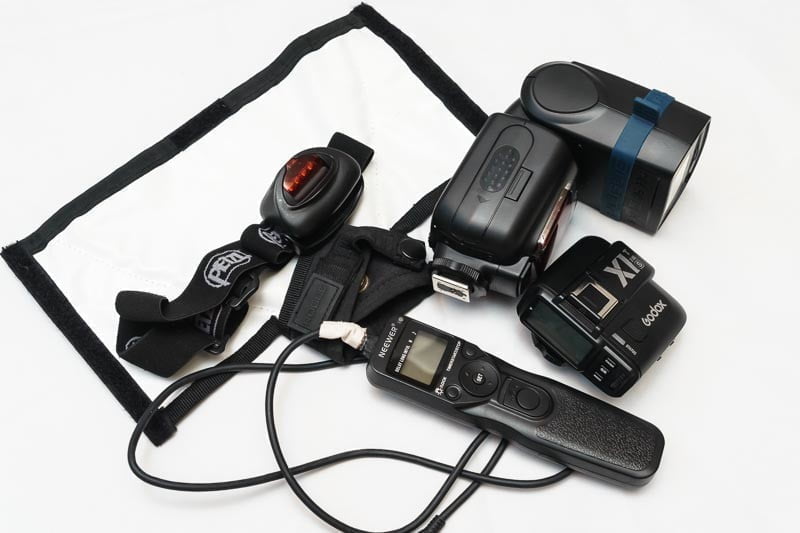 What are your minimum camera bag essentials? Leave a note below!