Disclosure: This post may contain affiliate links. I earn a small commission of product sales to keep this website going.
Portable Chargers for Smartphones, Tablets, and Cameras
Frustrated by trying to find ports to charge all of your devices? Portable power banks are now packing more power with increasingly smaller sizes. My favorite portable charger that I always take with me is the Anker PowerCore 20100.
Anker PowerCore 20100 specifications:
Size: 6.5″ x 2.3″ x 0.9″
Weight: 12.5 oz
Capacity: 20,000mAh
Charge time: 10 hours with 2A charger (cable included)
Output ports: 2 x USB
Output charge: 2.4A per port with appropriate charging cables
Price: reduced from $79.99 to $39.99 at Amazon
All Anker PowerCore portable chargers include what they call "VoltageBoost" and "PowerIQ".
VoltageBoost measures the resistance encountered in older or long cables and adjusts the output accordingly to deliver the maximum charge. PowerIQ works in much the same way but by identifying the device it's connected to and delivering the most efficient output. This is what's known as Fast Charging or Quick Charging, where the bulk of the device's battery is charged within the first 30 minutes.
The battery is very dense and the 20100 does feel quite heavy given the small size, but it's still only 0.75 pounds. Don't need this much power? Follow the links here to explore Anker's line of PowerCore portable chargers ranging from 5,000mAh to 26,800mAh.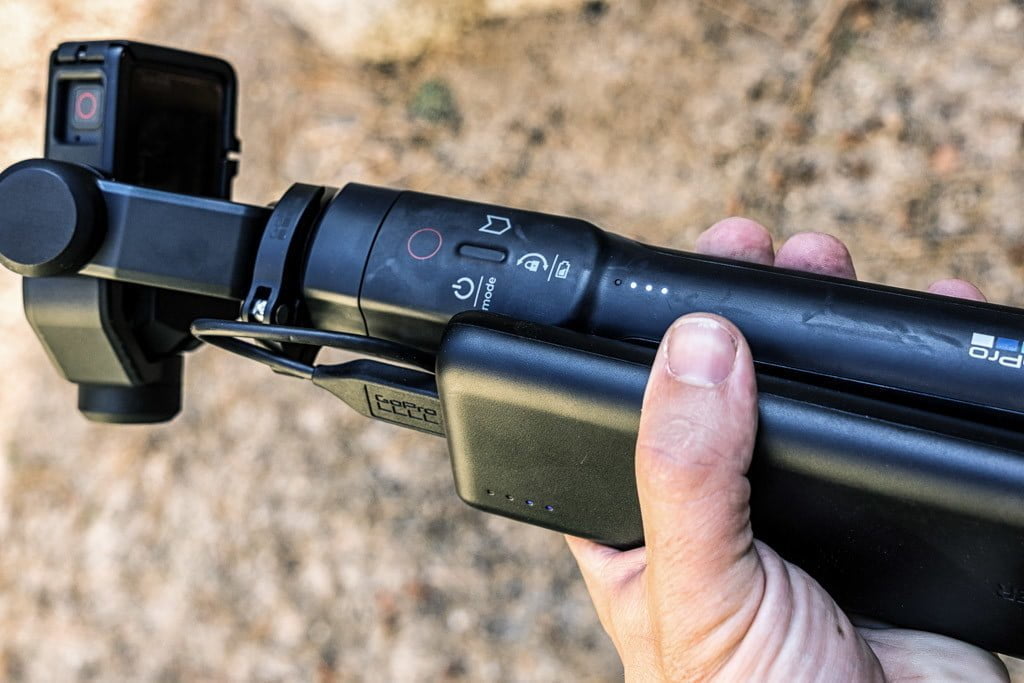 The Anker PowerCore 20100 charging the GoPro Karma Grip & GoPro Hero5 Black. Both easily fit in the palm of the average-sized hand.
What the Anker PowerCore 20100 will charge
These are the devices I travel with. Aside from long backpacking trips I can usually find a place to charge the PowerCore 20100 overnight every few days. Pair this with Anker's 21W Dual USB Solar Charger and you should be in great shape. In between charges the PowerCore gives me plenty of juice for the following devices.
iPad Mini 2, 6470mAh, for camera/drone interface and editing. 3 charges.
iPhone 6, 1810mAh. 11 charges.
Wasabi FW50 batteries for Sony mirrorless cameras, 1300mAh. 15 charges.
GoPro Hero5 Black battery, 1020mAh. 19 charges.
GoPro Karma Grip stabilizer – can't find battery specs but estimated 6000mAh. 3 charges.
Apple Watch 2, 273mAh. A lot.
I've had this Anker PowerCore 20100 for almost two years now. It's never let me down – hot, cold, wet, dry – always charging my gear. I haven't measured its current capacity after that time but I haven't noticed any deficiencies. Probably because I've never had to use all the power available in this portable charger.
What can it charge for you? The PowerCore 20100 has been reduced from $79.99 to $39.99 on Amazon and includes an 18-month warranty.