Disclosure: This post may contain affiliate links. I earn a small commission of product sales to keep this website going.
Driving around Iceland in a camper van
Why get a camper van in Iceland?
Time to go to Iceland! What's the best way to explore the land of fire and ice? Try driving around Iceland in a camper van. They're easy to rent and fun to drive. No set itineraries, freedom to camp (almost) anywhere, and no fighting with dozens of other tourists for a good seat.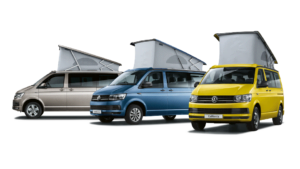 Keep in mind Iceland's tourism boom is very recent. They don't have the infrastructure to support the throngs of tourists coming in.
This is a double-edged sword. It's a beautiful country that everyone should visit once in their life, and it's great for the economy, but at the same time they're having to destroy some of the very places you want to see just to be able to support you. This is a hot topic in Iceland right now.
We got our van from motorhomeiceland.com. The van was new and came with an electric cooler, water jug, gas stove, cutlery, linens, and sleeping bags. We didn't need to bring anything for it – just our clothes and cameras. You can also check out goiceland.com, kukucampers.is, and happycampers.is.
Without further ado, here are some of my notes and tips for driving around Iceland in a camper van.
Getting to and from the Keflavík airport to Reykjavík
Most flights land in Keflavík, which is 45 minutes to an hour from Reykavik, where you'll most likely be starting your journey.
Don't take a taxi. They're 16,000IKR. Yeah that's about $150USD.
Check out the Gray Line Tours instead. For 19 Euro (about $22 right now) you can get bus transport between Keflavík airport and their bus terminal in northern Reykjavík. Make reservations online at the Gray Line website.
The Gray Line terminal is very close to a Straeto bus stop. Straeto is Iceland's bus system with a very robust mobile app. You can purchase tickets, plan trips, and track buses all from the app. Drop a pin at your pickup & destination, then it maps out your walking route to the nearest stop, the bus routes you'll take, transfers, and walking route from the last stop to your destination. The app is free; a one-hour bus pass is around $4. Download the Straeto app: iPhone | Android. The buses are very clean and have free WiFi.
When to go to Iceland
A taxi driver told us that tourist season is year-round now, though it used to be only in the summer. It does taper off in the fall slightly just as the bad weather starts moving in. Fall through spring brings wind, precipitation, and very short days. You will find cheaper prices starting around September and through April. Just don't be disappointed if you're caught in storms. If you want long, bluebird days, go in the summer. You'll pay more and have more congestion at attractions.
Where to camp in Iceland
Other than some parking lots at attractions with "No Camping" signs, you're pretty much free to roam – so long as you stay on roads. Iceland has some very fragile soil and you don't want to just drive off wherever you want.
There are a number of established campsites with facilities. Almost all of them have bathrooms and hot showers; sometimes you'll have to pay for a hot shower and sometimes you're limited by time. Some have WiFi. Others have cafes associated with them. They'll all somewhere around 1,500IKR per person per night, or close to $15USD. The campsites are just large grass lots where everyone parks and sets up. Most of these have a few electrical hookups available.
You can find these campsites on Google Maps, but you're probably better off with an actual map like the National Geographic Adventure map that lists all campsites and attractions.
Driving & roads in Iceland
Not all roads are paved, even major roads like Route 1 (the Ring Road). Gravel insurance is a good idea for that inevitable chip from gravel that gets kicked up from a passing car. Watch out for the ruts, and be careful when weather moves through. Check road.is for current conditions. None of the roads have shoulders either, and this can make driving dangerous in certain conditions. Driving around Iceland is safe so long as you're doing it right.
Gas stations are unlike anything in the United States. A pump could be located anywhere along a road, not even next to a "gas station". These pumps only take cards that have PINs. If you don't know your credit card PIN or it doesn't have one, you'll need to use a debit card or purchase a prepaid fuel card at a proper gas station. N1 brand stations seem to be the most numerous, but you never know when you'll be able to fill up so top off whenever you can.
You know how diesel pumps in the United States are green and gasoline is black? It's opposite in Iceland. Be very careful when filling up your vehicle. If you're driving a diesel, don't go grabbing the green pump out of habit!
It's law to have your headlights on at all times when driving around Iceland. One reason for this is the multiple one-lane bridges. Over three-quarters of Iceland's bridges are one lane. Some of them are very long. Some of them have blind entrances.
Screen grab from road.is. Shows weather & traffic count. Note that as I wrote this post it shows Route 1 between Jökulsárlón and Höfn closed. THAT is a big deal and I'm glad this didn't happen as we were there!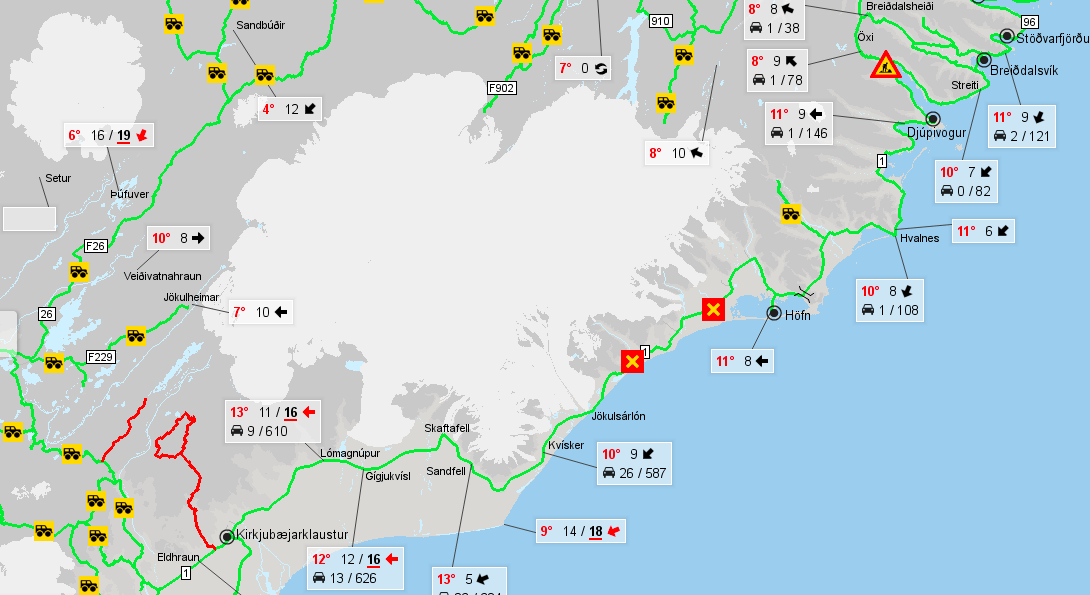 Weather in Iceland
It can change in an instant! Be prepared to encounter any kind of weather during your trip. Use veder.is to check the weather.
Don't try to force yourself through bad conditions just to make it to a sight you want to see. The locals don't drive when winds are blowing a gale and you shouldn't be driving a high-profile van either.
Money
I didn't need cash anywhere. Paying by credit card is common practice. Campgrounds, coffee, hot dogs, bathrooms, parking, attractions – all accept plastic. If you have a card that doesn't charge a foreign transaction fee, use it everywhere.
No tipping. You know how elsewhere in Europe if something is 9.60 Euro you'd just leave a 10 and that's the norm? Don't even do that here. Credit card slips don't even have a line for tipping. I've heard that Icelanders view it as an insult but I didn't verify that. You may see some "tip jars" at a few coffee shops but they're all stuffed with American bills because that's what Americans do.
Food in Iceland
It's expensive! $30 for a burger, $5 for a tiny cup of coffee, $10 for a bottle of beer, but the $4 hot dogs are amazing. Bring food and cook in the van – just about all of them come with a one-burner gas stove and cookware. You can buy the basics like bread, jam, and snacks at Bonus stores near civilization.
Language
A few acquaintances said Icelandic is a dying language. Maybe it is, maybe it isn't, but that definitely wasn't my tourist experience. All I heard the locals speak to each other was Icelandic, and even the youth were all speaking Icelandic. And not everyone spoke good English either, though most of them could be considered "fluent" in English.
I bought the Pimsleur Icelandic lessons 1-5 for $22, learned it in five days, and felt comfortable with the very basics. It is, however, a difficult language to learn. That's why I liked the Pimsleur lessons – I could just hear the words over and over and repeat them. This was a great travel primer for me and I'm glad I did it. There is no Rosetta Stone for Icelandic.
Photography in Iceland
My favorite topic!
So let's first start with the "Instagram effect". You know, you see a photo of a beautiful waterfall at sunset with not another soul around. Then a handful of people want to go recreate that photo for themselves. Each of them spawn another handful of people, and so on.
The reality is that you'll be fighting for photo spots, especially in the high season. You'll have to be very patient to get a photo without tourists in the frame, or use some mad Photoshop skills. And the weather likely won't cooperate for you to get the exact photo you're expecting to get. Go seek out compositions you haven't seen on social media a thousand times.
It's actually quite entertaining to watch people line up and take the same exact pose over and over, poses made popular in certain locations on Instagram.
Just as long as we all have realistic expectations, okay?
Use the bad weather to your advantage! Done right, you can photograph during these storms and really convey the mood. There are some spots in Iceland I'd rather photograph with low, stormy clouds than with blue sky. Like the glacier lagoon as one example.
Make sure your camper van has the appropriate electrical outlets for charging your gadgets. I assumed that ours would have AC; it only had 12VDC outlets and I didn't bring an inverter. A small, inexpensive inverter like this one will be your friend. I also had this four-port USB charging hub for use when I did have AC power and it was a lifesaver. I'd use the fast-charge port for my Anker PowerCore and the rest for the phone, iPad, and camera/Gnarbox/GoPro. Keeping the Anker charged at least let me go a few days with USB power.
Everyone has a drone. I broke down and bought one after warming up to them a few months ago, but now I'm back to hating them after this trip (though I'll still fly mine of course!). Why? There were swarms of Mavic Pros everywhere. In national monuments, no-drone zones, over crowds of people, up against waterfalls…yeah, it really ruined the experience to look at a beautiful waterfall and see (and hear) three drones in front of it. I didn't want to contribute to this so I left mine in the bag. Besides, winds were upwards of 30 knots most of the time.
There are definitely a few essential pieces of camera gear for photography in Iceland. A good travel tripod should go without saying. The Anker PowerCore I mentioned earlier will keep you charged while you're away from power. A few microfiber lens cleaning cloths will stay busy wiping all the mist and rain off of your lenses. And when it's really rainy you'll want a cover for your camera like the Peak Design Shell or even something cheap like the OPTech RainSleeve.
I hope that helps you plan your trip to Iceland! Any of you veterans have anything to add? Any questions? Leave a comment below!