Disclosure: This post may contain affiliate links. I earn a small commission of product sales to keep this website going.
I was in the market for a new tripod after beating my previous tripod to death over the years. What's the big deal about these MeFOTO travel tripods everyone is talking about?
MeFOTO is a brand I would never have considered just by name alone – pros are supposed to buy from Really Right Stuff and Induro, right? I didn't even want to take MeFOTO seriously because they make pink and orange tripods – pink and orange! But they've been getting so much hype I had to see what they were all about.
Their tripod reviews aren't too bad either, all in the high 4s out of 5, and "Top-Rated" by Adorama.
As far as compact travel tripods go, MeFOTO has three "series."
Inside each of these series are other versions, a mix of aluminum, carbon fiber, and a lighter "Air" version. I'm not going to go through the Air versions in further detail because I think they're best as just a tabletop tripod.
---
Standard features of all MeFOTO tripods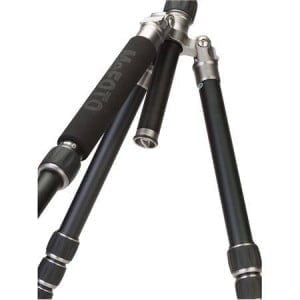 All MeFOTO tripods include a smooth ballhead with Arca-Swiss mount and bubble level.
The center column comes with a hook for hanging ballast for extra stability.
One of the features I look for most is rapid deployment and takedown, and twist-lock legs have become my favorite feature on certain tripods. They're just quicker to operate and more guarded against obstructions.
Every MeFOTO tripod comes with a five-year warranty and carrying case.
A variety of colors are available for your own personalizations.
---
MeFOTO tripod quick comparisons
Here are the quick at-a-glance differences for the different MeFOTO tripod series:
BackPacker
RoadTrip
GlobeTrotter
Tripod weight
2.6 pounds
3.6 pounds (aluminum)
3.1 pounds (carbon)
4.6 pounds (aluminum)
3.7 pounds (carbon)
Max camera weight
8.8 pounds
17.6 pounds
26.4 pounds
Folded length
12.2"
12.2"
16.5"
Max height
51.2"
61.6"
64.2"
Min height
17.3"
15.4"
16.1"
Leg sections
5
5
5
Advanced ballhead controls
No
Yes
Yes
Spiked feat
No
Yes
Yes
Monopod conversion
No
Yes
Yes
A closer look at the MeFOTO BackPacker Tripod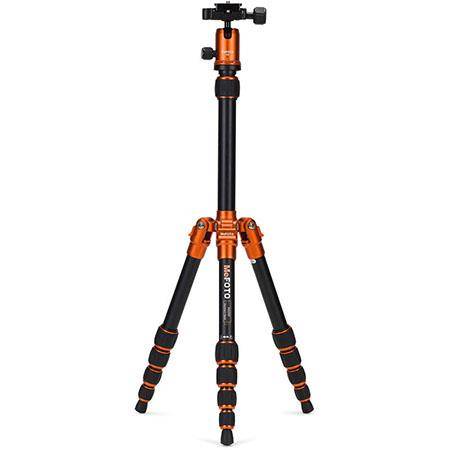 The BackPacker tripod is only available in aluminum and "Air" versions.
This is the minimalist tripod. There's one knob on the ballhead, but it will still give you full 360-degree panning and tilting up to 90 degrees. Unlike most tripods, this one does not have any foam on the legs – so wear gloves when it's cold because that aluminum will freeze fast.
The maximum height may be a problem for some. Just over four feet doesn't give you a great height for eye-level portrait shots. But hopefully, this isn't an issue for you if you're only doing landscapes while backpacking.
The MeFOTO BackPacker tripod is incredibly light at 2.6 pounds including the ballhead. A maximum load of 8.8 pounds may not seem like a lot, but this is actually more than sufficient for backpackers who carry mirrorless camera systems or micro four-thirds. Hang your backpack from the center column for extra stability.
The BackPacker cannot be converted to a monopod, unlike the others. It also does not have any spikes for the feet, useful in icy situations.
Check current BackPacker prices on Amazon or B&H Photo Video.
A closer look at the MeFOTO RoadTrip Tripod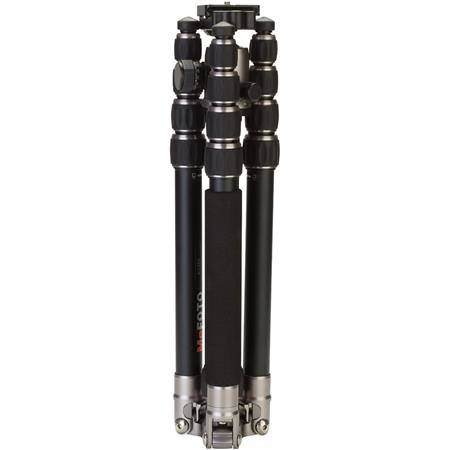 The MeFOTO RoadTrip builds on the BackPacker tripod by adding a panning lock and drag control to the ballhead for extra control.
It also has spikes for the feet and a foam grip on one of the legs for carrying in cold weather.
And it converts to a monopod!
The RoadTrip's maximum load is double that of the BackPacker, at an added tripod weight of one pound for the aluminum version.
The maximum height of the RoadTrip tripod is also just over five feet, getting closer to a good height for eye-level portrait photography.
Check current RoadTrip prices on Amazon or B&H Photo Video.
A closer look at the MeFOTO GlobeTrotter Tripod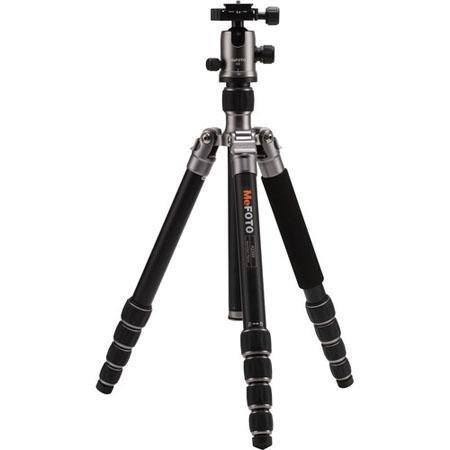 The MeFOTO GlobeTrotter tripod is a great solution for the long-term traveler who needs a strong, sturdy tripod for any situation.
The maximum camera weight is 26 pounds, more than any traveler would need. The aluminum version weighs 4.6 pounds, so 2 pounds more than the BackPacker, and the carbon fiber version weighs 3.7 pounds.
Like the RoadTrip, the GlobeTrotter includes a foam grip, spiked feet, panning & drag control, and can be converted into a monopod.
It's just…beefier. The maximum height is a few inches more than the RoadTrip, at 64″.
The GlobeTrotter Air is probably the only "Air" version of any of MeFOTO's tripods that I would seriously consider.
Check current GlobeTrotter prices on Amazon or B&H Photo Video.
---
Choosing the right MeFOTO travel tripod
What's your jam? Having a tripod you can take on lightweight travel adventures? One you're just going to transport in your car? A multi-purpose travel tripod you can use for both?
The MeFOTO BackPacker tripod is great for minimalist backpacking trips. But for daily use, it's not tall enough and not sturdy enough.
The RoadTrip tripod is a good compromise between functionality and size & weight. The spiked feet & foam handle will help in winter and the monopod conversion is a nice feature that you may actually use.
The GlobeTrotter is robust – it's a full pound heavier than the RoadTrip but really only gives you an extra four inches of height. It also gives you an extra nine pounds of load, but if you only shoot mirrorless the extra weight is unnecessary.
---
Reviewing the MeFOTO RoadTrip Tripod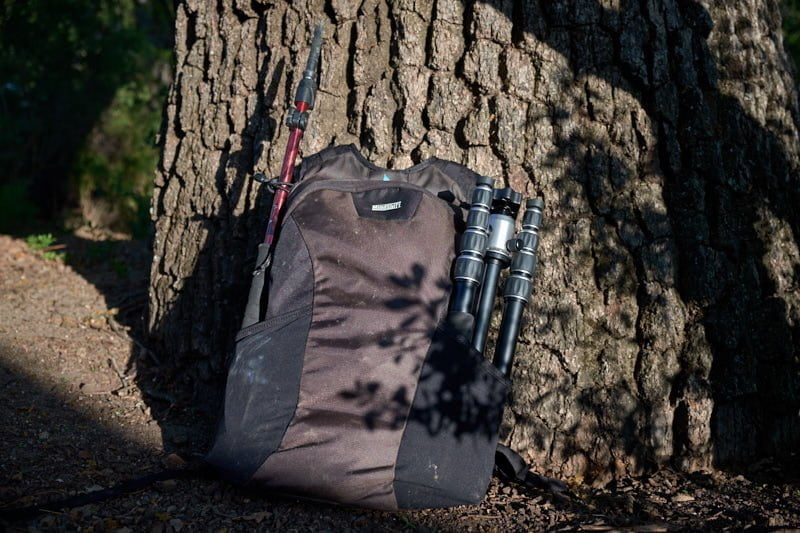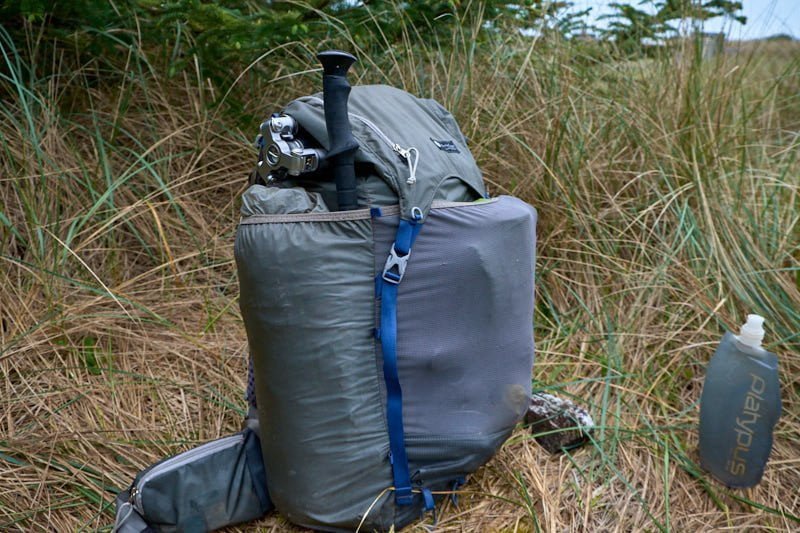 I ended up with the aluminum RoadTrip and took it on an eight-day road trip (whoa, coincidence with the name?!) and it performed very well. How does it compare to my older Sirui T-005KX?
It is wider than the Sirui T-005KX when folded up, and just barely fits in the pockets I'd put that tripod in.
It's also significantly heavier than the Sirui – almost two pounds more – and being a bit of an ultralight backpacker I'm very sensitive to weight and definitely noticed it.
The RoadTrip ballhead is much more fluid and secure – it never sagged like the Sirui sometimes did with a large lens.
My back appreciated that this tripod finally reached the camera up to eye level.
The monopod conversion is fast & easy, great for dim forest scenes when the full tripod setup is too much but you still need a little extra stability. Unscrew one leg, unscrew the center column, screw those together…done.
Overall the RoadTrip tripod just felt more solid in-hand than the Sirui T-005KX. And I would hope so since it's heavier and a little more expensive.
The weight…for longer thru-hiking backpacking trips where I really have to count my ounces I think I'd go with the MeFOTO BackPacker.
But for travel and shorter backpacking & camping trips, the MeFOTO RoadTrip appears to be the perfect travel tripod. I'll keep you updated if anything changes!