Disclosure: This post may contain affiliate links. I earn a small commission of product sales to keep this website going.
When the X-T30 II was announced in the fall of 2021 I was skeptical. Sure, the original X-T30 is one of Fujifilm's best-selling cameras, but why do an X-T30 II? Why not just release an X-T40 to go with the X-T4, as the X-T30 is to the X-T3? Or issue a firmware update to the X-T30? What exactly is the difference between the X-T30 and X-T30 II?
That's what I want to discuss here, as there's more to it than your conventional "camera review websites" mention. While they're focused (no pun intended) mostly on the specs, I also want to bring up practical use. There are even some "reviews" out there by non-Fujifilm photographers who used the camera for a day and said that, other than the LCD screen, they're otherwise identical. But are they really?
Please note this is not a review of the X-T30 II. That will come later after I have a good amount of time with the camera. Don't we all love camera reviews that people write after only one day with the thing 🙂
And you can also find an X-T30 II setup guide here.
Who is the X-T30 (I or II) for?
Anyone and everyone!
Primary camera
This is a great little travel camera for enthusiast photographers, a trusty sidekick for professional photographers, and a top choice for a backup camera for photographers who primarily use other X-series cameras. I never owned one, but I'd occasionally borrow my sister's X-T30 to go out cruising with it. I don't think it's fair when reviewers refer to it as an "entry-level camera" as that can, unfortunately, discourage professionals who would also find it the perfect tool. But it certainly is a wonderful camera for "entry" photographers.
Sales reports show the X-T30 performing well every year since its early 2019 release. It has the right appeal to so many photographers and is fun to use. Maybe an update a la the X-T30 II just made sense.

Secondary camera
I have, for the past few years, used an X-E3 as a secondary camera to both my X-T2 and later my X-T4. It's a great secondary body as it's so small and light. I could keep it in an underwater housing or attach a specialized lens to it while using my primary body as I normally do. But approaching five years old now, the X-E3 just can't keep up anymore. Some of this has to do with my quest to pre-process my images with the Image Quality settings. The X-E3 and X-T4 do not have comparable capabilities in this regard, and in many other regards.
The X-T30 II, now with the same "1s and 0s" as the X-T4, for the most part, would make a great secondary body for photographers using the current line of X-series cameras.
I almost replaced my X-E3 with an X-E4, but after using one for a few weeks and finding I couldn't use it at all, I'd much rather have an X-T30 II than an X-E4 as my secondary.
And so that's what I'm doing. The X-T30 II will be serving as my secondary body on an assignment to Peru next month (it'll spend most of its time underwater). I'll miss the X-E3 for this job but am excited to see what the increased performance of the X-T30 II can do. I'll let you know how it goes 🙂
Exterior differences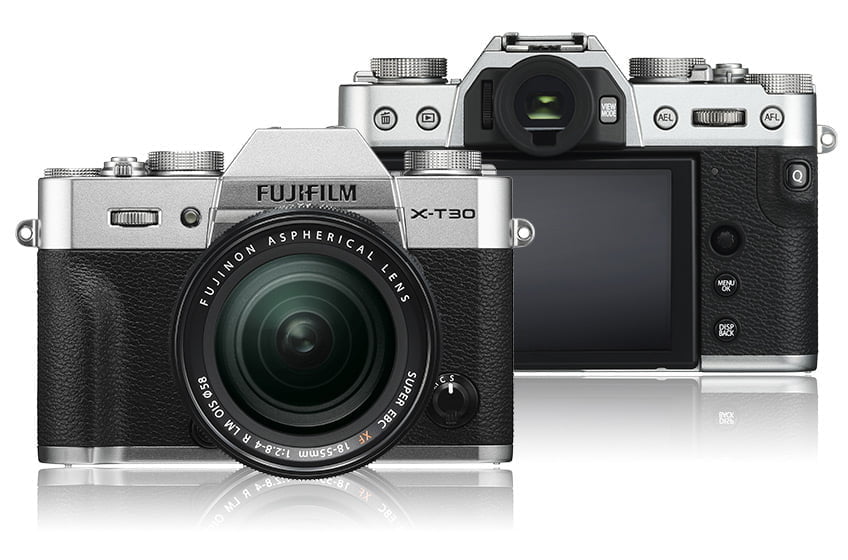 There's really not a whole lot of differences between the X-T30 and X-T30 II on the outside. They share the same body and control layout. I'm sure this factored into the decision to release an X-T30 II rather than an X-T40. Using the same body would cut production costs. The nameplate on the front doesn't even have the "II" in the name.
The only real physical difference you'll find on the X-T30 II is the touch LCD screen. The new screen resolution is 1.62 million dots versus 1.04 million dots on the X-T30. A difference you'd only notice if viewing the two screens side-by-side.
The dimensions and weight are the same. Well, actually, the X-T30 II is a whole 2 ounces less than the X-T30, but I challenge you to notice that difference.
And like the original X-T30, the X-T30 II also lacks weather sealing.
Performance differences
Most of the differences between the X-T30 and X-T30 II are on the inside.
The X-T30 II has the same sensor and processor as the original X-T30 (and also the X-T3 & X-T4, I should note). But some different circuit boards and a boost in memory over the X-T30 give it the extra functionality and performance of the flagship X-T4.
Autofocus
The autofocus on the X-T30 wasn't bad by any means for most photographers. It received some firmware updates for better performance but still wasn't optimal for fast-action or low-light photography.
While the X-T30 was "rated" to focus in low light down to -3EV, the X-T30 II, under ideal conditions, can focus down to -7EV. That's a whole four stops darker, and considering this is exponential and not linear, that's actually quite a significant difference between the X-T30 and X-T30 II.
It's roughly the same as being able to focus under the light of a full moon high in the sky, to now only needing a quarter moon as your light. As the saying goes, "actual mileage may vary."
The Face & Eye Detection algorithm has also been improved, so hopefully, it won't snag a face that's not really there and vice versa.
Image Quality Settings
The X-T30 II now includes all of the Image Quality settings found in the newest X-series cameras, giving you even further latitude to get the perfect in-camera JPEGs.
These additions include:
New film simulations CLASSIC NEG and ETERNA BLEACH BYPASS, as well as adding AUTO for the AUTO Mode Lever setting
CLARITY setting
Improved COLOR CHROME EFFECT
COLOR CHROME FX BLUE
Addition of White Priority and Ambience Priority to the AUTO WHITE BALANCE modes
Combined TONE CURVE of the new camera models rather than a separate highlight & shadow tone setting
HDR drive mode
More tint control of your Monochrome film simulations with MONOCHROMATIC COLOR

The CLARITY setting, for one, is hungry for memory and wouldn't work as strictly a firmware update to the X-T30.
There are others but this just gives you an idea of how the Image Quality settings now match what are found in the X-T4 and X-E4.
For new photographers or photographers how just want to keep the Mode Lever in AUTO, the Scene Recognition algorithms have been updated to better detect the proper "scene" and apply the ideal camera settings for that scene.
Video differences
The video capabilities of the X-T30 II vs the X-T30 have been improved somewhat.
While you're still limited to 30 frames per second at 4K, the super-slow-mo movie recording (Full HD High Speed Rec) now adds framerates of 200 & 240fps on top of the 100 & 120fps settings.
The X-T30 was also limited to 20 minutes of recording time at a resolution of 4K. The X-T30 II gives you an extra ten minutes, up to 30 minutes of recording continuous 4K.
The interface has also been improved, where the X-T30 II now has dedicated Movie Setting menus like the X-T4 rather than just lumping all of the movie settings into one menu. They're now split up into movie image quality, movie setting, movie focus setting, movie audio setting, etc.
If you're not a professional filmmaker but still want basic movie control, you also have a separate Movie Setting menu for recording movies while in Still Photography mode (versus Movie Mode).
Menu system
One thing that a lot of "review" sites really overlook is this right here (and the Image Quality settings) but that's just because they review like a hundred cameras a day and don't understand Fujifilm cameras in-depth.
One of the major differences is how the Custom Settings system operates. The Custom Settings in the X-T30 II departs from every other Fujifilm camera and now operates like the X-E4, the latest camera release before the X-T30 II.
What does this mean?
You save your Image Quality settings to create your "film recipe" as you have in the past with every other Fujifilm camera. But now you also save your Focus Settings like Focus Area and Face & Eye Detection, Shooting Settings like Sports Finder Mode and Shutter Type, Flash Settings, and more. This now makes it behave more like every other digital camera where you save camera operational settings, not just image styling.
Some Fujifilm photographers were very receptive to this change with the X-E4. Some absolutely hated the change since it now means that they must save other camera settings that they often change independent of the styling they want. It'll be up to you to determine if this new change is a blessing or a curse to how you photograph.

I've written another article about how to deal with Fujifilm's new Custom Setting structure here.
Additional settings
Other settings added in the X-T30 II vs the X-T30 include:
AF Range Limiter
Interval Timer Exposure Smoothing
View Mode Setting is now in the Menus; the View Mode Button can be customized
Q Menu Background (Transparent or Black)
Focus Lever Setting now has separate Push & Tilt programming
Choose performance enhancements for BOOST mode
Should you get it?
As I discuss in my Building your Fujifilm Kit series, one of your primary camera purchase decisions should be based on getting the minimum kit necessary to get the job done.
If you're new to the Fujifilm system and eyeing the X-T30, I would certainly recommend going for the X-T30 II if you have the budget over getting the discontinued X-T30.
If you are considering an upgrade from the original X-T30, really take a hard look at what the mark II version offers that the original doesn't. Do you need those new features to get the job done? There's no sense in upgrading cameras every year or two if the one you have does the job. So…do you need:
A higher-resolution LCD screen?
Better autofocus performance (really need it rather than want it – is the X-T30 good enough already for what you do?)
Updated Image Quality settings including the newer Film Simulations, Color Chrome FX Blue, and Clarity?
Higher 4K movie framerates (do you really use that?)
I think a lot of current X-T30 owners are scoffing at the X-T30 II, unwilling to shell out $900 for an update. Maybe wait til the X-T40?
As a backup or secondary camera body to complement your current kit, the X-T30 II might be just the camera for you, especially if your primary camera is also of the newest generation, like the X-T4 or X-Pro3.
You can check out the current kits available for the X-T30 II at B&H Photo.
What are your thoughts on the X-T30 and X-T30 II update?
Is it the slap in the face that some Fujifilm photographers have said it is? Or should we, as digital photographers, learn to stop expecting new camera bodies every two years, as we've been conditioned by every manufacturer? And accept Fujifilm's update to a popular camera that just wasn't possible with new firmware.
The Fujifilm X-T30 II Camera Tutorial Course now available here.