Disclosure: This post may contain affiliate links. I earn a small commission of product sales to keep this website going.
It's been a long, weird few years with regards to travel, right?! I'm totally stoked to be going on my first post-pandemic international photography assignment. Next week I'm traveling to coastal Peru for a photodocumentary assignment from Photographers Without Borders. I'll be documenting drowning prevention efforts in an area hit hard by this tragedy. My last assignment was in early 2019 with a lengthy, unbearable pause since then.
I've never been a fan of "here's what's in my bag" photography packing lists, mostly because they go through what's in there and rattle off some specs but never explain why they're in their bag. And that's what I'm going to do here – explain the photography equipment I'm taking on an international documentary trip and why I'm taking these things.
If you prefer the video version, you'll find it at the bottom of the article.
The Camera Gear List
Many of you know that I'm invested in the Fujifilm system. This philosophy will work well for you regardless of which system you're using.
Cameras
I pride myself in traveling light, but on an assignment like this, I always carry three cameras with me. A primary body, a secondary/backup body, and an incognito camera. For me, this includes a Fujifilm X-T4, X-T30 II, and X100V.
The primary camera is going to be your workhorse. The one that you know the best. The one that has never let you down. You're going to capture most of your images with it, so it better be capable of that.
Your secondary/backup body is a smaller sibling of your primary. This camera will need to be able to pick up the load if, God forbid, something happened to your primary body. But that's not going to happen, right? Still, this camera will do more. It will have a different lens on it, like a super-wide when you have a telephoto zoom on your primary. Just so you don't lose time swapping out lenses. On this upcoming trip, my secondary camera will be in an underwater housing most days since I'll be in the water quite a bit.
The incognito camera is for capturing those moments when you're out and about without your main kit. You're going to dinner and leave the heavy bag in your accommodations. A small camera, even like a point-and-shoot, will give you a little more flexibility in capturing special photos that phones can't do (at least not yet). My X100V, for example, is often mistaken for a cheap, old film camera, deterring theft. It's small and almost fits in my pocket. It also helps me capture photos of people who might otherwise be intimidated by a larger, DSLR-style camera with a huge lens.
And it should go without saying that every interchangeable lens camera you bring should all be capable of using the same lenses.
Lenses
Like most other gear junkies, I have a lot of lenses. Though, I suppose not near as much as other photographers I've met!
Anyways, you may be tempted to bring lenses simply because "you like them." But it's important to consider your uses when traveling light. "You like them" doesn't mean that they're the right tool for the job.
And on jobs like this – even if you poo-poo on zooms – there's no substitute for a good zoom lens.
Part of "documentary photography" is getting all the angles, all the "storytelling" photos. The wide photos, the closeups, the portraits, and so on. You could do this all with a prime lens, but "game time" is not the time to do that.
If you're in a small room with a 35mm prime lens, and you need to photograph two people who are standing on opposite sides of the room, you're not going to stop them and ask them to stand closer so you can fit both of them in your frame. Not in this type of photography. My 16-55mm f/2.8 (equiv. field of view of 24-84mm) is on my primary body 95% of the time in this type of photography. It gives me the flexibility I need to capture all the photos I need.
In addition to that, I also carry a 50-140mm f/2.8 (76-213mm equiv) with a 1.4x teleconverter to get extra reach when I need it, like for this upcoming trip when I'm capturing surfing lessons. Or getting closeup portraits without getting too close. I'll have this lens on my secondary body when applicable while the other zoom is on my primary for maximum versatility.
Those two lenses cover my needs. But yes, I do also carry two primes with me. One is a wide-angle 12mm f/2 prime, mostly for working in small spaces as I often do on trips like this, and is on my secondary body in those situations. The other is a 16mm f/1.4, my absolute favorite lens for environmental portraits due to the character of the light it captures. So beautiful.
So, sure, carry your favorite primes. The ones that will be gainfully employed on your trip. If you bring it, you better use it!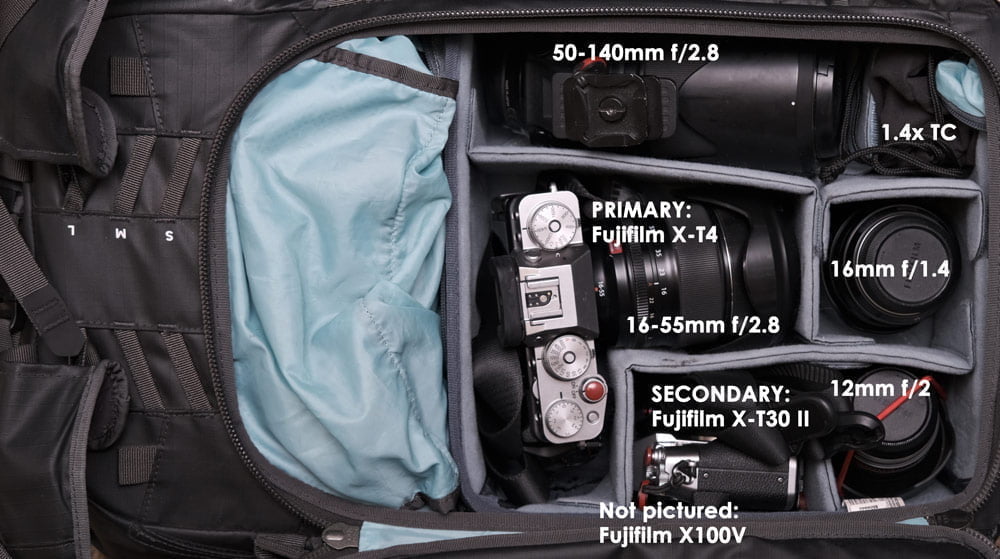 Specialty Gear
As mentioned earlier, a good portion of this trip will be in the pool and on the beach. For capturing these photos, I'm carrying an Outex underwater housing with dome port. This housing, in addition to offering basic protection, is also a great soft case for working in shallow water. And it doesn't take up the space that a rigid case does, used only for deeper dives.
What kind of specialty camera gear will you need for your trip? Will you need protection for torrential rains, fine sand, and so on?
Photo Accessories
Lighting
Being always on the go and meeting with strangers for the occasional interview means you won't have time/space/opportunity for setting up multiple light stands and modifiers and whatnot. Being able to work quickly in natural light is your friend, but not always practical.
The people you're photographing – most of whom you've never met – have things to do and can't wait around while you set up lighting. Besides, I hate carrying all this crap that I might only use a few times.
A small flash unit is still very valuable to have, like a small speedlight. Keep it on your camera and point it at a white wall or a ceiling for some bounce light, to "create a window" where there isn't.
If a light-colored wall or ceiling isn't available to bounce some light, a portable reflector can add just enough fill and is small enough to fit in a shoulder bag. Something like the Rogue reversible white/soft silver 32″ reflector is perfect for a job like this.
Sometimes you might want to carry a small portable softbox, like the Joe McNally Ezybox, but you again have to ask yourself if you're really going to use it. You're going to have to carry a remote trigger, set up the softbox, flash, and trigger, and have someone (or something) hold it off-axis close to your subject. Will a basic reflector or bounce flash not be able to do that? It'll be situation-dependent, but you need to ask the question.
And then you might need to balance different light sources. A small pouch of gels and a band for securing them to the speedlight take up no room in the bag and will give you natural-looking results.
This article contains some more information about assembling a small, lightweight, affordable flash kit.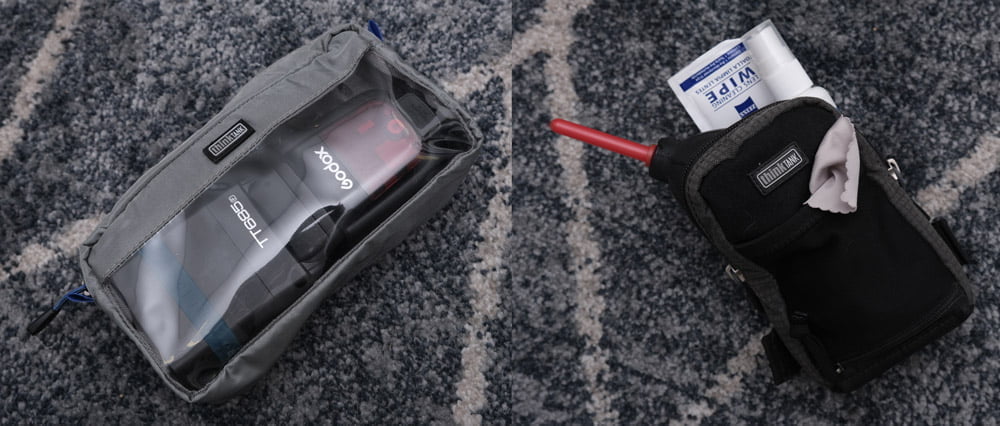 Miscellaneous
And now for all the miscellaneous stuff:
An Instax printer and film cartridges. I love traveling with an Instax printer. Read why here.
A lens cleaning kit with a brush, lens cleaning wipes, cloth, and cleaning fluid.
Extra camera batteries, charging cables, and power adapters (if necessary).
A portable battery pack for charging cameras & phones on the go.
Productivity
The work never ends on a trip like this.
After a day of shooting, it's back to the accommodations to go over notes and make some edits for the day. I take notes on a Rite In The Rain indestructible notepad throughout the day, then expand on those notes at night while it's still fresh in my brain. And then I'll start backups and edits.
Photo Backup & Storage
Back up your photos often! It's a good idea to follow the 3-2-1 rule, especially when traveling.
You should have three copies of your photos.
Those photos should be on two different types of devices (i.e. on the cloud and an SD card or laptop)
One of those sets of copies should be off-site (like the cloud)
I've always loved the GNARBOX 2.0 for this workflow since it does so much more than just backing up your files. But the company "went dark" last year and hasn't been heard from since. The device still works but there's no more support, so I'll be in the market for an alternative very soon. But in the meantime I'm going to continue using this as my primary photo backup device.

I will also be taking a laptop (which I normally don't do, but need it to manage my business this time and can't from my iPad), and along with that, a SanDisk Extreme 1TB portable SSD as yet another backup location. Losing files on a personal trip sucks, but is unacceptable on an assignment.
These backup locations (original SD cards, GNARBOX, laptop, SanDisk Extreme), are all in different bags/locations when I travel. And I backup "selects" at the end of the day to the cloud when Internet service allows.
Photo Editing & Processing
Sometimes I edit & process on my iPad. What's the difference between "editing" and "processing"? You can find that answer here.
But anyways, an iPad with Lightroom works well for small jobs. On jobs where I'm capturing hundreds of photos every single day, a laptop with Photo Mechanic and Capture One is much more efficient. I'll have a short turnaround with post-production when I get home, so I'll need every day I can to get ahead of it.
How Do I Carry All of This?
Nearly all of this kit fits in my Shimoda Action X30, which in turn fits in nearly all airplane overhead bins. I don't check my camera gear. This rugged bag doesn't look as "camera bag" as other camera bags and is extremely rugged and comfortable to carry.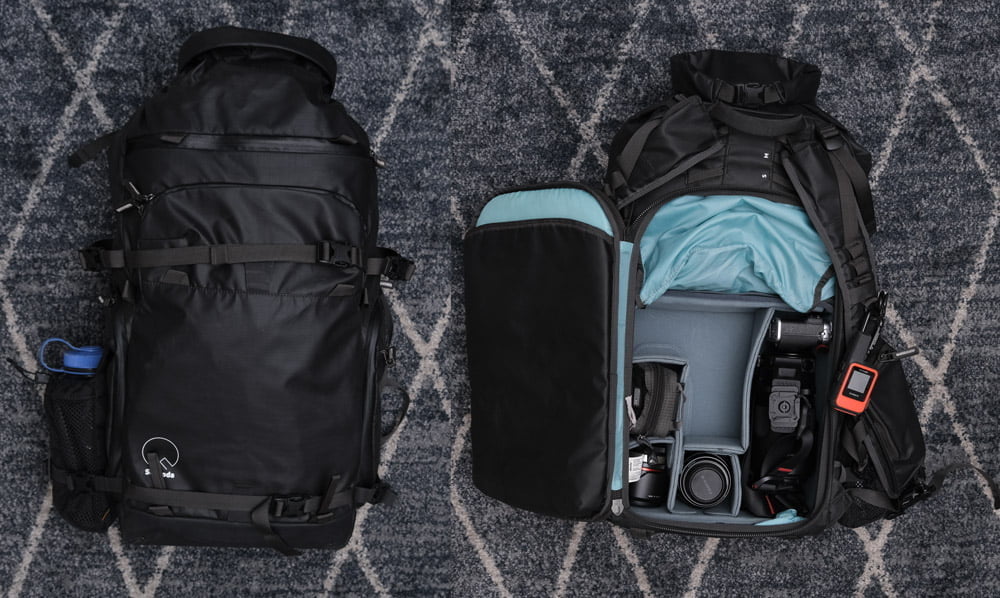 My airplane "personal item" is a Think Tank Retrospective canvas bag. Also very rugged, comfortable to carry, and doesn't look like a camera bag. While traveling, this has my X100V in it and an extra pair of underwear, deodorant, and toothbrush in case I get stuck somewhere.
Once I get in-country, I can rearrange things between my main carry bag (the Shimoda) and my daily carry (the Retrospective).
My "essential camera bag accessories," being modular in design, are easy to transfer from bag to bag.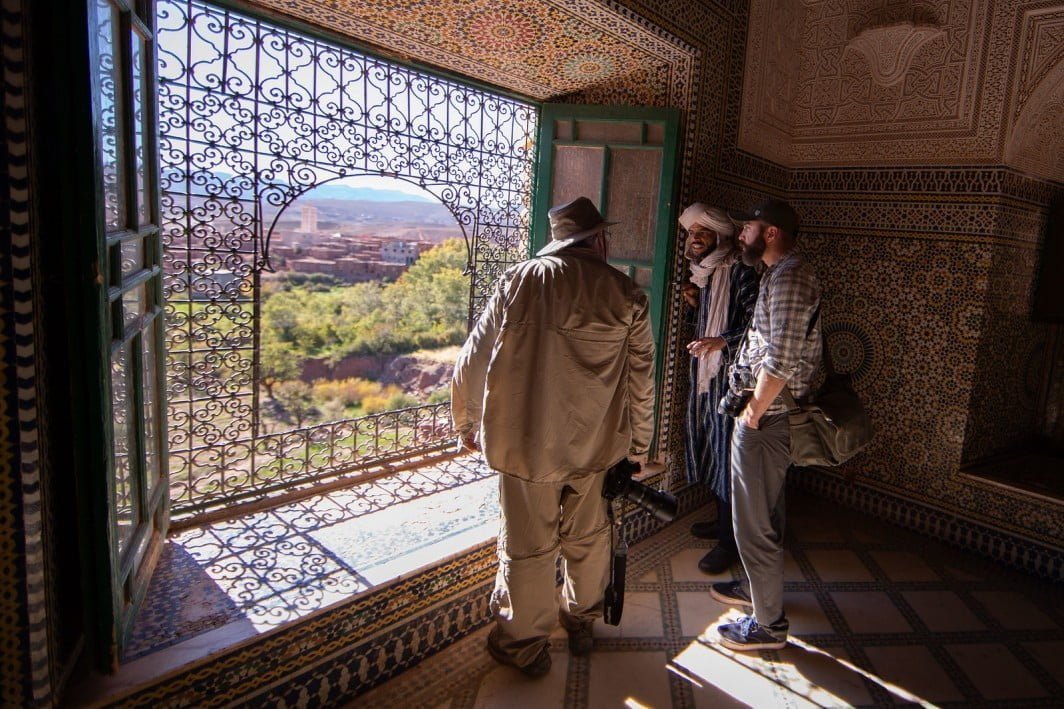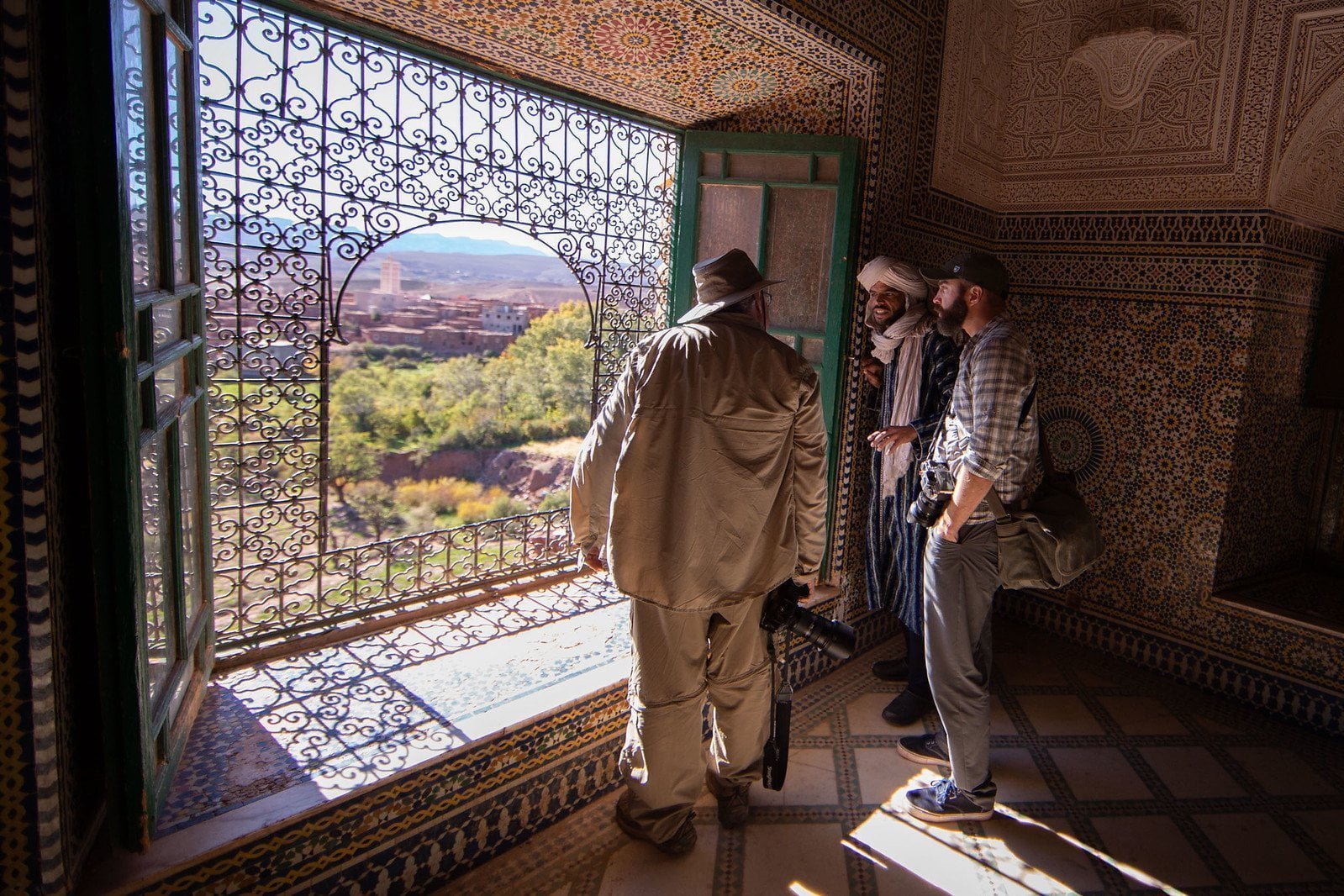 My duffel bag with all my clothes also has my small MeFoto Backpacker tripod and Outex underwater housing.
Final Thoughts
This does, of course, vary from trip to trip.
But I hope this gives you some things to think about as you plan for your next serious photo trip!