Disclosure: This post may contain affiliate links. I earn a small commission of product sales to keep this website going.
Fanboy alert!
At least, that's what I know the "uninitiated" will say. But you all know my blog isn't just about being a fan of something. It's about what helps us express our creativity how we want.
And for a small cultish group, that's the Fujifilm X system.
I am not associated with Fujifilm; they're not paying me to write this and never sent me free stuff. I'm just a happy customer who has started to enjoy photography again since using their cameras, and I want to share this with you if you're in the same spot.
Creativity is a Different Process for Everyone
Some folks love post-processing. They prefer to be creative on the computer. And that's totally cool. I respect that.

But it's not for everyone. Some people just want good JPGs out of the camera. You should have no shame in not wanting to process RAW files.
Processing files is time-consuming. It requires proficiency in a whole new discipline of post-processing, which is way more extensive and complex than photography itself. And not everyone wants that. Not everyone has the time for that. Not everyone has the patience.
Learn how to get the perfect Fujifilm in-camera JPEGs here.
Unfortunately, most digital cameras offer minimal options for styling your JPGs in the camera. You can alter the saturation, contrast, and sharpness in most cameras, and that's it. The JPGs all have the same "style," more or less.
This is why, no matter which corner of the Internet you run to, just about everyone says you must be photographing in the RAW file format. Because in-camera styling is so limited, you must do it on the computer unless you want "vanilla"-looking photos as far as toning & color are concerned. There are a few other reasons, but if you do it right in-camera, it shouldn't matter.
But Fujifilm cameras are a different beast. Here are a few reasons why this camera system is perfect for folks who want to be creative and have photos that say something but don't want to spend time processing photos on a computer.
Ease of Use
One of the things I've said in the past is that handling a Fujifilm camera helps me feel like I'm handling a camera. Other brands – especially Sony – made me feel like I was handling a computer.
Does this matter? I certainly think that it does if you're trying to focus on creativity. Working the controls is part of the process; if those aren't intuitive to you, they'll only get in the way.
Update June 27th, 2022: It seems Fujifilm is abandoning these fine points listed below, in favor of operating like other camera brands. Read more here.
Ergonomics
Often cited as one of the main reasons people love these cameras, the ergonomics make Fujifilm cameras so easy to use.
They look and feel like "traditional" film cameras and the controls are very similar. A ring on the lens to control your aperture, a dial up top to control your shutter speed, and another for your ISO.
Many of their higher-end camera bodies don't even have a mode dial like you'll find on other cameras. But it's perfectly intuitive to go into the different exposure modes using the aperture and shutter controls.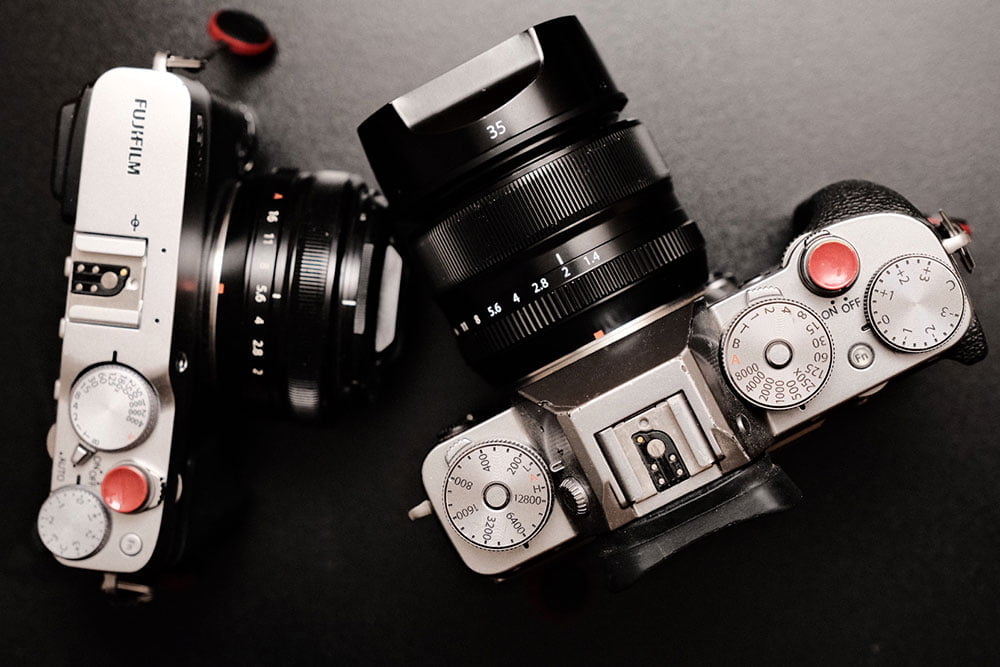 Simple Menus
Oh my God, don't even get me started on Sony… my experience with Nikon menus from teaching photography lessons is also a nightmare.
Fujifilm cameras weren't always perfect either, but their menu system is certainly easier to use than other cameras I've had experience with.
One less thing to get in the way of photography. It doesn't feel like a computer.
In-Camera Presets
This is the meat of it: why Fujifilm cameras are the perfect tools for photographers who don't want to process RAW files. Their "film simulations" and further styling options.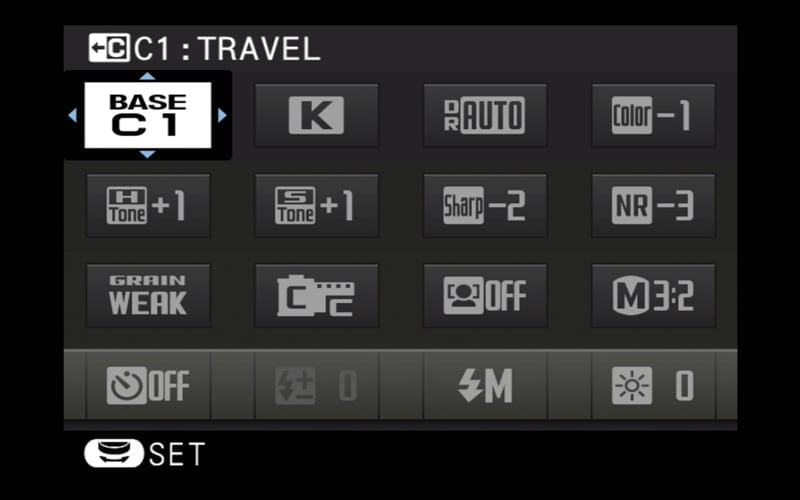 Film Simulations
Referred to as "gimmicks" by some, Fujifilm's film simulations are really what make these cameras unique.
If you look at Fujifilm's nearly 100-year-old history as a company, they're all about film. Their FUJICHROME, FUJICOLOR, and NEOPAN films all but dominate the entire film market in Asia, and they also hold a good share of the film market in the rest of the world, especially after some missteps by Kodak.
So Fujifilm knows film. The engineers who have their hands in films such as VELVIA, ASTIA, and SUPERIA were directly involved in "digitizing" these looks for inclusion in Fujifilm X mirrorless cameras. Are they perfect renditions of the real deal? No, but they're as close as you can get.
Fujifilm cameras now include ten "film simulations," some based on actual film stocks and others based on interpretations of other films.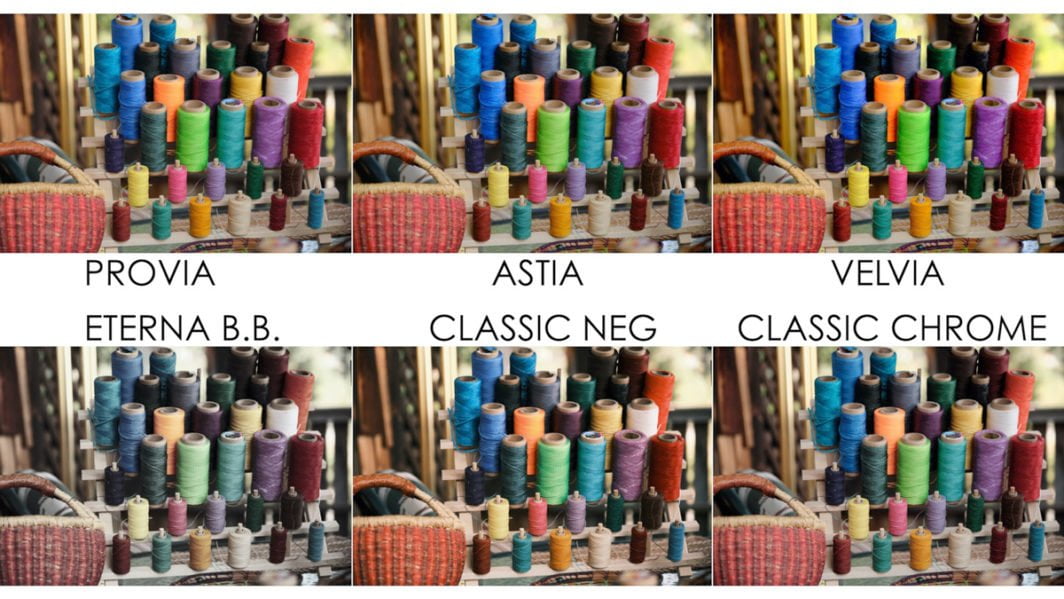 Just like a landscape photographer would choose VELVIA 50 film to capture the contrast and color of a beautiful sunset or the colors of a mountain lake, so can a digital photographer with these cameras. And then, for some outdoor portraits, select ASTIA, as the same photographer would prefer to do with film.
These allow you to control the look and, more importantly, the feel of a photograph to tell the story you want, all based on the lighting and subject you're photographing. And without any post-processing.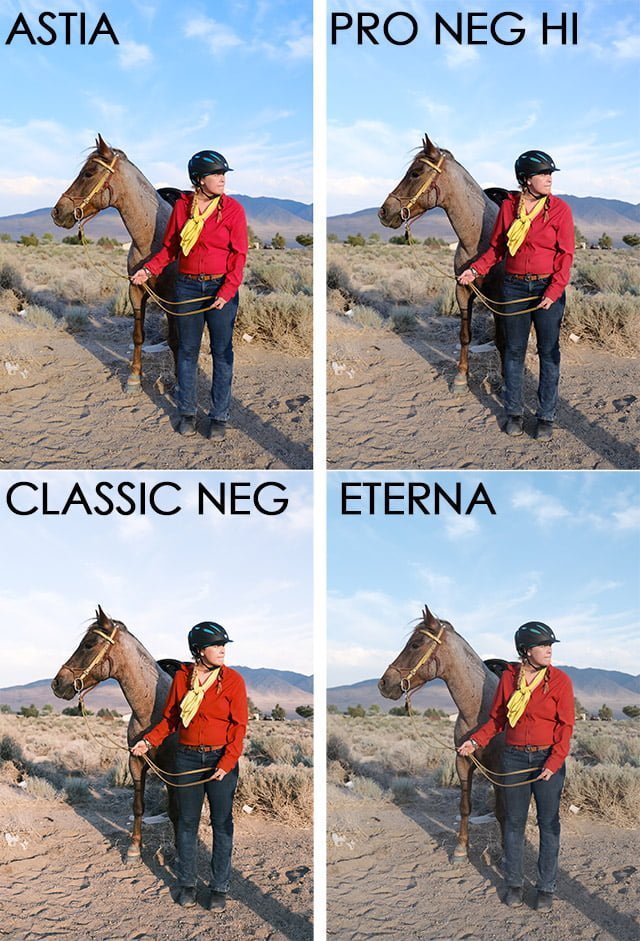 Styling Film "Recipes"
However, these film simulations can be further customized with several settings.

You can increase or decrease the base saturation of that film simulation. You can increase the contrast in the highlights while decreasing the contrast of the shadows or vice-versa. You can add a realistic film-style grain. You can further enrich specific colors with the Color Chrome setting. In newer cameras, you can increase or decrease edge contrast with the Clarity setting, similar to Texture in Lightroom.
Experiment with all of these different combinations of Film Simulations and further tweaks to come up with your own custom "film recipes", which can be saved to your camera and recalled at any time.
These "film recipes" are similar to processing presets one might save in Lightroom, Photoshop, Capture One, etc. The difference here is that you apply them in the camera before pressing the shutter, rather than on the computer later on.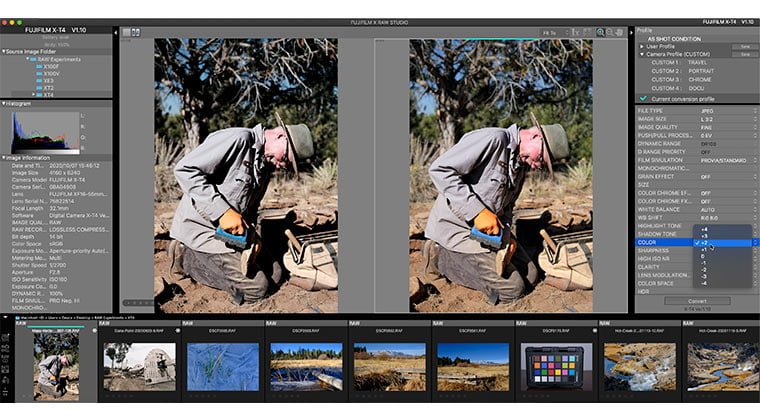 Isn't that a huge time saver? Isn't it extremely fulfilling to put your camera to your eye, say, "this scene calls for this preset," get your exposure and framing correct, and then be done with the photo? If you can do that in the camera, why wouldn't you?
Where in the Process do You Want to be Creative?
If you want to do all of your creativity on the computer, having immense control over toning, coloring, and layered adjustments, that's cool. I respect that. Hell, I do that, too, depending on what my photos are for.
I just ask that those people also have respect for photographers who don't want to do any of that.
And for those photographers who just want to take care of their creativity in the camera, Fujifilm X cameras will give you the tools to do so in endless ways.
You can learn all about how to get the Image Quality settings that match your vision, get the right colors, and exposure in my Perfect Fujifilm In-Camera JPEGs course.