Disclosure: This post may contain affiliate links. I earn a small commission of product sales to keep this website going.
Fujifilm lens abbreviations can add some confusion when all you're trying to do is find the right Fujifilm lens for you. Here's a Fujifilm lens decoder to help you understand all the alphabet soup found on the excellent lenses for the Fujifilm X and GFX systems.
You'll notice that these lenses actually have Fujinon written on them – that's just what Fujifilm's lenses are called.
XF80mmF2.8 R LM OIS WR Macro – what does that mean?!
This post will only cover still photography Fujifilm lens abbreviations for the X and GFX camera systems, not cinema lenses or analog lenses.
---
Lens Mount & Class
XF & XC
Fujifilm lens abbreviations starting with an XF or XC mean they're designed for the Fujifilm X APS-C sensor cameras. Cameras like the X-T3, X-Pro3, X-T30, and X-T100.
Fujifilm XC lenses are more of an "entry-level" lens. They're typically constructed of plastic bodies, don't feature weather sealing, and have slower apertures. They're still good lenses, but their construction helps keep costs down for the consumer. There are currently only four XC lenses, three of which are zooms.

Fujifilm XF lenses are constructed with metal barrels, have some faster apertures, feature special lens coatings to improve image quality, and many feature weather sealing. These lenses make up the bulk of their lens lineup and are all fantastic.
Red Badge Lenses
Further, the XF lenses feature a sub-category of "red badge" lenses. These are their top-of-the-line zoom lenses featuring fast apertures, weather sealing, and a special lens coating that reduces flaring and increases contrast. These lenses are much sharper from corner to corner throughout the focal range.
There are currently four "red badge" lenses covering a range from 8mm to 600mm.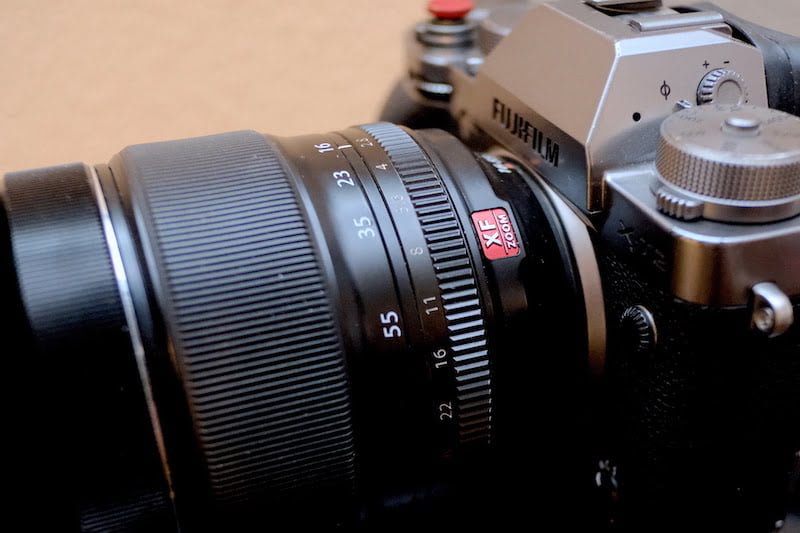 Focal length equivalency
All Fujifilm X lens focal lengths are standard. Due to the crop factor of APS-C lenses, if you want to compare these lenses to a standard 35mm-camera format to determine their field of view, multiply the focal length by 1.5 (a 16mm Fujifilm X lens has a focal length equivalent to 24mm on a standard full-frame camera).
GF
Fujifilm lens abbreviations that start with GF are made for their GFX line of medium-format cameras, such as the GFX 50R and the GFX 100.
This is a new line of lenses because the cameras are relatively new, and the line is expanding. They are all high-quality prime and zoom lenses constructed of metal with weather sealing.
Focal length equivalency
The medium format sensor gives these lenses a wider field of view with their 35mm-camera equivalency. Multiply the GF focal length by 0.8 to get the standard full-frame equivalency (a 50mm GF lens has a focal length equivalent to 40mm on a standard 35mm camera).
---
Lens Features
Most Fujifilm lens abbreviations tell you what kind of features the lenses have. Like weather sealing, image stabilization, and focus motor. Here's the breakdown:
R
You'll see an R in most Fujifilm lens letters. "R" stands for ring, as in lens aperture ring.
All lenses with an R mean that you can adjust the lens aperture by rotating the ring on the lens closest to the camera body.
Some lenses have the aperture printed on the lens, with mechanical stops at the minimum and maximum aperture (and an Auto aperture position). Other lenses with the R abbreviation have aperture rings that rotate freely without the aperture printed on the barrel.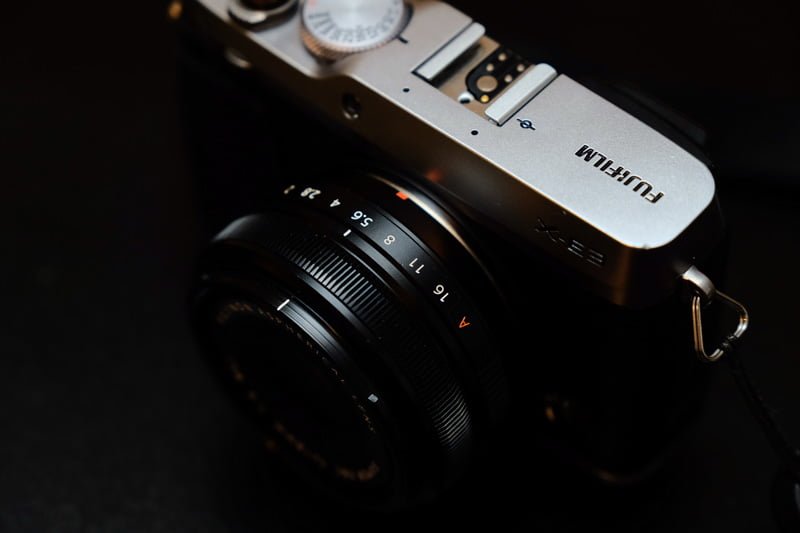 WR
The WR lens abbreviation stands for Weather Resistance.
While I've had pretty good luck using all lenses in the rain and dust, I'm really pushing it. The WR lenses are the best lenses to use if you plan on working in environments with fine sand, high humidity and sea spray, and rainy locations. I've used them in total downpours without fear. However, I wouldn't try submerging them.
These lenses feature seals at the joints to keep dust and water out. Some, like the 18-135mm zoom, also have "bellows" that eject water and dust from the seals as you operate the zoom.
OIS
The OIS Fujifilm lens abbreviation stands for Optical Image Stabilization.
These lenses rock. They have electronic gyros inside that stabilize the glass to counter any shaking your hands might be causing.
I took this picture hand-holding my 18-135mm OIS zoom at a focal length of 41mm for a half-second. A half-second at an equivalent focal length of 60mm – and it's tack-sharp!
LM
LM lets you know that the lens focuses with a Linear Motor.
Linear motors are a favored feature of Fujifilm lenses. These motors focus by directly moving the lens elements within the lens in a linear fashion rather than a traditional stepping or rotary fashion.
The advantages of a linear motor are faster focus, quiet operation, and low power draw. This kind of focusing is preferred for movie recording, which demands fast & accurate focus and silent operation.
PZ
The PZ lens abbreviation stands for Power Zoom.
These lenses have a small, quiet motor that activates the zoom. Instead of you zooming the lens directly by rotating a zoom ring, you use a button or ring that controls the motor. This allows for smoother zoom, which is useful for recording movies.
The XC15-45mm was the original Power Zoom for Fujifilm, but they are coming out with more.
APD
This lens abbreviation stands for Apodization filter. Right now, this is only found on the Fujifilm 56mm f/1.2 APD lens.
The apodization filter, built into the lens, is a special filter that portrait photographers love. This filter helps your subject stand out from the background, creating a more natural separation between foreground and background, and blurring the out-of-focus areas around the edges even more.
Lens Coatings
You won't see these letters in the Fujifilm lens abbreviations making up the name of the lens, but you will see them on the front of the lens for some extra letters you may wonder about.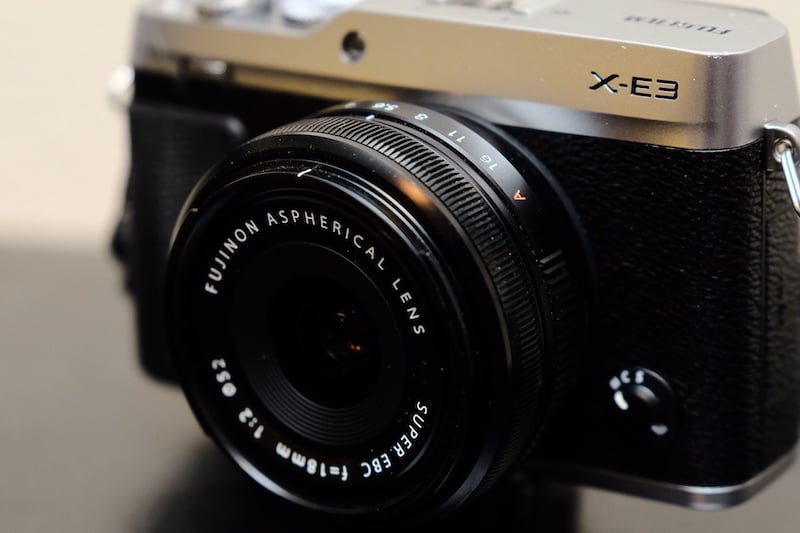 Super EBC
EBC stands for Electron Beam Coating. This multi-layer coating developed by Fujifilm increases light transmissivity for better color and contrast while reducing lens flare. The "Super" is the latest iteration of this technology developed decades ago. This is found on all Fujifilm X & GF lenses.
Nano GI
The GI stands for Gradient Index. This additional coating helps decrease flaring for light entering the lens from the sides. It's found on the rear of one or two lens elements; these lenses also feature the EBC coating.
---
Specialty Lenses
Macro
Fujifilm has a couple of macro lenses in the lineup. These lenses are great for portraits and close-up work. They allow you to focus extremely close to the subject and take photos without distortion for realistic life-size images.
TC
The TC abbreviation stands for teleconverter. These "extensions" mount between your lens and your camera, increasing the focal length of your lens.
Fujifilm teleconverters are not compatible with all lenses. They are currently only compatible with the 80mm macro, 70-300mm, 50-140mm, 100-400mm, and 150-600mm zooms.
---
So going back to our first example, what do those abbreviations mean?
XF80mmF2.8 R LM OIS WR Macro
This X-mount lens is a metal XF Macro lens with a maximum aperture of f/2.8, an aperture control ring, linear motor focus, optical image stabilization, and weather-resistant construction.
What'd I forget? Any confusion about any of the Fujifilm lens abbreviations in this post?