Disclosure: This post may contain affiliate links. I earn a small commission of product sales to keep this website going.
Great mirrorless cameras for travel photography have become more and more affordable lately. Here are some amazing interchangeable-lens mirrorless cameras under $500 to get you started on your photographic journey.
If you're just getting started at looking into mirrorless cameras, it's a good idea to read up on the advantages and disadvantages of mirrorless cameras.
Be in it for the long haul
Before we get started, it's important to consider the system as a whole, not just the camera. How many lenses are available for the camera system? Are the lenses good? The camera is only as good as the lens, so make sure the lenses are good! This is a great reason for buying a more affordable camera body so that you can spend more money on the lenses. Every system on this list has outstanding lenses available.
It's also worth noting that you won't find any full-frame sensor cameras on this list. As of now, you're not going to find any full-frame cameras for this price. But don't let the kind folks on YouTube and Internet forums lead you in the wrong direction.
Yes, full-frame sensor cameras are more technically capable than micro four-thirds and APS-C sensor cameras. It's just physics.
But as far as creativity and making great travel photos is concerned, it just doesn't matter! You can read more on this post about Full Frame vs APS-C; the same principles apply for micro four-thirds cameras.
Buy what you can afford now and start learning the art of photography.
---
Micro Four-Thirds Mirrorless Cameras Under $500
A Micro Four-Thirds sensor is slightly smaller than an APS-C sensor. As a result, the resolution is typically lower than those on APS-C cameras – both of these cameras listed have a megapixel count of 16MP. But that's still more than adequate for digital presentation and prints up to 36″ on the long edge. The small sensor also reduces the size, weight, and price of the camera.
Olympus OM-D E-M10 Mark II (KIT)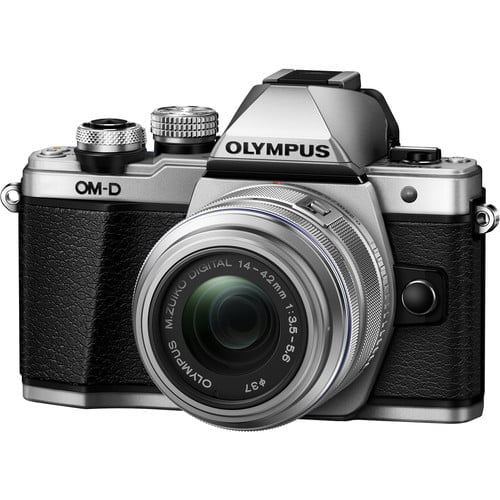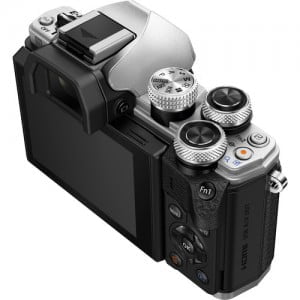 Get started with mirrorless cameras for under $500 with this kit that includes a 14-42mm lens (equivalent to 24-70mm).
The OM-D E-M10 line of cameras is one of the most popular micro four-thirds mirrorless cameras. It's favored by documentary photographers and photojournalists for its ease of use, great color renditions, solid feel, and small profile.
Olympus has always made great lenses and great cameras and continue the tradition here. In fact, the lens selection for this camera is insane because the mount is compatible with other manufacturers.
Pros of the OM-D E-M10 II
Great ergonomics and feel
Easy & quick autofocus
Wonderful image quality
Built-in sensor stabilization
Tilting touchscreen adds to ease-of-use
Cons of the OM-D E-M10 II
Uses an older sensor
No weather sealing
Menu system gives some photographers problems
Not too strong for movies
You can also get the successor to this camera, the Mark III version camera body only for under $500.
---
Panasonic Lumix G7 (kit $497)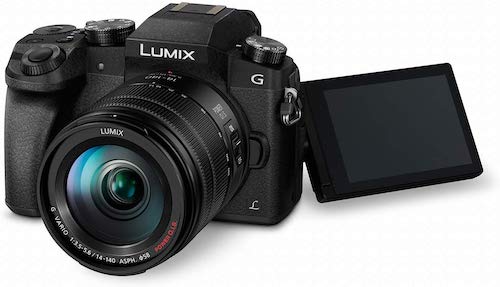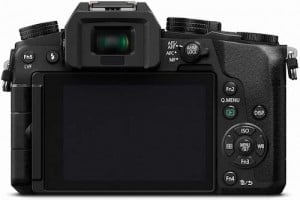 The Panasonic Lumix G7 is another micro four-thirds mirrorless camera kit for under $500, this one popular with both still photographers and videographers.
The G7 is incredibly capable given its small size and small price tag, especially since Panasonic labels this an "entry-level camera." In this small camera, you get great low-light performance, fast autofocus and tracking, and wonderful image quality.
It also features beautiful 4K video recording capability, including a 4K photo stills mode, where you can create a fast succession of JPEG photos using the 4K video system.
If you want to stay in the Panasonic system because you're considering getting serious about video also, the G7 is a great place to start.
Pros of the Panasonic G7
Excellent feel and grip despite small size
Great image quality
Fast autofocus & tracking
Stunning 4K capability for the price
External controls will make advanced photographers happy
Cons of the Panasonic G7
No weather sealing
"Plasticky" feel due to plastic body
Burst capability leaves room for improvement
Short battery life
---
APS-C Mirrorless Cameras Under $500
APS-C sensor cameras have a larger sensor than the above cameras, and all of these APS-C cameras have a resolution of 24MP. Still more than enough for presentation on the web and prints slightly larger than 36 inches.
Sony Alpha a6000 (BODY)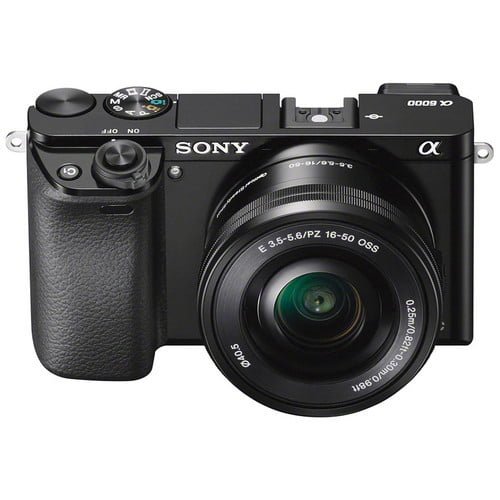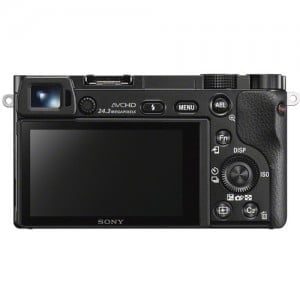 The Sony a6000 is still in the game after six years. This was my first mirrorless camera and I absolutely loved it – it got me hooked on mirrorless cameras! The way it has held its price is proof that it's a wonderful camera.
This is one of the few quality APS-C mirrorless cameras under $500 and if you buy it new you're only going to get the camera body for that price. But you may be able to find a refurbished kit including a lens for that pricepoint. A new kit with a lens is available for just over $500.
The Sony a6000 can focus fast, but it's quite slow compared to its successors. Still, the focus is fast enough, and when coupled with the speedy processor, can track and record a burst of photos at a blazing 11 frames per second. Image quality is outstanding and this camera has great low-light capability.
The only thing I didn't like about the a6000 was the disorganized menu system, and the small size led to hand cramps if I held it too long. I solved that with a hand clutch.
Pros of the Sony a6000
Small size and weight
Excellent image quality
Outstanding lens selection
Fast processor
Low-light sensitivity
Great video
Cons of the Sony a6000
Might be too small for some people to hold comfortably
Short battery life
No weather sealing
Confusing menu
---
Fujifilm X-T100 (BODY)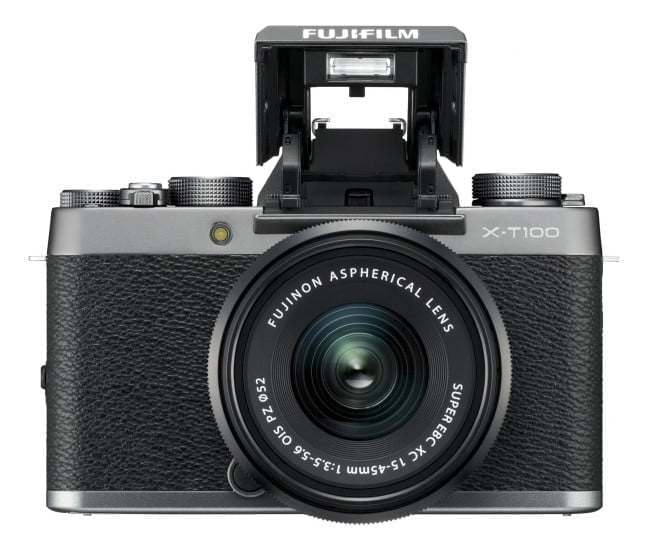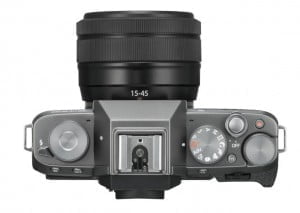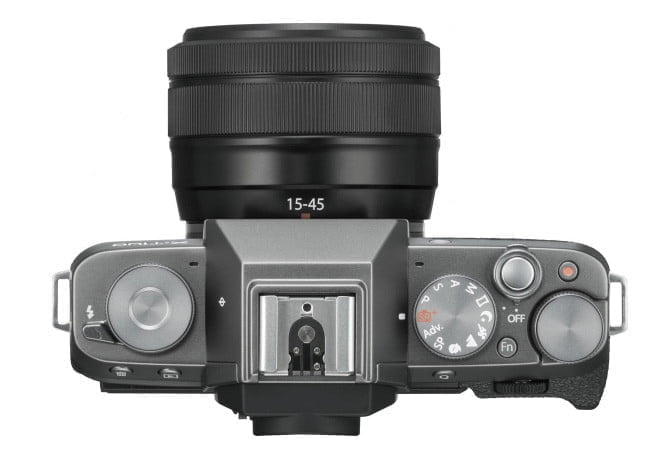 I've been a member of the Fujifilm family for a couple of years now and am having a blast with their cameras. The ergonomics and film simulations have helped me fall in love with photography again, as these cameras are more about the experience than the technology (though the technology rocks too).
The X-T200 was recently released, dropping the price of the X-T100. This SLR-type camera, with the viewfinder on top center, is the most basic of its kind from Fujifilm. But you still get the best of why people love this brand.
If you have a feeling that you might be drawn towards the Fujifilm X system, this is the best mirrorless camera under $500 to use as a springboard. It feels great in your hand, the controls are simple, and it makes photography fun. It's lacking a lot of features found in the higher-end models, but you'll be able to make great photographs and get into photography with this camera.
Like the Sony a6000, you'll only get the camera body for under $500, but you may be able to find some used or refurbished deals in a kit.
Pros of the Fujifilm X-T100
Great ergonomics
Small size & weight makes it perfect for travel
Amazing Electronic Viewfinder
Fast hybrid autofocus system, in good light
Built-in flash
Cons of the Fujifilm X-T100
Low light performance, particularly image quality and focus, leaves more to be desired
No weather sealing
Touchscreen is a bit clunky
Not the best camera for video
---
Canon EOS M6 (KIT)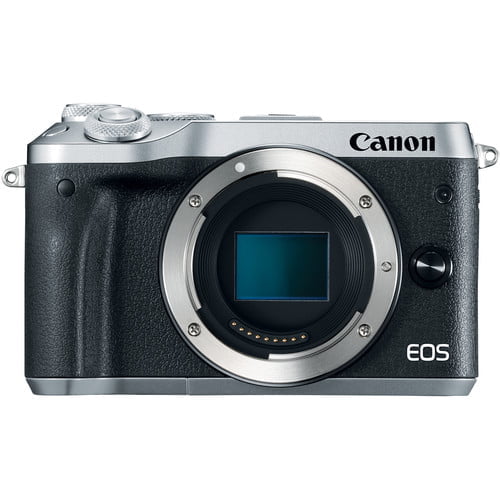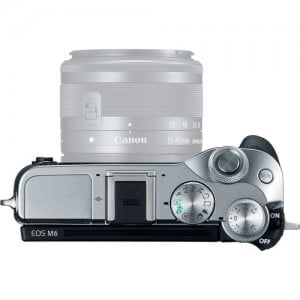 If you need to get an APS-C mirrorless camera and lens for under $500, then take a look at the Canon EOS M6. The kit comes with an 18-150mm lens, equivalent to 27-240mm.
I've gotta be honest, on paper, I wasn't too keen on the Canon EOS M system. Until I started teaching students who were using this and the EOS M50. They're actually very easy to use, output excellent image quality, and have great lenses to go along with them. They're definitely "entry-level" mirrorless cameras, but the M6 is the place to start if you want into the Canon system.
The EOS M6 features technology found on some of their higher-end mirrorless cameras, including a "dual pixel" sensor that helps ensure sharp focus, digital image stabilization, and an advanced processor for great dynamic range and speed.
One of the things that helps keep the price of this camera low is the lack of an electronic viewfinder – you're stuck composing images by looking at the LCD screen. This may or may not be a dealbreaker for you.
Pros of the Canon EOS M6
Small size
Digital image stabilization
Images out of the camera are great
Accurate color renditions
Solid-feeling build quality
Easy to learn and use
Cons of the Canon EOS M6
Low light performance is sluggish
Not the movie machine the a6000 is
Form may be too small for some people to comfortably hold for a long time
No weather sealing
---
There are, of course, several mirrorless cameras just a touch over $500. But if you're looking to stay under $500, these are the five cameras you'll want to consider.