I've been meaning to get a Fujinon 18-135mm review out for a while. I've taken it on a few adventures with me in the past six months, and after a few days on California's Lost Coast Trail, I think I'm ready for a verdict.
I was presented with a challenge on the Lost Coast. There are spectacular ocean vistas and diverse wildlife, and plenty of photographic subjects in between. There's also strong wind blasting fine sand and sea spray that sticks to everything, especially camera sensors. It makes changing a lens a risky endeavor.
Sensor placement is one of the big disadvantages of mirrorless cameras. You need to think about protecting it in environments like this. Avoiding any lens changes leaves no doubt about keeping the sensor clean. Is there just one lens that would work for wide skyscapes and wildlife close-ups?
This review looks at the Fujinon 18-135mm lens as an all-in-one adventure lens. I'll just look at it from a more practical outdoor travel perspective – will it work as the only lens you take?
Here are a few photos from the trip first. Photos have been downsampled for embedding in this blog.
---
My problem with variable aperture zooms
I've never liked variable aperture zooms with focal ranges from wide to telephoto, a holdover sentiment from cheaper DSLR lenses I've owned in the past.
They just always seemed soft and prone to awful fringing. There was that one focal length and aperture combination that was sharp, but everything else just wasn't good. And they were usually breaking due to the cheap construction to keep the prices down.
I've been warming up to them lately. If I had told myself ten years ago that today I'd be a professional photographer shooting a variable aperture zoom lens on an APS-C camera and optimizing my camera's JPEG output to minimize RAW processing…ha, that'd never happen, but it is!
---
Fujinon 18-135mm f/3.5-5.6 overview
The official name of this lens is the Fujinon XF 18-135mm f/3.5-5.6 R LM OIS WR.
XF is the higher quality lens over their "budget" XC lenses, made for X-mount.
R in the designation indicates that the aperture can be changed via a ring on the lens barrel, like old analog camera lenses.
LM means that autofocus is via a linear motor. This type of focus control is typically faster for larger lenses.
OIS – you guessed it – is for optical image stabilization.
WR is the designation for weather-resistant lenses.
You can see what all Fujifilm lens abbreviations mean in this post.
As of this writing in June 2019, the lens retails new for $799. You can check either B&H Photo or Amazon for current deals & prices.
The Fuji 18-135mm f/3.5-5.6 lens is 3.85″ long and 3″ in diameter. It takes a 67mm filter and weighs 1.1 pounds. At maximum zoom, the lens is 6.22″ long.
---
A summary of this Fujinon 18-135mm review
If you don't want to read the rest of this review, here are the highlights:
The wide end is equivalent to 27mm which isn't quite as wide as most photographers would want. But it's a compromise that works. The long end at 206mm is perfect.
The optical image stabilization is amazing and allows you to handhold longer shots without needing to use a tripod.
Fuji has added robust weather sealing on this lens, and when coupled to a camera like the X-T3, will withstand the worst conditions.
Although it's a "kit lens," in addition to OIS and weather sealing, has higher quality glass to increase sharpness across the focal range.
Single-shot autofocus isn't as blazingly fast as Fuji advertises, but continuous autofocus works just fine, as does manual focus with Fuji's great manual focus aides.
This lens, like all other variable aperture zooms, is quite soft around the edges at the maximum aperture. Stop down a few stops and take advantage of the amazing OIS and Fujifilm's clean high-ISO images rather than shooting wide open for maximum sharpness.
And now in further detail.
Lens focal length
The 18-135mm focal range gives you an equivalent focal length of 27mm to 206mm when mounted to the APS-C Fuji X cameras.
27mm isn't really considered "wide" by most photographer's standards. We usually prefer something wider when photographing epic skyscapes and in tight spaces like tents & campsites. I'd wish for at least 24mm (16mm for APS-C) but we can't have it all. 27mm is close enough.
The telephoto end at 206mm is an ideal length for your average adventure. Most photographers heading out on backpacking trips don't carry anything longer than 200mm unless there's some kind of specialty wildlife purpose.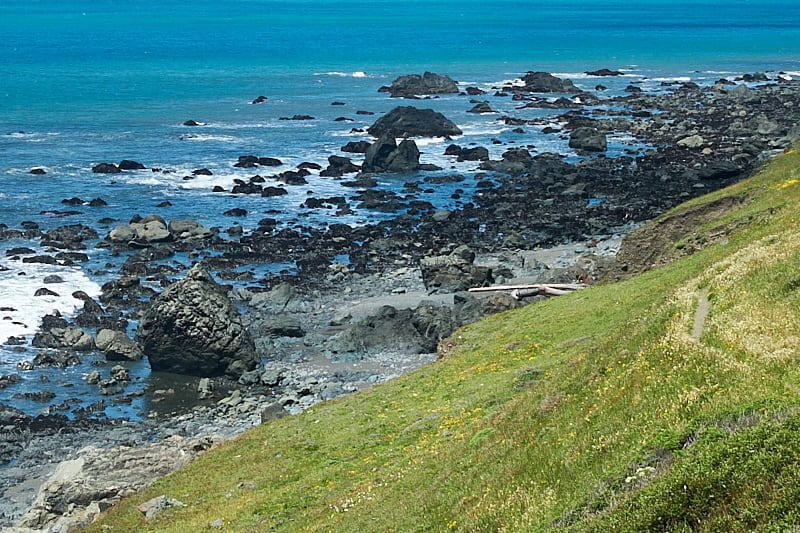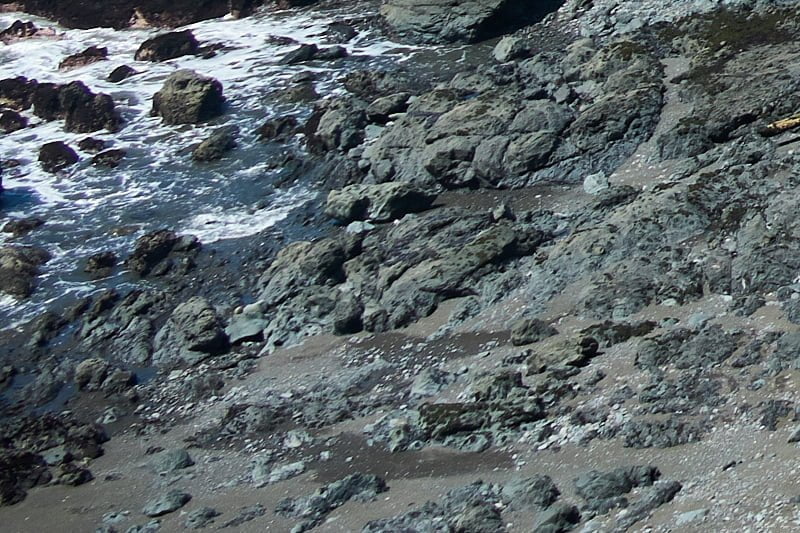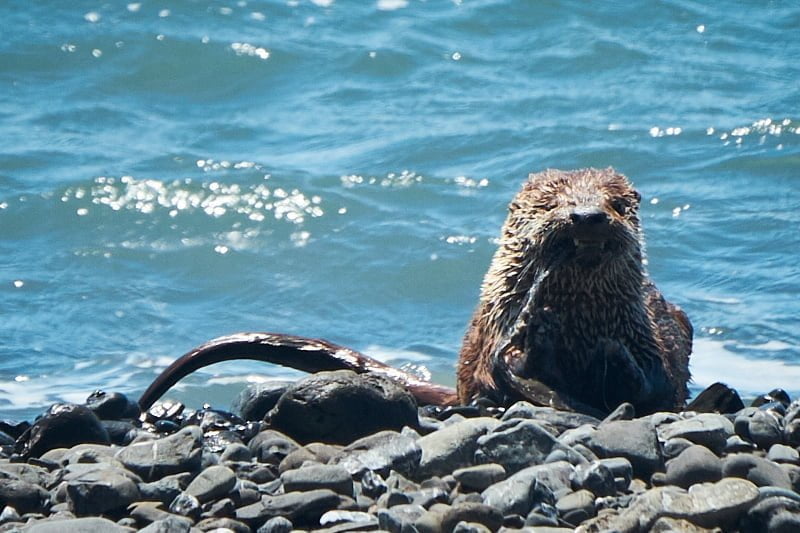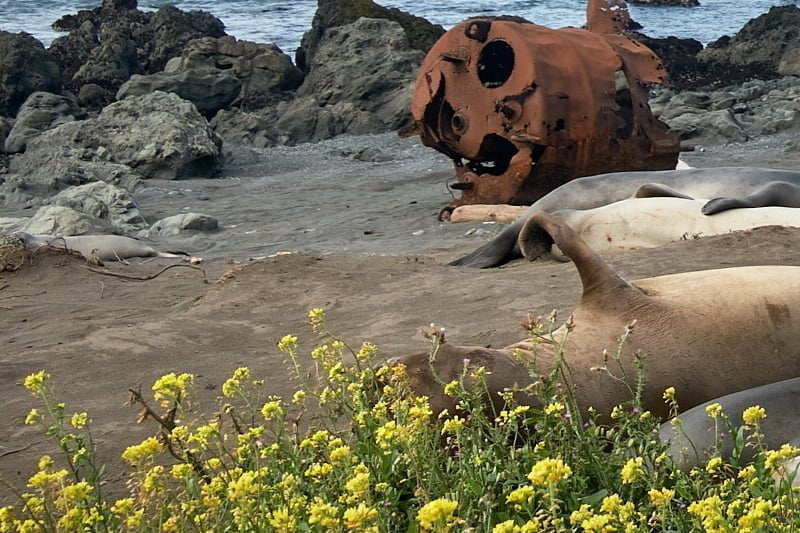 Fujinon 18-135mm lens construction
The Fujinon 18-135mm f/3.5-5.6 lens is mostly constructed out of high-quality plastic to keep the weight down. It's durable and doesn't feel "cheap" like other plastic lenses.
Lens weather sealing
Fuji lenses have wonderful weather sealing. They're a great leap from the Sony Alpha lenses I'd take on backpacking trips, only to find them full of dust afterward.
This particular lens has a ventilation system that Fuji claims blows air out of the joints when you zoom the lens. This keeps dust and water particles from entering when you zoom. I've yet to get any fine dust from the Sahara or trails like the Lost Coast inside the lens.
I wouldn't go as far as to submerge the lens, but it'll still perform if you're caught in a downpour.
Optical Image Stabilization
OIS is an invaluable asset to have on this lens for a couple of reasons.
This lens isn't fast by any means with a minimum aperture of f/5.6 at the long end. OIS allows for longer shutter speeds to compensate.
Most of us who like to pack light don't even use tripods most of the time, and OIS is a necessity for handheld shots in low light.
Fujifilm claims that this OIS system gives you five stops of performance. Let's look at the following image (this one from Morocco) to see if that's true. This handheld image was taken at 41mm (equivalent to 65mm), f/8, for a 1/2 second. The inverse rule tells us that we can handhold this focal length up to 1/60 second and still get a sharp image most of the time. A half-second is five stops slower than 1/60 second. It works!
Other general lens characteristics
Ergonomics
The Fujinon 18-135mm lens has a small aperture control ring on the back of the barrel. This ring electronically controls the aperture. It doesn't have numbers on it like other Fujifilm lenses, so you'll have to look at the display to see what's set. It's a little loose and I've accidentally bumped it a third of a stop now and then.
There's a wide hefty zoom ring in the center of the barrel with indicators for 18mm, 23mm, 35mm, 55mm, 70mm, 100mm, and 135mm. These all correspond to common focal lengths. The zoom is really smooth.
The focus ring is in front of the zoom ring and is just wide enough to quickly grasp when you need it. It's an electronic control, meaning it controls the focus motor instead of the glass directly. This is also super smooth for fine control.
Two switches at the back of the barrel switch between manual aperture control and automatic aperture control, and turns on/off the image stabilization.
Overall the lens is very well balanced on smaller cameras like the X-E3 and larger cameras like the X-T2.
The glass
It's a little chunker of a lens with 16 glass elements – but I think that's a good compromise between quality and weight.
You'll see in the specs that this lens includes four aspherical lens elements and two extra-low dispersion elements. In English, this means that the lens contains higher-quality glass design that ensures sharper focus throughout the frame and at all focal lengths. They also reduce that ugly purple fringing that occurs in high-contrast edges.
This lens also contains a coating that increases contrast and reduces flaring when shooting into the sun.
All of this increases both the cost and weight of the lens, but considering what you're getting in a "kit" lens, it's a great value.
Disadvantages of the Fuji 18-135mm lens
Focus
There are lenses out there that focus much faster than this lens. They're expensive. Maybe I'm just used to those, but this lens isn't terribly slow. I just think there's room for improvement. It's still fast enough for continuous autofocus to keep up with fast-moving approaching subjects.
For what I do, I usually keep the lens in MF and use the AF-L button for quick focus. For backpacking trips I find I like to use the focus peaking assist to confirm the AF-L focus and help with manual focus.
Length
The lens nearly doubles in size when you zoom it. Be mindful of this when using the lens next to objects, like shooting through a window.
---
Why the Fujinon 18-135mm f/3.5-5.6 works as your only lens
I was initially hesitant about this being the only lens I brought on my last backpacking trip.
But when you consider taking only one one-pound lens worth $799 – as opposed to multiple lenses to cover an equivalent focal range – it's a great deal. One of the many methods to keep your pack light.
It worked for landscapes, it worked for wildlife, it worked for storytelling, it worked for environmental portraits. The photos turned out great, no regrets. And I was able to protect my valuable sensor in this gnarly coastal environment because I didn't have to change any glass.
Are there lenses out there that could have done those things better? Of course, but not all in one lens. This one has great sealing, stabilization, and produces sharp images throughout the long range.
Know its limitations and how to optimize the images and you won't believe it's a kit lens. Tip: I tried to keep it at a maximum of f/8 up to about 90-100mm, then I'd increase it to f/11. This seemed to produce the sharpest images, despite longer shutter speeds (thanks OIS!) and a higher ISO when I needed faster shutter speeds.