Disclosure: This post may contain affiliate links. I earn a small commission of product sales to keep this website going.
Expensive alternatives
One of the perks of switching to the smaller, lighter Sony mirrorless cameras, as I mentioned in my original post, is the corresponding smaller & lighter underwater housing units for the cameras.
I had an Ikelite system with my Canon 5DII. It was big, I needed two hands, and it actually added some drag. I tried to streamline when I wasn't using it, but it does take some extra force – and air – to swim with it.
Ikelite does make housings for Sony mirrorless cameras also, but they're a little on the pricey side ($1,050 without lens port). I was very happy with the quality of my Ikelite housing for the Canon, but I couldn't justify paying more for a Sony a6000 underwater case than I did for the camera.
Nauticam also makes quality underwater housings with all the bells and whistles, but again, they're just as expensive as the Ikelite units ($1,650 base). This and the Ikelite both allow for changing ports to accommodate different lenses.
A case for the rest of us
I just wanted something to keep my a6000 with 16-50mm kit lens dry down to depths of at least 120 feet. I read some good reviews about the Neewer case, which is rated to 130 feet. It seemed to fit what I needed at the price I was looking for (around $200). Note, this underwater case by Neewer is no longer available, but Meikon is now producing a carbon-copy.
This case isn't as fancy as the more expensive brands, but it does what you need it to do. The lens port glass is quality. All of the camera buttons are accessible through the housing. The case, which is only compatible with a handful of lenses, has a zoom knob to adjust the zoom.
It also has a moisture detector inside the case and will illuminate an LED if moisture enters the case (tested – the alarm doesn't need much moisture at all to activate).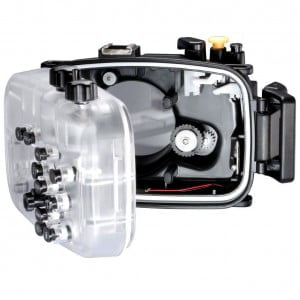 Diving with the Sony a6000 underwater case from Neewer
The dial button is a little touchy. In order to activate the jog wheel, you need to push in slightly on the center (ENTER) button which will engage the gear before you can rotate the center knob. There seems to be a very fine line between the mechanism not engaging at all to activating the ENTER button.
Somehow the a6000 built-in flash popped up while I was underwater. I obviously couldn't push it back down so I had to keep my fingers over the flash port for the entire dive.
After about four dives I noticed that the buttons for ISO and EV stopped working. I could no longer manipulate these buttons underwater so I had to preset a high ISO for deep depths, up to ISO1250 at 100′. I don't know why, but these buttons just don't have enough reach through the case.
Sony a6000 underwater examples
The Neewer case has a small, fixed lens port. I bought the kit lens that usually comes with the a6000 since that is one of the few lenses that will fit in the case.
The above image was shot in about 3 feet of water with the sun overhead. Underwater settings were Aperture priority, 21mm, f/8, ISO400, 1/2,000 sec. Still some softness on the edges.
The 16-50mm kit lens doesn't do a great job of focusing in anything but shallow, bright water – it'll do for snorkeling on a sunny day – but at depth there's the perfect combination of low light and low contrast and the lens usually can't cut it. I didn't get many decent shots at all on my first two dives – everything was out of focus.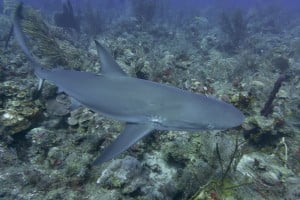 For my second time out with the a6000 & Newer case I brought my Nocturnal Lights external light, hoping that would assist the focus. It did to an extent, but there were still a few scenes that just weren't focused at all. Close-up/macro shots would be in focus with the help of the light, but that's not my style.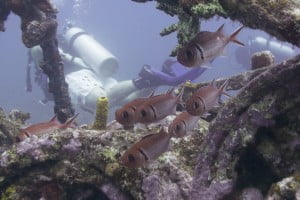 This lens is also…well, it's a kit lens. It's extremely soft around the edges and already has a certain amount of aberrations above water. Fringing is very noticeable down below the surface. I could minimize them with massive corrections in Lightroom but with a corresponding loss of saturation.
Aperture Priority is my go-to mode but I wanted to see if I'd have any luck in Superior Auto mode for underwater settings. You know, that mode where the camera adjusts all the settings automatically. I had mostly the same results and didn't like not having control over my exposure compensation values. My photos had quite a bit of noise from excessively high ISO and very shallow DOF. Landscape Scene mode had better DOF but shutter speeds were too slow for sharp pictures.
Conclusion on Using the a6000 with Neewer Case for Underwater Photography
The a6000 itself is a great camera. The Neewer case is average. It does what it needs to do.
My problem here is with the lens. The 16-50mm kit lens that comes with the camera is abysmal at depth for anything but "casual snaps" for sharing with your friends on Facebook. To put these photos in a professional portfolio? Fuhgetaboutit. Shallow, well-lit waters are much better.
The a6000 needs some better glass underwater; I'd love to use my 28mm f2 or my 10-18mm wide angle but these won't work with the Neewer case – I'll either have to upgrade to a more expensive underwater case or purchase some lenses that will fit, but my options are limited.
I just wish I came to these conclusions before committing myself to remote Caribbean islands for six months! I'll come back armed with the right tools next time.
Do you have any experience to share with this camera or case?