Disclosure: This post may contain affiliate links. I earn a small commission of product sales to keep this website going.
UPDATE May 26 2015: Read my initial thoughts on backpacking with a mirrorless camera system.
I'm so excited, and I just can't hide it! Yeah, I stole that line.
I think I'm unloading all of my Canon gear and switching to Sony Alpha Mirrorless
! *gasp*
Loyal to the Big Two
I always envisioned myself staying subservient to either Nikon or Canon, and I switched to Canon in 2009. Pros use Canon. They lug around those giant camera bodies with giant lenses attached and have backpacks full of more giant camera bodies and bigger lenses. They're good. I wanted to be one of them!
My Own Reality
But as my photography progressed I started seeing that it was impractical for what I'm doing.
Extended backpacking trips, where ounces feel like pounds after the first day.
Travel & documentary photography in places where I don't want to wave around a giant, expensive-looking camera (not just expensive looking, but actually expensive – over $7,000 with the body, lenses, and flash).
I couldn't discreetly take a picture of anyone without the shutter announcing my move. Heads turn.
"Hey, look at that expensive camera, worth more than I've made in the last five years…"
Upgrading an Old(ish) DSLR
I was looking for a Canon replacement to my 5D MkII, and I had decided on the 6D. It's slightly lighter, with features I'd use and no features I wouldn't use, and has a silent shutter function. I could keep all six lenses I own. Perfect.
I almost pulled the trigger before a return trip to Haiti, but the time wasn't right to buy a new camera body, so I put it off until after I got back. And then I started preparing for a backpacking trip along the John Muir Trail. I went Full-OCD and started counting every ounce (in tenths) of my gear. Canon 6D with only one 16-35mm lens and extra batteries: four pounds. Twenty percent of base pack weight.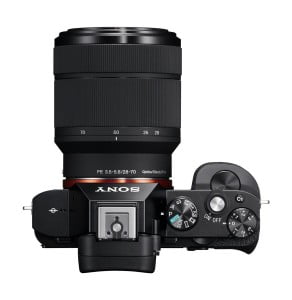 At the same time I was reading blogs of two photography sites I follow. One you may know, Trey Ratcliff, of Stuck in Customs. The other, Viktor Elizarov, is a contributor to Digital Photography School. Both are amazing photographers and I was shocked to learn that they're converts to the little Sony mirrorless cameras. The more research I did the more I was sold on the idea.
Specifically, a Sony Alpha a6000 (APS-C) for travel and documentary photography and an a7 or a7R (full frame) for landscapes.
Why Switch to Sony Cameras
The size, weight, price, and features had me hooked, for what I do.
Don't get me wrong, I love Canon, but the system is just too big and bulky for me.
Size & weight. The Canon 6D body is 70 cubic inches. The Sony A7 is half that at 35. The Canon weighs 1.7 pounds while the Sony weighs 1 pound. Big deal? It is for ultralight packers. And since I never put my camera gear in checked baggage for air travel, this is a huge deal also. We'll get to the lenses in a bit…
Price. The Sony a6000, which I plan on using as my go-to for travel/documentary, is almost a third the price of a Canon 6D. I won't feel like my life is over if it's stolen, at $450. It's an APS-C camera while the Canon is full-frame, but that's fine for the style of photography I'll be using it for.
Technology & sensor. Where to start. There's a lot but this is what I'm excited about.
The sensors and processor are possibly better than Canon; I've seen arguments for both. Nikon actually uses Sony sensors. Low-light detail is better.
Electronic Viewfinder (EVF). This is like the Heads Up Display in fighter jets. All the information you need to know about the capture is in the EVF. I've never used one of these – photographers either love it or hate it. But the big difference is that it will show you what your capture will look like based on your settings. DSLR optical viewfinders don't do this, and sometimes I have to guess the exposure in tricky situations like high contrast, and I end up bracketing all over the place and end up with hundreds of photos to go through. Cheating? I'll call it "practical and efficient".
Focus Peaking and Focus Magnifier. The EVF will show a colored outline of areas of your image that are in focus. This greatly assists with manual focus. The Focus Magnifier button will digitally zoom into the scene in the EVF so you can refine the manual focus. Canon images always seemed to come out a little soft, and I'd have to go to Live View to refine focus and it was a four-step process. Sony makes it possible in one step. Again, practical and efficient.
Wireless capability. You can send images directly from your camera to your phone using the Sony App. You can also remotely control the camera via the app with Live View on your phone! A consumer gimmick? No, it's just something that's necessary to keep up with the social media world we live in.
A hybrid phase-detection and contrast-detection focus system with the ability to shoot 11 frames per second (a6000). Perfect for fast-moving scenes.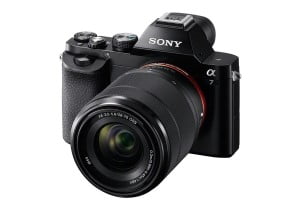 Stealthy shooting. You still have curtain shutters that make noise in these cameras. The a6000 is much quieter than DSLRs and also the a7. This is one reason why it's good for documentary/street photography. Also the size, it's small. And these cameras have tiltable LCD screens, so you don't have to raise the camera up to your eye and show everyone you're taking a picture.
Lenses. I can use my Canon lenses with these Sony mirrorless systems using an adapter ring, but I don't think I'm going to do that because you lose autofocus capability. There are a number of Zeiss lenses becoming available for these systems, and they're known for having better clarity, contrast, and color than even the top of the line Canon lenses that I have.
Oh, and Zeiss lenses are smaller and typically 2/3rds the weight of their softer Canon counterparts. Another savior for me.
The Cons of a Sony Mirrorless Camera System
These cameras aren't sealed as well as their DSLR counterparts so I'll have to be more careful around water and dust. The lenses are sealed, but the bodies might need a little more TLC than what I've given my Canon. Considering I'll be using these cameras for a lot of backpacking and also while sailing in the Caribbean, this will provide a challenge.
The battery life is also around a third of what I was getting with my Canon. I loved being able to shoot over a thousand photos without changing out the battery. The EVF sucks a lot of juice in the Sonys, so I'll have to carry more spares with me (but I won't have to capture as many photos to get a few good ones, being able to cheat in the EVF). The Sony batteries are around half the weight of the Canon batteries though, so that's good.
What's Next
I just bought a Sony Alpha a6000
and 10-18mm stabillized lens
from Amazon for less than $1,200. I'll take this on a few hikes and see how I like it. I imagine it'll be almost as traumatic as going from film to digital, but I'll be patient with it.
If all goes well, my Canon gear goes on Ebay and I'm getting an Alpha a7
and some more lenses!
It'll be here by the end of the week. I'll let you know how it goes!
OH. This also now means that I can trade in my Ikelite submersible Canon 5DII housing (it looks like and is almost the size of a submarine) for a smaller hard case that fits the Sony Alpha cameras like a glove. And again, for a fraction of the cost. And weight. And it'll fit in my carry-on.
What do you think? Too brash? Just right for what I'm doing? Will it work for what you do?