Disclosure: This post may contain affiliate links. I earn a small commission of product sales to keep this website going.
You see the lens name – "Vario-Tessar T* ZA OSS" – but it means nothing to you other than a bunch of letters. How does this help you figure out if it's a good lens for you?
Here's your definitive guide to decoding the abbreviations and letters on Sony Alpha mirrorless camera lenses.
For a primer on the differences between the Sony Alpha mirrorless cameras, read An Easier Sony Alpha Mirrorless Comparison.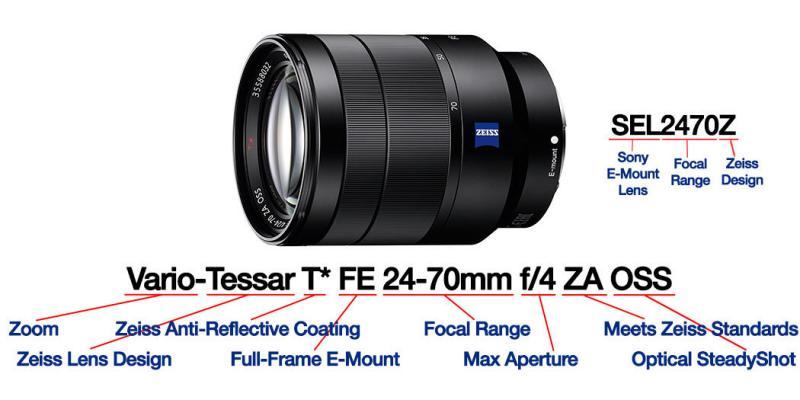 ---
Lens Mount & Camera
SEL
Sony mirrorless cameras use the E-mount. Sony DSLRs use A-mounts.
You'll see "SEL" in the beginning of the short designation of any lens designed for mirrorless cameras.
For example, "SEL1018F4" is a 10-18mm f/4 lens that will work on any Sony Alpha mirrorless camera. The SAL1118 won't work without an adapter because it indicates the A-mount.
FE
The Sony "FE" means that the lens is designed for the full-frame Sony Alpha mirrorless cameras, like anything in the a7 line.
Full-frame lenses can be used with APS-C cameras like the a6000 but the focal length will be increased by a factor of 1.5x.
E
An "E" without the "F" means it's not designed for Full-frame cameras but you can still mount them on a full-frame camera. It's designed for the APS-C sensor cameras like the a6x00 line.
When mounted on a full-frame camera, the camera will enter "APS-C" mode and reduce the capture area on the sensor to account for the smaller rear lens element.
---
Lens Classification
Sony's top-of-the-line lenses are its Gold and Gold Master series lenses. What's the difference between Sony G vs GM lenses?
G
The Gold line of lenses was Sony's first premium line for Sony Alpha cameras. These lenses feature high-quality materials that reduce aberrations and increase sharpness. Fast, constant apertures improve low-light performance and produce smooth bokeh.
You can identify the "G" lenses by a white G on a black square.
The Gold Master lenses have superseded the G line as the premium Sony Alpha mirrorless lenses.
GM
GM, or "Gold Master" lenses are an improvement on the G lenses and can be physically differentiated with a white G on an orange square.
These lenses have been designed to focus faster in order to keep up with Sony's increasingly fast focusing technology. They're also more durable, improving resistance to dust and water. The lens elements reduce aberrations even further, increase sharpness even more, and have better anti-reflective coatings.
They're not cheap, either. Prices range from $1,500 to $2,800. Check Sony G and GM lens pricing comparisons at B&H Photo.
Zeiss
Sony manufactures a line of lenses using designs & technology licensed by Zeiss, a world-renowned optics company.
All Zeiss lenses will feature the design of the lens (Sonnar, Planar, etc), ZA, and T*.
So, all of those designators are associated with the fact that it's a Zeiss design. That knowledge should simplify things a tad.
ZA
You'll see ZA towards the end of any lens designation featuring Zeiss design elements. Though not manufactured by Zeiss, these lenses have all been approved by and meet Zeiss' high standards for quality lenses.
The various Zeiss lens designs are explained below.While you'll see "ZA" in the full name of the lens, the short name will just have "Z" at the end – the 24-70mm f/4 ZA has the short designation of "SEL2470Z".
T*
The T* is another designation you'll find on all Zeiss lenses.
The Sony T* means that the front element of these lenses is covered in a proprietary anti-reflective coating developed by Zeiss. This coating reduces what's known as "flare" and "ghosting" – those nasty artifacts scattered throughout the lens when pointed towards a bright point of light. This coating also reduces haze.
Batis
Zeiss Batis lenses are the newest premium prime lenses for Sony Alpha full-frame mirrorless cameras like the a7 III and a9. They're pricey. They're amazing.
When you see Batis on a lens it means that it is a fast prime lens, has dust and weatherproofing, all of the bells and whistles of lens construction to make the image pop, and has a digital focus scale readout on the lens.
Batis lenses are specifically designed for high-resolution sensors, which require lenses with equally high resolution.
Sonnar
"Sonnar" is a Zeiss lens construction design from the mid-20th century. This popular design allows for a fast aperture in a compact, lightweight lens.
It's very popular for prime lenses. Some of the best prime lenses for Sony Alpha mirrorless cameras, such as the 55mm f/1.8, use the Sonnar design.
Vario-Tessar
"Tessar" refers to another lens design developed by Zeiss engineers in the early 20th century. They allow for a relatively compact grouping with good quality at a reasonable price.
The maximum aperture you'll find on these lenses is f/4.
The "Vario" prefix is used to indicate a zoom lens.
My favorite wide-angle zoom, the 16-35mm f/4, is a Vario-Tessar design.
Distagon
The Distagon design is specific to wide-angle lenses.
This lens design is relatively heavy and complex compared to other lenses of a similar focal length, but these extra design elements reduce aberrations and increase sharpness from edge to edge.
The increase in size & price may be worth it if the wide aperture and superb quality is what you need.
Planar
Yet another Zeiss design and perhaps the oldest (dating back to the late 19th century), the Planar lenses allow fast apertures and increase sharpness all around.
The only E-mount lens with the Planar design is the 50mm f/1.4. Not a small lens (almost 2 pounds and 4.5″ x 3.5″), but it's super-fast, super-sharp, and produces very smooth bokeh.
---
Lens Design Elements
OSS
This one is kinda easy. Sony OSS means Optical SteadyShot.
These lenses feature stabilization gyros within the lens to give you a few extra stops of light while avoiding motion blur in handheld shots.
OSS and in-camera sensor stabilization can't be used at the same time in Sony Alpha cameras.
PZ
Power Zoom can be found on a few lenses in the E-mount lineup and are designed for cinematography. Zooming a lens by hand while shooting video can shake the camera and make the zoom jerky; the power zoom is activated by a switch on the barrel that will smoothly zoom the lens.
One of the most popular PZ lenses is the E 18-105mm f/4 G OSS.
LE
You've got me on this one. The only lens featuring this designator is the E 18-200mm f/3.5-5.6 OSS LE. This lens is touted by Sony as being their ultra-versatile, lightweight travel lens.
So maybe "Lightweight E"?
The SEL18200LE is only slightly smaller and lighter than the equivalently-priced SEL18200.
STF
STF stands for "Smooth Transition Focus."
The Sony FE 100mm f/2.8 GM lens has this feature.
You can think of this as a way of fine-tuning the out-of-focus areas using aperture.
Additionally, special lens elements will give these areas an exceptionally smooth out-of-focus area and transition.
---
Other lens abbreviations
You won't see these abbreviations in the name of the lens, but you may see them in the description.
SSM
The supersonic motor is a specialized motor that quickly, accurately, and quietly focuses the lens.
It's a great feature in sports photography and other situations where quick focus is important.
DDSM
The Direct Drive supersonic motor is a variant of the SSM featured on larger lenses – the heavier lens barrels require a bit of a more robust motor for fast & accurate focus.
ED
Extra-low dispersion glass is a specially-designed lens element that reduces chromatic aberrations – that purple fringing that often occurs around object edges in the outer area of the frame.
AR
Anti-reflective coating is applied to Sony's higher-end lenses to reduce flaring and haze; it's similar to the Zeiss T* coating.
XA
Extreme aspherical lens elements can assist in producing very smooth bokeh. You may have noticed that some bokeh in out of focus areas appear to have "rings" of different colors and shading within the bokeh. XA elements nearly eliminate this flaw. It also helps increase image resolution.
---
Does that all make sense now? What'd I forget?