Disclosure: This post may contain affiliate links. I earn a small commission of product sales to keep this website going.
An Easier Sony Alpha Mirrorless Camera Comparison
Update Dec 2017: Now includes the a6500 and a7RIII.
Update Mar 2108: If you're looking for differences between the a7II and a7III, read this new post about the a7III.
Update Jun 2018: Finally added the a9.
Which Sony mirrorless camera should you buy?
I want to try to make choosing a Sony mirrorless camera easy. There are currently 12 cameras in the lineup ranging in size, capability, and cost. Sifting through all the specs and comparing them all will give you a headache – it did for me!
But you can break these down into two groups. The two groups are APS-C sensor cameras and full-frame sensor cameras. The APS-C group has three cameras that can be reduced to one. The nine in the full-frame sensor group can be reduced to four based on what they're good at.
Three of the four full-frame cameras discussed here all have their cheaper predecessors that aren't quite as capable. I'll quickly mention which abilities were added. They also have the advantage of being a couple years newer than the predecessors and benefitting from advances in technology.
So, rather than laboriously comparing 12 cameras, let's talk about five. How does that sound?
Here's a quick table comparison with the details below.
Jump to: a6500 • a7III • a7SII • a7RIII • a9
| | Sony a6500 | Sony a7III | Sony a7SII | Sony a7RIII | Sony a9 |
| --- | --- | --- | --- | --- | --- |
| Its Specialty | Capturing action | All purpose | Low light & movies | Image size & detail | Fast action & low light |
| Price (body only) | $1,098 | $1,998 | $2,398 | $2,998 | $3,998 |
| Camera size | 4.72"x2.63"x2.15" | 5.0"x3.7"x3.0" | 4.99"x3.76"x2.37" | 5"x3.8"x2.5" | 5"x3.9"x2.5" |
| Camera weight w/ battery, no lens | 16 ounces | 23 ounces | 17 ounces | 23 ounces | 24 ounces |
| Sensor size | APS-C 23mm | Full frame 35mm | Full frame 35mm | Full frame 35mm | Full frame 35mm |
| Resolution | 24.2 MP | 24.2 MP | 12.2 MP | 42.4 MP | 24.2 MP |
| In-camera stabilization | 5 axis | 5 axis | 5 axis | 5 axis | 5 axis |
| ISO Range | 100-51200 | 50-204800 | 50-409600 | 50-102400 | 50-204800 |
| Burst fps | 11 | 10 | 5 | 10 | 20 |
| Autofocus points | 425 | 693 | 169 | 399 | 693 |
| Movie capability | Full HD 120fps, 4K, XAVC-S 100Mbps | Full HD 120fps, XAVC-S 100Mbps | Full HD 120fps, 4K, XAVC-S 100Mbps | Full HD 60fps, 4K, XAVC-S 100Mbps | Full HD 120fps, 4K, XAVC-S 100Mbps |
You may also want to read:
Sony mirrorless APS-C
First is the APS-C group. If you aren't familiar with the differences between APS-C sensors and full-frame sensors, you can read this article explaining the differences (and how they don't really matter!)
Sony APS-C cameras multiply the lens focal length by a factor of approximately 1.6. If you put a 15mm wide angle lens on the camera, you lose that wide angle as it effectively becomes a 24mm lens. And a 105mm telephoto gets an effective range of 168mm.
---
Sony a6500
The a6500 is the newest APS-C camera in Sony's lineup. The 24.2 MP sensor was redesigned with new wiring, allowing better light collection with less noise. The native ISO range goes from 100-25600 for fantastic low-light capability.
Who would like the a6500: photographers who don't mind losing some wide-angle capability with the APS-C sensor. If you shoot a lot of action or fast-moving objects, then this camera will be a real pleaser with its burst & focus capabilities. Upgrading from the a6300 to the a6500 won't really buy you much except for the touchscreen and sensor stabilization (worth it?).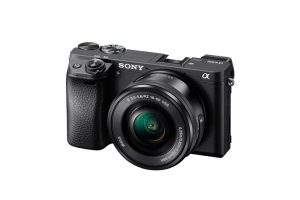 It claims to have the fastest autofocus (AF) in the world with a time of 0.05 seconds. This is significantly faster than what's found in many high-end cameras. It has 425 AF tracking points covering the entire frame with multiple Hybrid AF modes, including tracking in a fourth dimension – time – that predicts where your subject will be. The new touchscreen lets you set the focus point with your finger.
This super-fast focus compliments a burst mode of 11 frames per second (fps) for getting the perfect shot with sharp, fast-moving subjects.
The a6500 will accept E-mount lenses. If your lens doesn't have image stabilization, no worries, the a6500 adds 5-axis in-camera stabilization.
Shooting movies? You can record 4K or Full HD at 120fps using the advanced XAVC-S codec and S-Log gamma curves for an expanded dynamic range.
The camera is tiny at 4.72″ x 2.63″ x 2.1″ and weighs only 16 ounces (without a lens), just slightly larger than its predecessor. The body listed for $1,198 when it came out.
Check current prices on: B&H Photo Video | Amazon
The a6500's predecessor, the a6300, is currently selling for $748 at Amazon. This camera does not include in-camera stabilization and has a smaller image buffer. Read my summary of the differences here.
Then there's also the original a6000 for $448. The a6000 has an older (but still great) sensor, 179 AF points instead of 425, and no 4K movie capability.
---
Sony mirrorless full-frame cameras
Sony a7III – My Pick
Read my full a7III release here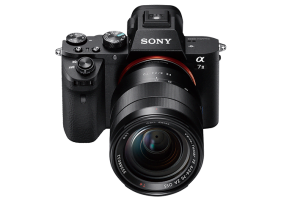 The a7III is your general purpose, all-around pick for a full-frame mirrorless 24.2MP ILC. While the a7R and a7S have their niches, the a7III is the jack-of-all-trades. The a7III has improved leaps and bounds over the a7II, and was subsequently released at a much higher price than the a7II was.
Who would like the a7III: any photographer looking for an exceptional full-frame interchangeable lens mirrorless camera when you don't need crazy-high sensor sensitivity or crazy-large images. An upgrade from the a7II to a7III is your call – keep reading for the differences.
The a7III improves on the a7II's in-camera stabilization, now providing five stops of stabilization. In addition to the stabilization, the new backlit sensor claims to give you an impressive 15 stops of dynamic range, much like the a9. The native ISO range is now 51200, expandable to a whopping 204800. You can use the E-mount lenses and even the A-mount lenses, maintaining phase-detection AF capability, with an adapter.
The a7III also has some significant video improvements. It features a Hybrid Log-Gamma profile, giving you both a high dynamic range and easier post-processing. The bitrate for 4K video has dramatically increased to 100Mbps. 4K video is limited to 30 frames per second, but HD recording can shoot up to 120fps.
The a7III is the largest of the full-frame cameras at 5.0″ x 3.7″ x 3.0″ and 23 ounces without a lens, about 70% of a Canon 5DII DSLR. The original a7 was built of plastic but both the a7II and a7III are constructed of a more durable magnesium alloy.
Other notable improvements include an almost doubled battery capacity (again like the a9), phase detection autofocus points covering almost the entire sensor, a time-predictive autofocus (like tha a9), dual memory card slots, and a touchscreen LCD.
The a7II is still a great camera and may be a better choice for some photographers. It doesn't have the backlit sensor, but it still has in-camera stabilization. The battery life is shorter and it lacks the touchscreen LCD. The a7II autofocus still rocks but it isn't at a7III level. The a7II is slightly smaller than the a7III, at 5.0″ x 3.8″ x 2.4″ and 21 ounces. It's available at B&H Photo Video and Amazon for almost half of the a7III, at $1,098.
The original a7 has been reduced to $798. The a7 is slightly smaller, lacks the autofocus capability of the a7II, doesn't have as great of video recording, and lacks in-camera stabilization.
Check current prices on: B&H Photo Video | Amazon
---
Sony a7SII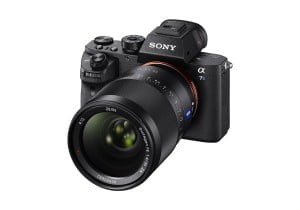 The a7SII ditches the high-resolution sensor in favor of a full-frame sensor with larger pixels, resulting in outstanding light gathering capability.
Who would like the a7SII: photographers who need crazy-high sensor sensitivity for night/low-light shooting. You'll love it if you need to shoot at an ISO of 12800 and get sharp details & minimal noise. Also a great cinematography choice.
The a7SII has a resolution of only 12.2 MP (still enough for magazines and prints), but it has an ISO of – get ready for it – 409600. The 169 AF points will quickly pick out the edges in scenes with amazingly dark exposure values of -4. To help out in these dark situations, the a7SII also features the five-axis image stabilization introduced in the a7II.
This camera is also a movie machine, recording high-quality 4K movies and Full HD at 120fps, using XAVC-S format at rates up to 100Mbps. S-Log3 will give you an incredible tonal range in post-production.
The a7SII is, like the rest, a small package at 4.99″ x 3.76″ x 2.37″ and a super-light 17 ounces.
The first a7S costs $1,998 but doesn't have 100Mbps movie recording (the limit is 50Mbps), has a scant 25 AF points, and does not have built-in image stabilization. The a7SII was a significant upgrade to the a7S.
Check current prices on: B&H Photo Video | Amazon
---
Sony a7RIII
The a7RIII was introduced on November 30, 2017. This camera has a 42.4 MP resolution which is honestly way too much for what most people do (not to mention the increase in data storage), but there is definitely a market for photographers who need that kind of resolution.
Who would like the a7RIII: the photographer who needs to pick out every last little detail in their images for large prints. An upgrade from the a7RII to a7RIII will again benefit these types of photographers, given the items improved upon.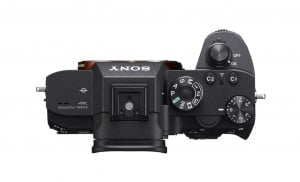 The a7RIII features the new Exmor R backlit sensor, a revolutionary redesign to increase sensor sensitivity, with an expanded ISO of 102400. It includes the five-axis stabilization of the a7II. That, combined with the Fast Hybrid AF & 399 AF points, will keep your images sharp.
The other significant difference in this camera is that it does not have a low-pass filter in front of the sensor. This filter is found on virtually all cameras in one form or another to reduce a phenomenon called "aliasing" or "moiré." This is a swirling effect that appears on tight patterns. But to gain something with this filter, you lose something. What you lose is some image detail because the filter intentionally blurs your image to reduce this swirl. The pixel count in the a7RIII is so high that the filter isn't really needed, ergo no intentional blurring.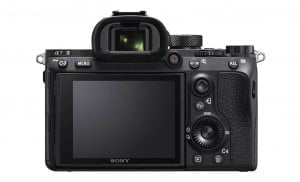 The a7RIII also excels at movies, recording Full HD up to 120fps/50Mbps and 4K at up to 100Mbps in XAVC-S. You can also shoot in "Super 35mm" format in addition to regular 35mm.
The a7R used to be the smallest of the full-frame bodies, but the a7RIII is slightly larger than its predecessors to be more or less equal to the other full-frame bodies, but it's the heaviest at 23 ounces.
Other significant improvements to the a7RIII over the a7RII include a burst mode of 10fps (vs. 5fps); improved low-light autofocus; higher dynamic range in low light; twice the battery capacity; dual SD slots; USB-3; and a touchscreen LCD. The a7RIII also introduces Pixel Shift shooting – the sensor moves by one pixel in each direction while shooting to grab more color information for better gradation.
The a7RIII brand-spanking new was $3,199 (body only). Check current prices at B&H Photo Video.
The a7RII is now $2,398 at Amazon. The a7RII is still an excellent camera, but the a7RIII significantly improves the image capture. Its predecessor, the a7R, is considerably less at $1,898. This is in part due to the older, less sensitive sensor (ISO is two stops less at 25600) and a smaller resolution "limited" at 36.4 MP. You also don't get as high of quality movies as the a7RII or a7RIII with the Full HD-only AVCHD format. The a7R does not have image stabilization either.
---
Sony a9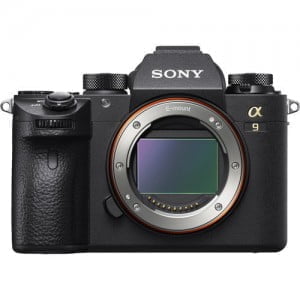 The Sony a9 is in a league of its own. It's sole purpose in life was to kill DSLRs. Lifelong DSLR shooters were supposed to look at this camera and say, "yep, I'm switching to mirrorless." And it seems to be working, if you're willing to pay for it.
Who would like the a9: professional sports photographers and wedding photographers who need fast framerates, high detail, speedy predictive autofocus, and amazing low-light capability. And anyone else with $4,000.
The a9's revolutionary Exmor RS sensor is unlike anything you've shot with. The sensor is backlit, improving light-gathering capability and producing smooth tonal gradations. There is also integral memory on the sensor so the data can be stored within the sensor before being transferred to the buffer.
This, with the electronic shutter, gives you a continuous preview of what you're shooting while the shutter is depressed, and at a blazing 20 frames per second.
The electronic shutter will give you a shutter speed of 1/32000 second to absolutely freeze action. Five-axis image stabilization also gives you up to 5.0 stops of stabilization for sharper handheld shots.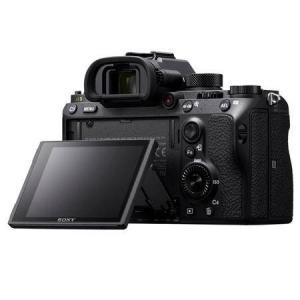 The a9's sensor is covered in 693 phase detection autofocus points. The fast processing speed will keep moving subjects sharp, with exposure and focus calculations performed 60 times every second. The a9 also has a predictive autofocus, calculating where your subject is moving and "leading" the focus so that it's in focus the moment the shutter is released.
The a9 also has a new battery to increase charge life, now up to approximately 480 shots in a single charge. A second memory card slot will allow you to backup and transfer between cards. FTP transfer is available through an ethernet port on the camera body.
You'll also get highly-detailed movies with great color on the a9. The entire 6000 x 4000 area of the sensor captures the image (instead of 3840 x 2160) and then downsamples to 4K for increased clarity. Bitrates as high as 100Mbps increase tonal gradations and color depth.
Check current prices on: B&H Photo Video | Amazon
I hope this makes choosing a mirrorless camera simpler for you! Please add your questions or comments below. I'll try to keep this updated as the lineup changes.