Disclosure: This post may contain affiliate links. I earn a small commission of product sales to keep this website going.
Getting a flash off of the camera is one of the best methods of improving flash photography. Unfortunately, there aren't many affordable off-camera flash solutions provided by Sony.
Sony has a proprietary Multi-Interface hot-shoe that won't work directly with Canon or Nikon flash gear.
Thankfully though there are some great third-party off-camera flash units for Sony. Here's a rundown of both Sony and third-party off-camera flash options for Sony Alpha mirrorless cameras.
If you're looking to put together a cheap travel flash kit, read this post about how to do it for under $200.
---
External Flash with Through-The-Lens (TTL) Metering
Unfortunately, your old equipment won't get you TTL with Sony's MI shoe. You'll need to buy new gear for this feature.
Sony Brand Off-Camera Flashes
Sony's external flash units (B&H Photo link), like other brands, have wireless capability. They're great external flashes, with smooth controls, durable construction, and the "quick shift bounce" feature that allows more head movement than any other flash.
These flashes can control other off-camera flashes with infrared signals, but you'll need two of these expensive flash units for infrared capability. Infrared is also limited by line-of-sight.
Radio-frequency flashes are better than infrared because line-of-sight isn't an issue. Sony also offers radio commander and radio receiver units (B&H Photo link). They're a bit pricey but will give you much more range.
So for Sony external flash, you're already running up towards $1,000 for two infrared units or one flash unit and radio control triggers.
Third-Party Off-Camera TTL Flashes for Sony Alphas – Godox VING V860IIS & X1T-S Trigger
Some third-party companies have invested in TTL functionality to work with Sony's MI shoe. You may see some of these flashes advertised as Godox, Flashpoint, Yongnuo, and Neewer. They're essentially the same flash unit but with different branding.
The Godox VING V860IIS & radio trigger (B&H Photo link) is often considered the best off-camera flash for Sony cameras in an affordable price range.
These external flashes get the job done just as well but don't feel as solid as the Sony flashes. That's expected as they're just a fraction of the price.
The light is the same and the TTL functionality works great. (Note: The V860IIS & Sony HVL-F60M have the same guide number but Sony is calculated at a flash head zoom of 105mm and Godox at 200mm).
Other features of the Godox V860IIS & X1T-S for Sony:
Built-in radio receiver in V860IIS (no external unit required)
High-Speed Sync to 1/8000s
Radio range of 328′
Flash zoom
Multi (stroboscopic) flash
Control up to 5 groups with a mix of Manual & TTL with Flash Exposure Compensation
Long-lasting rechargeable Li-ion battery provides 650 full-power flashes in a single charge
As of this publication, the Godox V860IIS with trigger sells for $225. The comparable Sony HVL-F60RM without trigger runs $598.
---
Sony External Flash with Manual Mode Only
Manual flash used to scare me more than anything else in the world. But once I learned how to shoot in Manual, I acknowledged that I probably like this mode more than TTL.
Adapters for Sony Multi-Interface Shoe
You can use your old external flash equipment with Sony's MI shoe with a simple adapter.
There are a few adapters that will work with different hot-shoe configurations. This is by far the cheapest option if you already have a collection of flashes, cables, and triggers.
Important note: If you're using TTL flashes from older systems like Canon & Nikon, you'll no longer have TTL mode capability. Just Manual mode.
If you have older Sony auto-lock external flashes, the Sony ADPAMA adapter is your best bet; you can find this on Amazon for under $20.
If you have Canon, Nikon, or Yongnuo flashes, you can use the Pixel TF-334 hot-shoe adapter, retailing for around $10.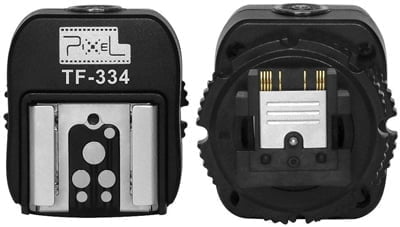 Third-Party External Manual Flashes for Sony Alphas – Godox TT600S & X1T-S Trigger
The Godox TT600S (B&H Photo link) is the Manual version of the V860IIS TTL flash discussed above. Like the V860IIS, with the TT600 you get:
Built-in radio receiver in TT600S
High-Speed Sync to 1/8000s
1st & 2nd curtain sync
Flash zoom
Multi (stroboscopic) flash
Control up to 5 groups of varying flash power ratios
Check it out – for the price of one HVL-F60RM Sony TTL off-camera flash you can buy eight Godox TT600S manual flashes & trigger.
The only functional difference is the lack of TTL capability in the TT600S.
The Godox X1T-S radio trigger retails for less than $50, compared to Sony's radio commander & receiver combo at nearly $600. Yeesh…
The Godox flashes don't feel as solid as the Sony flashes, but the dramatically lower price really encourages me to use them, travel with them, and not be afraid of breaking them.
And I did break a Godox flash recently. My light stand fell over, and the plastic shoe mount broke off of the flash. It might have happened with the Sony flash too; I'm not about to test that. But the flash itself still works just fine, I just can't lock it into any kind of mount.
I originally bought a kit with one trigger and one flash. After a few shoots I ended up buying a few more TT600 flash units and one TT685. They've served me well so far with no complaints. I always carry at least the X1T & one TT600 in my travel camera essentials kit.
---
I'll try to keep you updated as the line of accessories expands!