Disclosure: This post may contain affiliate links. I earn a small commission of product sales to keep this website going.
You may have seen those backpacking solar chargers that are about the size of a cell phone. You're intrigued by that, because they're small, light, and promise big electricity.
Don't. The technology isn't there. You'll find yourself without power two days into your two-week trip (I speak from experience).
They do work for emergencies, but not for real charging. If you really need a robust solar charger for backpacking, I'd recommend the Goal Zero Nomad 7.
Goal Zero Nomad 7 Solar Charger
Some of you may be familiar with Goal Zero's solar chargers. They specialize in portable power based on the sun. They have a stellar engineering team and are constantly improving on their products, which range from pocket-sized batteries to giant solar generators capable of powering refrigerators.
I used one of their discontinued products on my sailing trip years ago to charge AA & AAA batteries and also to directly charge my iPod. It worked great, even after being doused in salt water!
I've used the Nomad 7 as a backpacking solar charger for a few long trips now and have been very happy with its capabilities.
The Details
The Goal Zero Nomad 7 is a folding solar charger, popular among backpackers who attach it to their packs while backpacking.
Pros of the Nomad 7:
Output is rated at about 800mA, compared to the 200mA of smaller chargers.
Folds down into a slim profile that will easily fit in a pack.
Rugged and water-resistant.
Cons of the Nomad 7:
Weighs 16.2 ounces, compared to the 5.3 ounces of "pocket chargers."
Doesn't store power; you need an additional battery (extra weight).
Price:
Pricing fluctuates but it hovers around $80. You can compare current prices at Amazon or REI, their two biggest vendors.
Although you get four times the output of smaller backpacking solar chargers, the price is only about twice as much. But then again, as mentioned, it doesn't have a way to store power like the smaller solar chargers.
Power Storage Options with the Goal Zero Nomad 7
You can plug your USB device – phone, GPS, camera, etc. – directly into the Goal Zero Nomad 7 with the attached cables.
Or you can store the juice in a portable battery pack like Goal Zero's Switch 10 or Anker PowerCore. I prefer this method because it's just like putting electricity in the bank. A savings account you can access whenever you need it, day or night (as long as there's something in it!).
The Switch 10 is sold as a kit with the Nomad 7 for just over $100 (check the link for current pricing).
Pros of the Switch 10:
Can be fully charged in about four hours with the Nomad 7.
Can also be recharged via USB.
Lightweight at only four ounces.
Rugged and water-resistant.
Cons of the Switch 10:
Only holds 3,000mAh, close to half of what the pocket solar chargers store, but it's still enough to get a full phone charge.
The Switch 10 can also be accessorized by adding a flashlight head attachment or fan head attachment directly to the battery.
The Nomad 7 as a Backpacking Solar Charger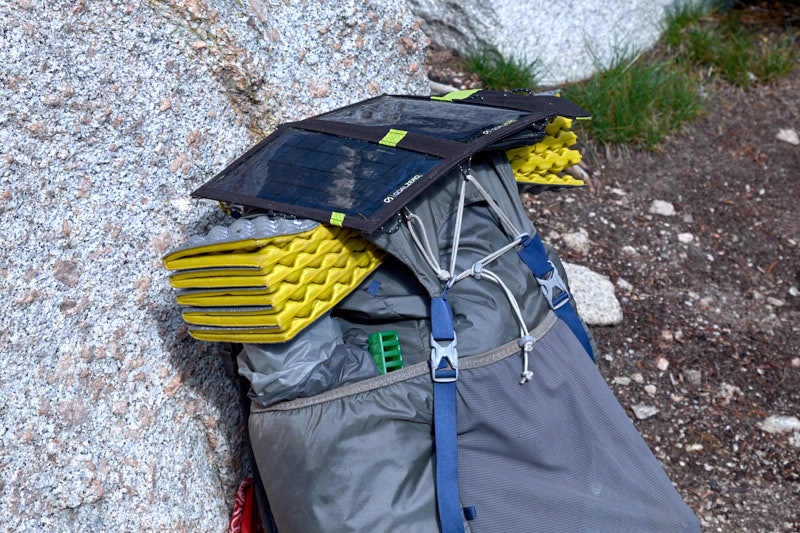 Yes, it's bigger, weighs more, and is more expensive than the cell phone-sized chargers. However, the solar charging efficiency of the Nomad 7 is far greater than those smaller chargers, simply as a function of the surface area.
You can get 3,000mAh in four hours with the Goal Zero Nomad 7. To get the same with smaller chargers, you'll need to wait 15 hours. This has huge implications for backpacking photographers and videographers!
My pack is a little bit heavier when I backpack with the Nomad 7, but my camera never quits and I can record GPS tracks with my smartphone indefinitely. You can extend your camera's battery even further by following these simple steps.
The supplied clips and loops secure it to the top of my pack and I can get a great charge while hiking. Especially when the sun is directly overhead or behind me. Overcast skies even produce a little bit of juice.
I've found Goal Zero's claims for charging time to be accurate.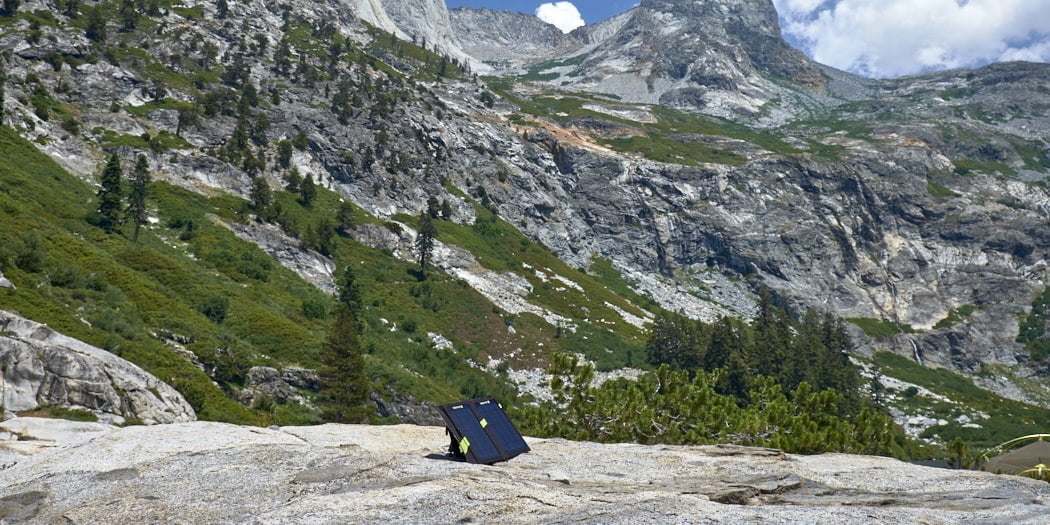 When do I Take a Solar Charger Backpacking?
If I'm only out for a night, I take the Switch 10 for an extra boost in the morning.
I take the Nomad 7 on multi-night backpacking trips.
My "strategy" depends a lot on the forecast. If it looks like crap I'll take my brick Anker PowerCore 20100 fully charged, assuming worst case I won't get any sun at all. With unquestionable sunny forecasts I know I can count on my Nomad 7 & Switch 10 combo.
Please leave any questions or comments below!