Disclosure: This post may contain affiliate links. I earn a small commission of product sales to keep this website going.
There's a lot of confusion over the new FAA Part 107 rules regarding flying over people and Remote ID. One of the biggest points of confusion is the Declaration of Compliance.
How do you get a Declaration of Compliance? How do you know if you have one? What can you do with a Declaration of Compliance?
I am an FAA-Certified Flight Instructor but do not work for or represent the FAA. Please send all hate mail regarding the new rules to them. I know this is a controversial topic; hate comments will be marked as spam. I'm just here to help.
What is a Declaration of Compliance?
Simply put, a Declaration of Compliance (DOC) is a letter stating that your drone meets the technical specifications to operate under certain rules.
For example, to participate in sustained flight over people, your drone needs to meet certain safety requirements. It can't be so heavy that if it fell out of the sky, it would completely crush someone. If it meets those requirements, it gets a DOC certifying that it is allowed to fly over people.
There are currently two types of DOCs – a Remote ID DOC and a DOC for flying over people. These two DOCs allow you to operate under two different parts of the FAA regulations.

A Remote ID DOC is not the same as a DOC to fly over people, and vice versa. They are two completely separate DOCs.
So let's look at these DOCs further.
Remote ID (RID)
Remote ID is outlined in the Federal Aviation Regulations Part 89.
Starting in September of 2023 March of 2024, all drones operating under Part 107 and any other drones over 0.55 pounds must broadcast Remote ID. Unless they're in an FRIA, as outlined here.
The FAA has determined some technical standards for meeting these RID requirements. You don't need to get into the weeds about these requirements unless you're actually building a RID module. But if your drone does meet these requirements, it will be issued a DOC for RID. It's simply a certificate stating that it meets the technical standards for RID and grants you all of the benefits of having RID capability.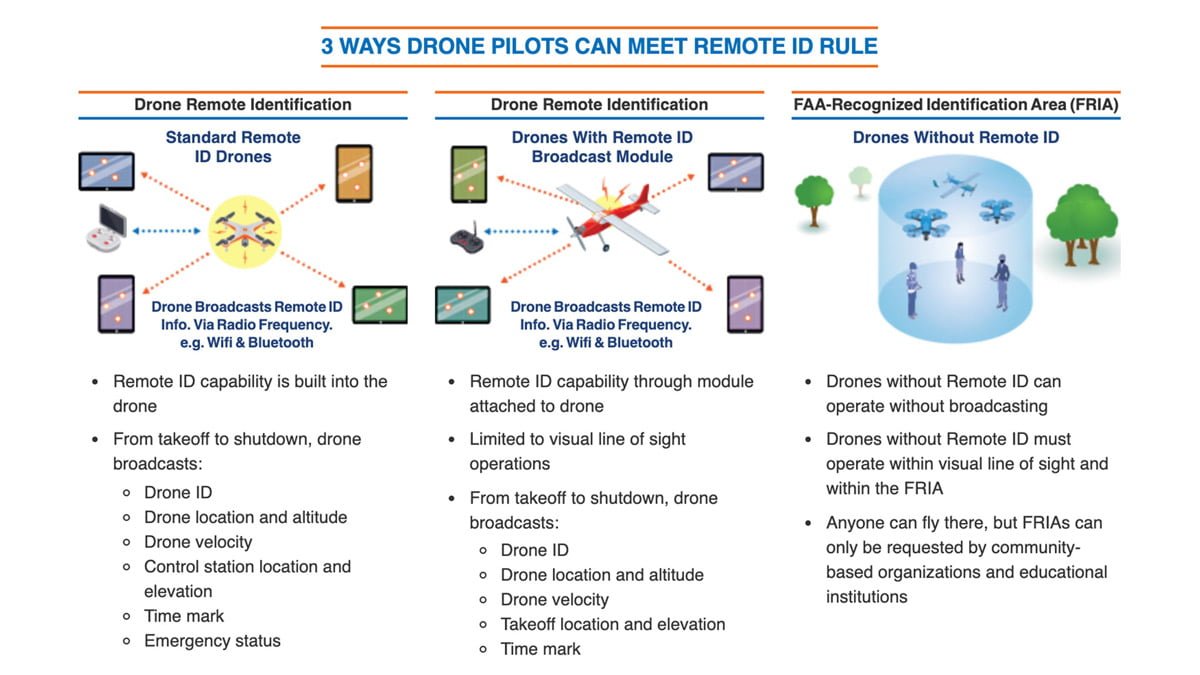 Operations Over People (OOP)
Flying over open assemblies of people is the main purpose of an OOP DOC. For Part 107 operations, you no longer need to apply for a waiver. If it meets the safety requirements and has a DOC for OOP.
FAA Part 107 Subpart D outlines four categories for flying over people without a waiver.
Category 1: For drones weighing 0.55 pounds or less. A DOC for OOP is not required, but a RID DOC is required.
Category 2: A Category 2 DOC is required as well as a RID DOC.
Category 3: A Category 3 DOC is required, but a RID DOC is not required.
Category 4: Requires a more robust Airworthiness Certificate and a RID DOC.
There are other requirements for operating in the above categories; this is just to outline the types of DOCs required.
As you can see, OOP DOCs are only required/issued for two categories: Category 2 and 3. RID DOCs are required for Categories 1, 2, and 4.
| | | |
| --- | --- | --- |
| | Remote ID DOC | Ops Over People DOC |
| Category 1 | Yes | No |
| Category 2 | Yes | Yes |
| Category 3 | No | Yes |
| Category 4 | Yes | No (Airworthiness Cert) |
Obtaining a Declaration of Compliance
Another point of confusion is how you actually obtain your DOCs.
There is nothing you can do to apply for any of these DOCs unless you're building drones or Remote ID modules yourself. Do not email the FAA asking for a DOC if you're flying a commercially-built drone.
This is paperwork that the manufacturer, i.e., DJI, Autel, or Skydio, takes care of.
It will appear on the FAA's public DOC list once it's cleared through the FAA. This is where you'll obtain a DOC if your manufacturer has been approved by the FAA.
Filter & Search
The FAA's DOC list is getting larger and larger every day. They do have filter & search features to help you find your applicable documents faster.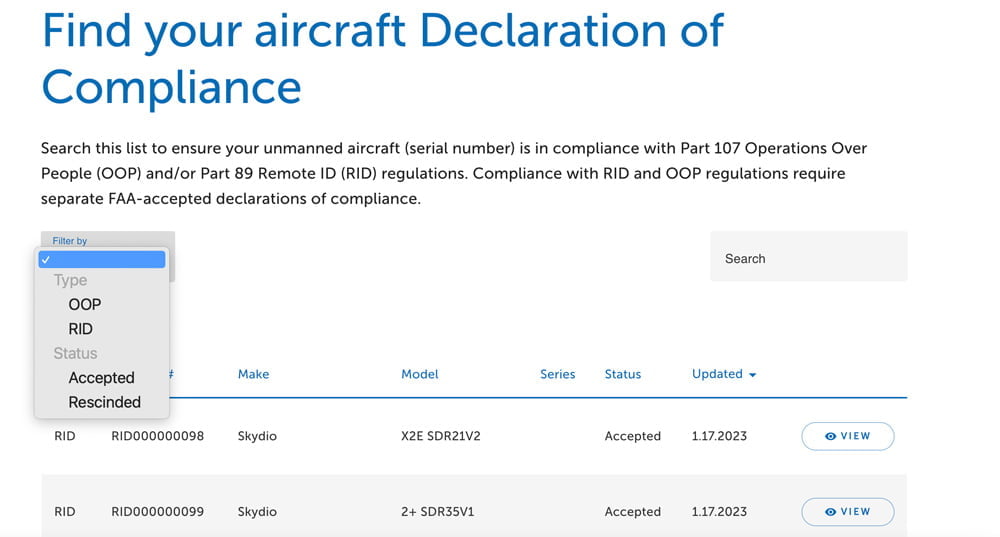 Use the Filter to search by RID or OOP DOCs. As of this writing, Jan 26 2023, only one UAS has an OOP DOC.
Many drones have RID DOCs, however. So you can use the Search bar to narrow down your manufacturer and/or model.
Click on View to print out your DOC. Ensure it's the appropriate DOC for the operation you want to do!

In Conclusion
I hope this clears up any questions you may have about obtaining a declaration of compliance and what the differences are between the two types of declarations of compliance. This list is growing daily, so be patient if you have a commercially-available drone.
Like your Registration Certificate and Remote Pilot Certificate, if required, this is another piece of paperwork you'll need to keep with your drone while you're flying.
If you don't have your Remote Pilot Certificate yet and wish to do so, you can use the coupon code "107BLOG25" for $25 off the Remote Pilot Test Prep Course, which also covers Remote ID and Operations over People in depth.