Disclosure: This post may contain affiliate links. I earn a small commission of product sales to keep this website going.
Update Jan 26, 2023: The FAA's list of Remote ID-compliant drones is growing and growing. Read this article to learn how to check if your drone has one and how to obtain a Declaration of Compliance.
What is Remote ID?
Remote ID is a system for tracking and identifying drones flying in our National Airspace System (NAS). The technology will broadcast your drone's GPS location, altitude, takeoff point/control station location, operator information, and more.
This is via a broadcast unit built into your drone or an aftermarket broadcast module that can be attached to your drone.
Anyone with a "receiver" unit, like local law enforcement and the FAA, will be able to read this information on a map or display.
Background
Remote ID is a result of many different factors, all related to the exponential proliferation of drones flying over our country.
There were privacy concerns – who is flying this drone over my backyard, or looking into my home window?
Safety concerns were also a big player. As drone sales & operations skyrocket, officials are seeing more and more hazardous situations develop near airports and hospitals.
Remote ID was the answer to these. Unmanned aircraft can no longer (legally) remain "anonymous" if they're going to fly in our NAS. This new means of accountability is designed to ease those privacy and safety concerns.
The brains at the FAA worked on the initial idea for a couple of years prior to 2020. They issued a Notice of Proposed Rulemaking (NPRM) at the end of 2020 and opened it to comments. The drone community made over 50,000 comments within a two-month period. The FAA listened to some of these comments, massaged the rule to accommodate more operators and make it more practical, and the final rule went into effect in March 2021.
We'll dive into some of the details next.
The controversy
Remote ID is, as you can imagine, a controversial topic. Designed to address privacy concerns of the general public, now drone operators are worried about their privacy.
I'm not here to comment on whether or not this should be required, as an opinion.
What I do want to point out, however, is that drone pilots shouldn't feel singled out.
Manned aircraft already have similar tracking in place, called ADS-B, to fly in certain airspace. Maritime vessels, from small sailboats to large cargo ships, also have these broadcasts called AIS. Even the license plate on your car is tracked whenever you drive past a traffic camera or tollbooth. Law enforcement can call in your plate number and immediately know everything about you.
So that's all I want to say about it. It's nothing more than what everyone else is already subjected to in other environments. Now it's our turn.
P.S. you can already be tracked by law enforcement if you have a DJI drone, thanks to DJI's AeroScope identification, so there's also that.
Why do we need Remote ID?
As mentioned above, the FAA believes we need Remote ID to keep pilots accountable.
But there's more to it than that! Remote ID actually allows drone pilots more capabilities.
With Remote ID, pilots can now more easily fly over crowds of people, will be able to fly beyond visual line of sight, and more. These things all required waivers in the past, a process that could take weeks. Now with Remote ID, you'll be able to just walk out your door and do it.
When pilots operate with Remote ID, the FAA is granting them permission to do more. We should, at some level, be thankful for this.
What are the three classes of Remote ID?
The FAA has identified three "scenarios" for Remote ID operations.
These scenarios apply from takeoff to shutdown. The chart below comes from the FAA's Remote ID page.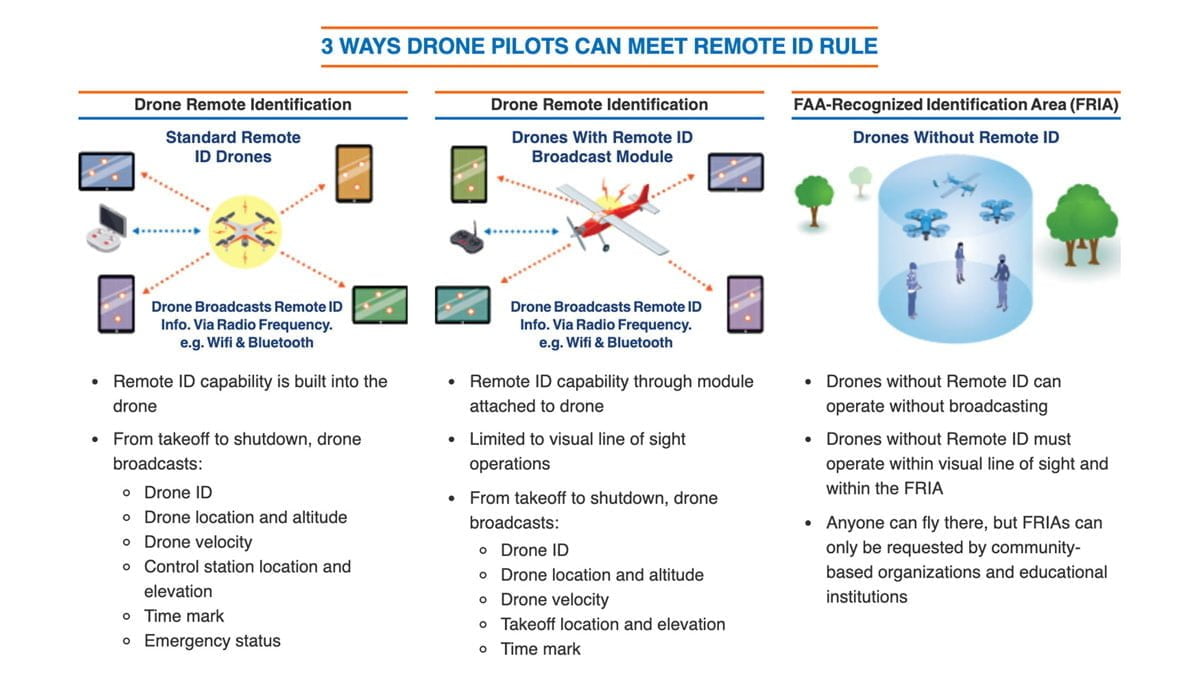 Standard Remote ID Drone
These are your drones that are manufactured with Remote ID built-in. It's integrated into the drone.
Manufacturers are required to comply with this starting in September 2022. Any new drones manufactured after this date must have a Remote ID broadcast.
This capability also allows Remote ID to broadcast any "emergency status" of your drone, such as if it's lost the radio control link.
Drone with Remote ID Broadcast Module
Have a drone manufactured before September 2022? You can still fly under the Remote ID rule using a broadcast module, an aftermarket component that you can affix to your drone.
These modules limit you to line-of-sight operations since they're not as integrated into the entire system.
Drone without Remote ID
You will be limited to operating in an FAA-Recognized Identification Area (FRIA) if you don't have any of the two systems described above.
These are geographic areas established in coordination with the FAA and aerial hobby clubs, academic institutions, etc. An FRIA allows model aircraft operators to fly without a Remote ID within this designated area and within visual line-of-sight.
Do you need Remote ID?
All aerial photographers in the United States are likely going to be required to have Remote ID, whether it's a new drone with a standard system or an old drone with an aftermarket broadcast module, starting September 16, 2023 March 16th, 2024. This includes:
Pilots operating under Part 107, regardless of their drone's weight.
Pilots operating under Recreational rules if their drone weighs more than 0.55lbs (250g).
If you're flying under Part 107 or Recreational rules, you don't need this system in place before March 16th, 2024. That is, unless you're operating under Category 1, 2, or 4 for flying over people, in which case you need Remote ID now.
The new Part 107 Remote Pilot test is already asking questions about Remote ID.
Which drones comply with Remote ID already?
Most DJI drones, from Mavics to Phantoms, have a remote identification system already. Even though this is advertised as "remote identification," it is not synonymous with the FAA's Remote ID protocol.
Do not be fooled by drone blogs that say DJI drones already have Remote ID, because, as far as the FAA is concerned, they don't!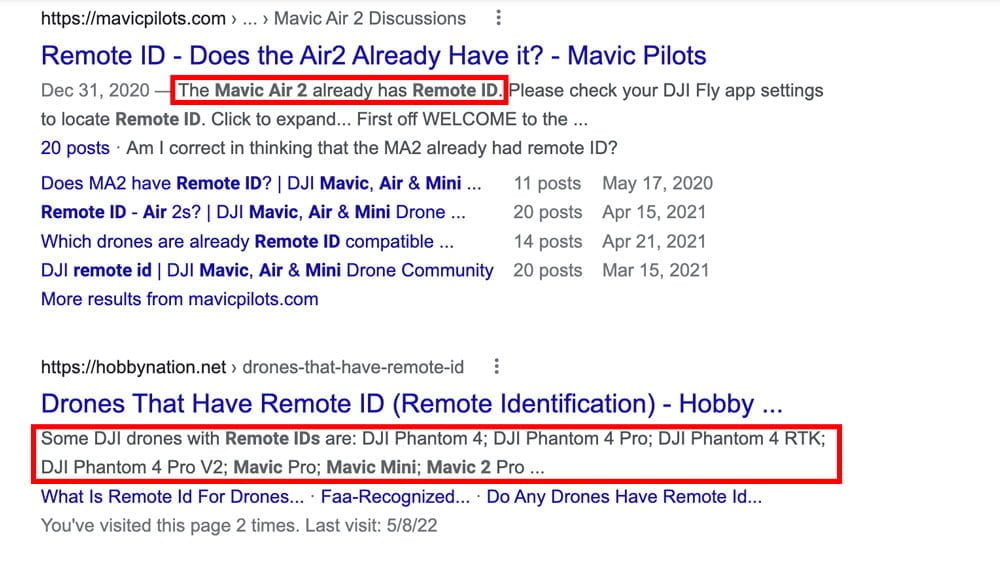 We have yet to see, as of this writing, what the FAA technical standards will require for compliance. Most consumer drones already have strong, capable radio equipment. Could it be possible to make an existing drone backward-compliant via a firmware update? Absolutely! We just don't know which drone models those are yet. DJI anticipated this, however, and it is certainly an option with their newer models released over the past couple of years.
But I'll say it again – as of now (May 2022), no consumer drones, even DJI's, comply with the FAA's Remote ID rule.
Update Jan 26, 2023: The FAA's list of Remote ID-compliant drones is growing and growing. Read this article to learn how to check if your drone has one and how to obtain a Declaration of Compliance.
I hope that clears up some confusion! You should have an idea of which of the three scenarios you fall under by March 2024. In the meantime, just have fun like you normally do!
If you don't already have your Remote Pilot certificate, I would highly encourage it, even if you don't plan on flying for commercial purposes. It can be a big help in understanding the regulations. This test prep course will get you ready! Use the code "107BLOG25" for $25 off.