Disclosure: This post may contain affiliate links. I earn a small commission of product sales to keep this website going.
Driving a Rental RV on the Denali Highway
The whole point of RVing is to see new things, right? I was dubious about driving the Denali Highway (Hwy 8) in a rental RV, but I really wanted to see it. The fall colors were popping and the sky was (mostly) clear, so let's see how far we can get!
I was looking at two route options from Denali to Wrangell St. Elias, and one of them was almost 100 miles shorter than the other. Easy decision, right?! Not in Alaska. Why is it 100 miles shorter but that's not the recommended route? It wasn't until right before our departure that I realized that the "highway" was a dirt road. Because, Alaska.
I couldn't find much about road conditions anywhere! Trusty internet reviews said things like, "five stars for the scenery, zero stars for the road conditions." Alaska's road conditions website simply stated, "Fair" for the road conditions. That's no help.
So I went to the Chevron in Cantwell (where gas is twice as expensive as Anchorage, FYI) and the attendant said, "oh yeah, RVs do that all the time without any problems. You'll see all sorts of campers, hunters, RVs, and hikers out there." Good enough for me! The only restriction that Cruise America gave us was, "all roads you drive must either be named or numbered." And this was both!
My only regret about taking this highway was not camping on it. I wish I had done a little more research beforehand, so learn from my mistake. I would have loved to pull over to one of the numerous waysides along the highway and spent the night, all alone out there, with a backdrop of glaciated mountains behind us. But alas, we had places to be.
Denali Highway quick facts
135 miles long, between Paxson and Cantwell
Unpaved for 111 miles
Open May-ish to October 1st
Constructed between 1953-1956
First "major" road to access Denali National Park until Parks Highway (AK-1) completed in 1971
Rich in Native history, mining history, wildlife, and vistas
Download the BLM guides:
You can also download a larger file (18 MB) geo-referenced map with more details at this link: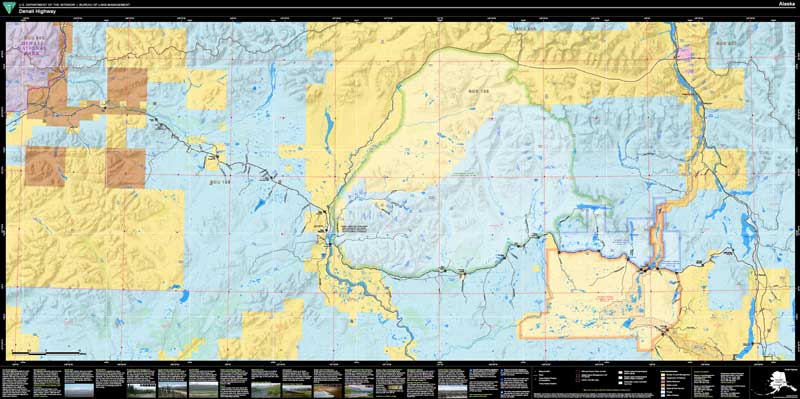 Things to do on the Denali Highway
So much! It's a short stretch of road, but it's packed with activities…and it takes a while to pass over it, so you might as well make a couple of days out of it.
Camping areas
You pretty much have over 100 miles of camping available on the Denali Highway. There are waysides and pullouts almost every mile it seems, and we saw numerous campers who had pitched tents almost right on the highway. Pullouts void of any campers were still occupied by old stone firepits awaiting use.
But if you want some "campgrounds" there are a few on the Denali Highway. The Brushkana Campground has 22 first-come-first-serve sites on the west side of the highway and is administered by the BLM.
There's another BLM campground on the east side of the Denali Highway in the Tangle Lakes Archeological District. This campground is next to a river and multiple lakes and has 45 first-come-first-serve sites.
Keep your eyes peeled if you want to camp somewhere else with sweeping views. You're sure to find something.
Hiking trails
There aren't a lot of trails per se, but there are endless hiking opportunities on the Denali Highway.
Just be aware that there's plenty of wet, soggy tundra here. Especially in the spring and after rains, this ground is going to be soaked and there will be numerous stream crossings. You're going to want some rubber boots (and bug spray) if you're hiking off the Denali Highway.
You can find some good hiking areas near the Susitna River, Maclaren Summit, and the Tangle Lakes Day Use/Campground.
Just as an FYI, the Tangle Lakes Archeological District has the highest concentration of invaluable archeological resources in the North American subarctic. Off-road vehicle travel and hiking are limited to established routes.
Fishing
There's great fishing along the Denali Highway at multiple lakes and streams. Anglers particularly fish the area for grayling, though you'll also find trout like dollies and rainbow too.
Don't bother with the Nenana River because that's all glacial runoff. But you'll find something in Brushkana Creek, Tangle Lakes, Glacier Lake, and Butte Lake, to name a few.
There are so many areas to fish along the Denali Highway that you'll most likely have the spot to yourself.
Sightseeing, Wildlife, and Photography
All of the above, except we didn't see much in the way of wildlife during our mid-September passage. Hunting starts in August so I imagine that those activities drive larger game like moose and caribou from the highway corridor. But along with those animals, you'll see numerous birds including swans and bald eagles, and opportunities for other animals like wolves, marmots, and fox.
The fall colors were great as the aspens had turned a yellow-orange. We missed the fireweed, and I hear the lupine is amazing earlier in the season.
There are numerous viewpoints and interpretive markers along the highway. Pull over wherever and whenever you'd like, walk off the road, and make some great photos. The interpretive markers are noted in the maps linked above. You'll have views of glaciers, rivers, Denali on a clear day, and if you're lucky, steam coming out of Mount Wrangell.
Both wide and telephoto lenses should be in your arsenal when photographing your drive.
Conditions on the Denali Highway
The Denali Highway is definitely seasonal, being a remote dirt road, open when the snow melts around May and closing October 1st. The road is officially paved for three miles east of Cantwell and about twenty miles west of Paxson, leaving 113 miles of questionable conditions. There are some shorter "paved" sections in the middle, using the term paved loosely. It's a nice reprieve after the washboards.
It's graded with gravel as well as it can be, but there are still a few potholes here and there. One section in the middle had some awful washboarding, enough to shake your teeth loose. The road was mostly dry when we drove it, but I can see it being a muddy mess in some places after heavy rains.
The road is wide enough for two cars to easily pass except for a few one-lane bridges.
Local knowledge is probably the best way to get current conditions, but you can get a quick idea of Denali Highway conditions by checking the Alaska 511 website.
Also, check with your rental company about restrictions on the Denali Highway. It's fine for passenger cars but some companies may not want you all the way out here. You may also want windshield insurance if you'll be driving a rental on the Denali Highway.
Services
The Tangle River Inn and Clearwater Mountain Lodge both advertise having fuel, but I wouldn't rely on those as pre-planned fuel stops. If you're coming from the west you'll want to refuel in Cantwell; from the east, there is no fuel in Paxson so you'll have to top off leaving either Delta Junction or Glenallen.
There is no cell service for the majority of the Denali Highway (take advantage of that!).
Carry a full-size spare and be ready to spend a night if you do have any vehicle troubles. There are a couple of tire repair facilities along the route but it could be a while.
How are the latest conditions?
Please leave any updates in the comments if you've found anything changed along the Denali Highway. Thanks and safe travels!