Disclosure: This post may contain affiliate links. I earn a small commission of product sales to keep this website going.
Kenai Fjords National Park Boat Tour
I almost didn't think that our scheduled Kenai Fjords boat tour was going to happen. We booked it on a very pleasant day…but the following day, the day of our reservation, was marked with wind, rain, and giant swells.
Shall we go for it anyway? Why not! I'm super-glad we didn't shy away from some reported bad conditions, and the rest of this post will explain why.
And P.S., as someone who's sailed over 4,000 miles on a 27-foot sailboat, and during a hurricane, I had to chuckle a little at their "bad" conditions 🙂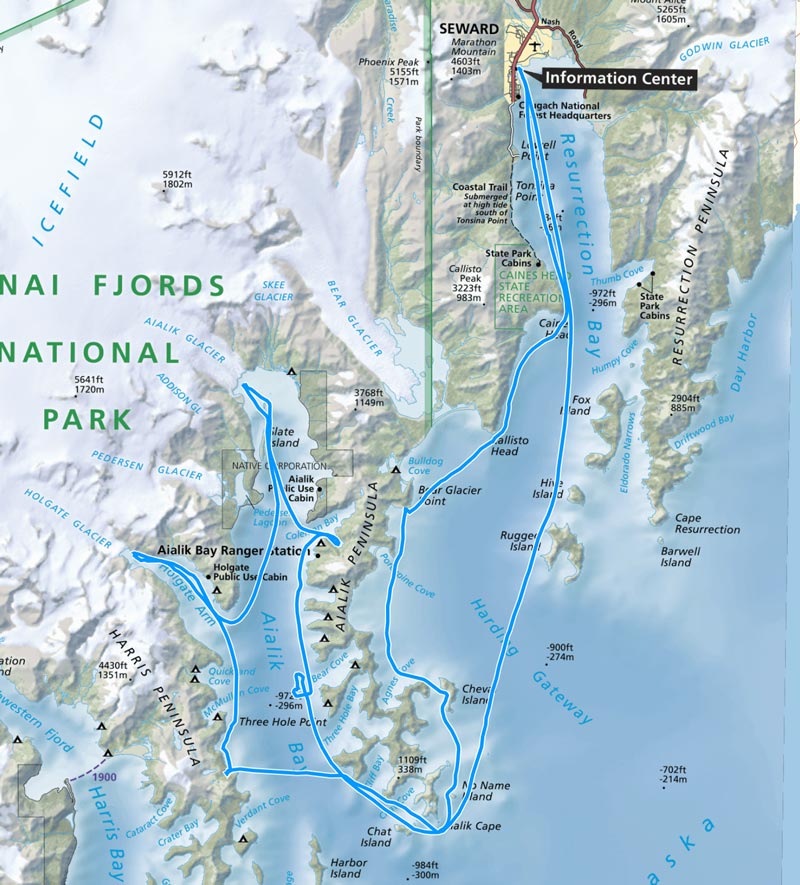 The above map was recorded using the Gaia GPS iOS app. This is my favorite app for hiking and travel, especially when I want to know where my pictures were made. Learn more about it here.
Departing Seward for Kenai Fjords National Park
Wait, I should probably mention who we booked for the Kenai Fjords boat tour. There are a few options because this place is happenin' in the summer months. We booked through Kenai Fjords Tours. This time of year (September) they're only running one tour a day – the six-hour Kenai Fjords National Park tour. During the summer they also do longer tours, shorter tours, dinner tours, and so on.
As I mentioned, it was quite drizzly and gloomy leaving Resurrection Bay. But it was only minutes before our first wildlife sighting, a lone sea otter seeing us out. Just floating on his back and watching us as if it was something he does every day. Our boat crew said he does.
The further out we got into Resurrection Bay, closer to Aialik Cape, the rougher the seas got. But it wasn't as bad as they made it sound, and even the captain was surprised to see it better than forecast.
Sailing into Aialik Bay
We made the turn to the north after rounding Aialik Cape and getting into Aialik Bay. It's a beautiful bay and absolutely massive. There are waterfalls everywhere in this part of Kenai Fjords, and the captain got us right up close to one of his favorites.
We continued north to Holgate Glacier, getting further into Kenai Fjords National Park. It had been drizzling this whole time still, but the sun started to peek through while we were at the glacier.
Holgate Glacier was named after a dean of Northwestern University who studied geology in Aialik Bay over a hundred years ago. This glacier, along with Aialik Glacier, was responsible for forming this entire bay. It's fascinating to view these living glaciers knowing they carved out this huge bay eons ago.
With waterfalls on both sides of the Holgate Arm and the glacier front and center, it sure is a remarkable introduction to Kenai Fjords National Park. There was an ice cave on one side of the glacier, next to pillars of ice that reminded me of Superman's Fortress of Solitude.
The Kenai Fjords National Park boat tour departs the Holgate Arm of Aialik Bay and continues north to Aialik Glacier. By this time the sun was out and the seas were smooth in the fjord, so I finally got my bow-riding time at the front of the boat.
Along the way, we passed numerous other waterfalls and a public-use cabin accessible only by boat.
Aialik Glacier eventually came into view, and it wasn't until we were at the foot of the glacier when I realized how massive it really is (was?).
Aialik Glacier
Aside from its height, I also noticed hundreds of small dots in the water in front of the glacier. I realized they were harbor seals as we got closer, all floating on the ice. The seals really close to the glacier made the glacier seem that much bigger.
With the sun now out, the face of the glacier was starting to heat up. Small chunks of ice fell off into the water, making a bit of a splash and some noise. Of course, we were fairly far away, so I'm sure those chunks of ice were bigger than houses.
Soon an even bigger chunk of ice fell off the front of the glacier, creating a massive wave as seagulls rushed to get out of the way, seals unfazed. I secretly wanted to see a calving while here, but at the same time didn't. It's pretty cool to see and hear in person, but recognizing how fast this is happening is not so cool. The captain said this happens on most of his boat tours in Kenai Fjords.
Orcas to round it all out
No Kenai Fjords boat tour would be complete without the obligatory orca sighting.
Departing the fjord to the south, the captain spotted a pod of orcas in front of Bear Cove. It looked like there were four of them. The captain was certain that they were "resident" orcas, as opposed to "transient." The resident orcas remain in protected inshore areas like Aialik Bay and feed on fish.
The crew lowered the hydrophones into the water (underwater microphones) so we could hear them talk to each other. Each pod has its own language and complex social structure. Absolutely fascinating science.
I found myself glued to my viewfinder, ready to pull the trigger as soon as one surfaced at the beginning of our orca sighting. But after a few minutes, I realized, dude, how often do you see this? Put the camera down. Crisp skies, bright glaciers, pine trees, waterfalls, and a family of killer whales. Don't waste time in the camera.
With our Kenai Fjords boat tour highlights complete, we headed back to Seward. The winds and seas calmed and Aialik Cape was a cakewalk on our return.
Reviewing Kenai Fjords Tours
I hope the pictures and text speak to what I thought about the tour.
The boat was clean, the lunch was good, and the crew was great, baking fresh cookies for our return into Seward. They were all very knowledgable and accommodating for all of the passengers. The captain was extremely knowledgable and everyone learned a lot while on the tour. They really helped make our trip to Alaska even more special. I've got nothing bad at all to say about them and can't wait for my next tour!
Check out all of their Kenai Fjords tours here.