Disclosure: This post may contain affiliate links. I earn a small commission of product sales to keep this website going.
One of my long-term photography projects is documenting the legacy of the Pony Express – the good and the bad, the settler perspective and the native perspective, of a short-lived mail relay between Missouri and California from 1860-1861 that solidified the Union's victory in the Civil War.
While this article won't necessarily focus on the Pony Express itself, what I did want to do is provide some insight about doing a project like this. The planning, logistics, and gear considerations.
If you don't have a long-term photography project like this, then I would strongly recommend thinking about one. It is hands-down one of the best ways to improve your photography and build your portfolio. I teach an entire course on this, Better Photography Through Visual Storytelling. That link will give you 20% off (code: "blog20").
Planning the trip
Routing & timing
This being a relay, there's a very specific route I must follow, along with a set schedule. Meaning, I'll miss the photo if I'm not in the right place at the right time!
The Nevada Division of the Pony Express sends me a PDF every year of their route across the state, along with relay stations and timing at each relay station.
Documenting something like this requires communication with the group you're documenting – you're going to miss a lot if you just "show up"!
So I know where they'll be riding, where they'll be exchanging the mail, and planned times at each exchange.
As General Eisenhower said, "plans are useless but planning is invaluable." It's nice to have this information, but the actual ride itself hardly ever sticks to the schedule. Still, the schedule is invaluable.
For one, I can't possibly document 72 hours straight across the state. I've gotta sleep at some point! Having the schedule allows me to set my sleep based on:
Stretches of the route that might be inaccessible to me or difficult to share with the horse
Stretches of the route that are either at night and/or just not photographically compelling
I plan my sleep as the horse & rider are passing through those areas. Some narrow canyon areas, and areas with a lot of loose dust just don't make it easy for me to keep leapfrogging the horse on the trail while I'm in my truck. I want to be as unobtrusive as possible.
I use Gaia GPS to plan my route, print out the map, and then just make notes on planned times, distances, and more.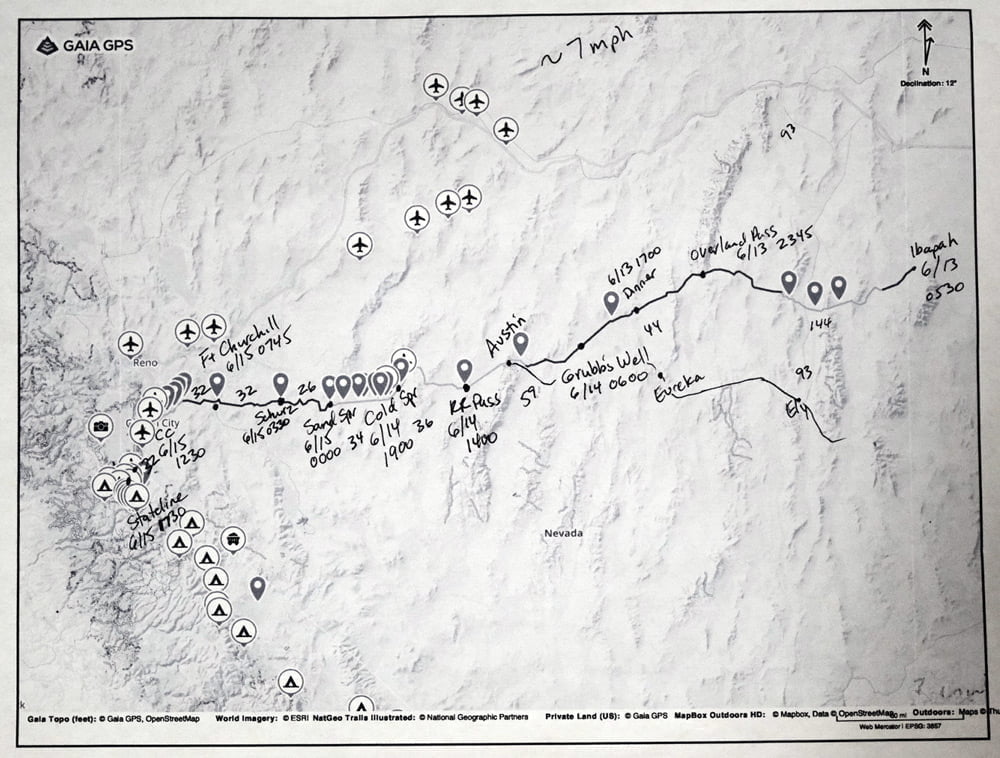 Gear considerations
What to take!
I'm in the desert with a lot of loose dust and sand. I want cameras that can handle it. I don't want to have to send my lenses & camera bodies in for cleaning after getting dust inside. So they need to be weather-sealed. Also, bringing three camera bodies means less lens changing, thus less chance for dust to find its way into my sensors.
I'll also be photographing movement at night. A tripod is pointless, and built-in stabilization is nice, but I still need a fast lens to get a somewhat decent shutter speed at night. Thankfully, the Pony Express ride is planned around the full moon of the summer solstice, so there's plenty of moonlight.
So here's what I brought for cameras and lenses:
Fujifilm X-T4 with 16mm f/1.4 for night photography & environmental portraits
Fujifilm X-T30 II with 50-140mm f/2.8 for telephoto photos
Fujifilm GFX50S II with 32-64mm f/4 for most photography
Fujifilm GF 110mm f/2 for night photography, to complement the wider 16mm f/1.4 on my X-T4
I would typically use my 16-55mm f/2.8 for most photos since that "24-70" standard focal range is my favorite and I love my X-T4. Being close to my truck for most of this ride, I wanted to try the new (larger & heavier) GFX50S II for most photos. More on that in another post.
I did take the 16-55mm f/2.8 as a backup, and I rented the 100-400mm f/4.5-5.6, but I never used either of them.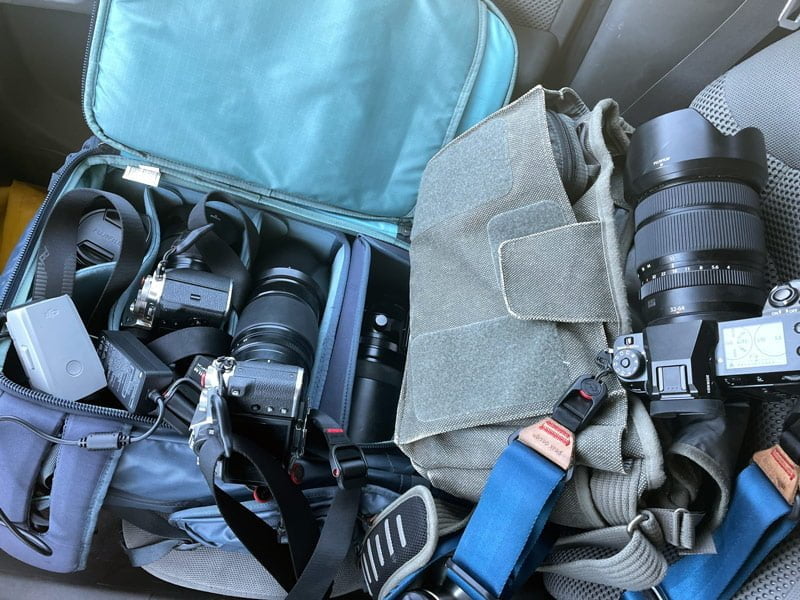 Additional gear vital to a trip like this:
Mavic 2 Pro for aerial photos, with three batteries & car charger
Mavic Air 2S backup for aerial photos, with three batteries & car charger
Lens & camera cleaning kit
USB chargers for the car
Spare camera batteries
Memory card wallet with spare cards
Notepad & pen
A lot of these are part of my "essential camera bag accessories" and are modular in design for easy transportation.
Then all the desert camping stuff like extra underwear & shirts, a hat, sunblock, and a giant jug of water!
Documenting the relay
Early snags
Go figure, nothing ever goes according to plan.
Unlike the riders of the 19th century, today's riders carry a GPS device in the mail bag that transmits their location. Their location is then superimposed on the official National Park Service trail map. This allows me to see where they currently are, and then calculate better estimated times to other checkpoints.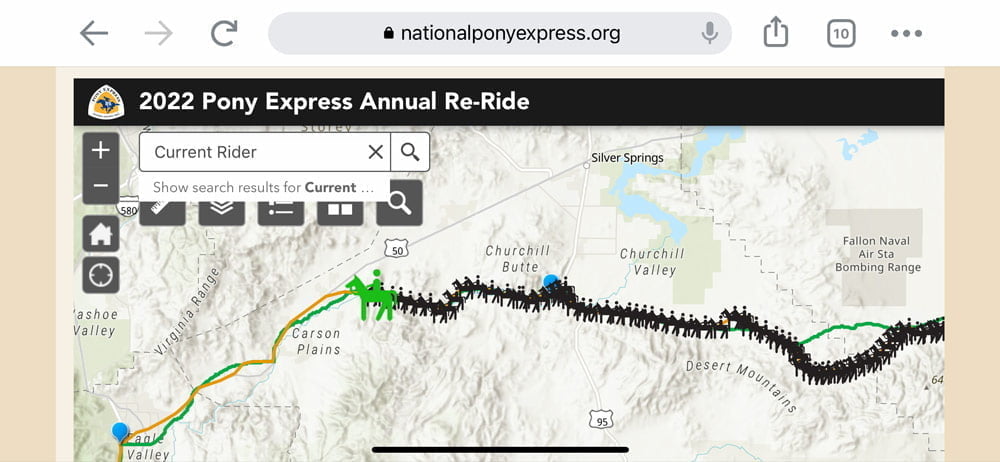 I had planned my departure from home and the seven-hour drive across the state to document the Nevada riders taking over near the state line with Utah. I gave myself two hours to spare, to arrive early, scope the location, and be ready for the riders to come in.
But somewhere during that seven-hour drive the riders gained two hours and beat me there! I still don't now how they did it – was it a glitch with the GPS device?
Lesson learned – just get there the night before. Give myself plenty of time to prepare and anticipate the riders coming in. I should know better than to cut it that close!
They'd be in some treacherous terrain for the entire day, so I instead slowly made my way to the potluck hosted by the Section 8 ride team.
Telling a different story
We had plenty of time at the potluck, the site of an historic marker, before the incoming riders would be coming in.
There are a lot of photographers "photographing" the Pony Express riders as they make their way from Missouri to California. This is where the GPS tracker helps 🙂
But what most of these photographers are doing is capturing a photo (or burst of photos) as the riders trot by. Or they'll hang out at an exchange site and photograph the exchange. Some of the more dedicated photographers follow along for a few exchanges.
This doesn't tell the whole story though.
There is so much more to this re-ride than the riders trotting down the trail and exchanging the mail. And those are the only photographs you ever see. Riders on horseback with mailbag exchanges in between. How…vanilla.
What about the lives of the riders? Who are they? How do they prepare? What do they do when they're not on horses?
Stepping away from the "action" for an evening allowed me time to document this part of it too. This was my second year doing this dinner with this ride team; some of them were new to me while others I've kept in touch with over the past year.
And it really helps to be familiar with your subjects, to know them. Don't just be a guy (or gal) with a camera to them.
This is an important piece to remember when photographing any project. You need to look at the big picture, so to speak, to tell the whole story. Not just the pieces that you think people will recognize, or that they want to see. The more you know your subjects, the better photographs you'll get.
It's the core of being a visual storyteller, as covered in the course Better Photography Through Visual Storytelling (link 20% off with "blog20").
Shot lists
This brings me to shot lists.
A shot list is like a grocery list. And we go into a lot of detail about how to come up with a shot list in the aforementioned course.
I like to have a very loose shot list, meaning I don't have a rigid, detailed list of every photograph I want to come back with. Just ideas. An outline. And then I react from there.
For example, I wanted to get some night photography. I had originally planned to do this during the second night of my outing, and sleep during the first night.
I ended up driving out to the end of the valley where the current team was going to pick up the relay, at around 10pm. Just to scout it out. I'd say hi, then catch a solid night's sleep, catching up with them early the next morning.
However…the moon was so bright, lighting up the valley like daylight, that I started taking a few photos as the rider was coming in. Before I knew it, I was at the other end of the valley a few hours later, having photographed until nearly 3am. These unplanned photos ended up being my favorite from the trip.
I also wanted to get an aerial photo of a rider passing by the remains of the Edward's Creek Pony Express station. A station I had photographed from all angles before, but never with a rider carrying mail past it. This station is at the end of a remote canyon where I had no cell service to track the rider, and thus no way of knowing when he'd be there, other than guessing.
At around the time I thought he'd be there, I started throwing my drone up into the air to see if I could get a glimpse of some dust trails or something. Nothing. The drone hovered up there for 20 minutes as my scout, at which point I had to bring it back to change the batteries. After changing them out, I put the drone back up in the air, and the rider had already galloped past the station! He was hauling and came down that canyon in the short time it took me to change batteries. One shot missed, gonna have to wait another two years to get it 🙂
The point being, you need to be flexible with your shot lists, especially in situations like this. And be okay with not getting specific photos you wanted. It happens.
Lessons learned for next year
A project wouldn't be a project without noting things to do better next time.
This was my second year on the trail. They alternate going east and west every year, with other differences in each direction, so now I have experience with an eastbound relay and a westbound relay.
I feel fairly confident being able to document this journey for the next few years, now that I've done it in both directions. And I have things to remember for even better photos in the coming years.
Give myself more time than I think I need to meet incoming riders at a certain location, locations that will give more meaning & context to my project.
Spend more time with the riders waiting for the relay.
Spend less time "chasing the exchanges," as once you've photographed a few exchanges you've photographed them all. The real stories happen in the "in-betweens."
Note the trail access points and road conditions so I can capture even more remote images next year without getting in the way of the riders and support vehicles.
Looking forward to next year!