Disclosure: This post may contain affiliate links. I earn a small commission of product sales to keep this website going.
Tired of comparing options for great travel cameras? Here's a rundown of the qualities to look for in a good travel camera under $500 and what you'll find in 2018.
What makes good a travel camera
Small & light. It's much easier to travel when you're not loaded down.
Environmental sealing. You'll want to be able to wander out in the rain and capture all of those amazing photos that scare away other photographers. Unfortunately, most travel cameras under $500 don't have weather sealing.
Easy to use. Moments disappear fast, and you won't have time to fumble with confusing menus & small buttons.
RAW capability. I had thought about adding this as a "bonus", but if you take photography seriously you should really be shooting in RAW, not JPG. It opens up so many doors with what you can do with your photos.
Bonus: Interchangeable lenses. If you have the extra money, being able to swap out lenses will help you get more perspectives than you could with a point-and-shoot, and with generally better quality.
Bonus: GPS receiver. The whole point of travel photography is remembering where you've been, right? A camera with a built-in GPS receiver will write that information to your files for you.
If you're interested in reading more about how to honestly assess the qualities you need in a travel camera, check out this post I recently wrote on the topic.
And now, the list.
---
Travel cameras with interchangeable lenses
Interchangeable lens cameras (ILC) are generally more expensive than point-and-shoot cameras, and you'll also spend more money on additional lenses. If you have some change to spare they're a great investment.
But the overall image quality is generally better (due to a larger physical sensor, not pixel count), and you'll have much more latitude for processing your photos than you'll have with point-and-shoot cameras.
DSLR
APS-C: Nikon D3400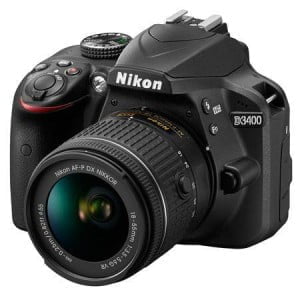 The 24MP Nikon D3400 has been on the top of the entry-level DSLR market since its introduction in 2016. You can purchase this camera with a kit lens for less than $500; it is the only ILC camera on this list that comes with a lens for that price. If you're new to ILCs, this is the best travel camera for beginners.
What makes it a good travel camera: This simple, no-frills camera has some great image quality, especially for an SLR of this price. This is the smallest & lightest DSLR available, and it comes with an equally impressive kit lens for the price. Autofocus works well, especially with fast-moving subjects. Expect to get 1200 shots on a single battery charge. The built-in flash works very well and doesn't feel like just a "required add-on" that some pop-up flashes are. Quickly send photos to your phone via Bluetooth for the obligatory Instagram post.
What it's missing: A built-in sensor cleaner, you're on your own for that. This camera can record full HD 1080 video but lacks an external audio input. This camera is also missing the Panorama mode found on its predecessor. This camera is not weather sealed, though some of Nikon's lenses are. There is also no built-in GPS on this camera.
Check current prices at B&H Photo Video | Amazon
---
Mirrorless
Micro Four Thirds: Olympus OM-D E-M10 II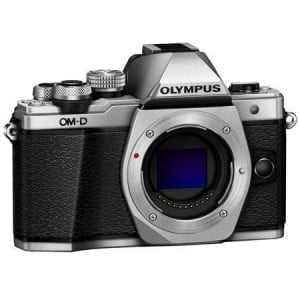 You won't get a kit with lens for under $500, but what you will get is a stylish, compact, 16MP travel camera with five-axis built-in image stabilization. You can get the excellent 14-42mm lens bundle for $599 – and that's a steal!
What makes it a good travel camera: If you don't want to mess around with RAW processing, Olympus will give you the best JPGs out of the camera with vivid, natural colors. The controls are easy to manipulate and the touchscreen LCD will let you focus, shoot, and adjust settings with a smartphone-like interface. The focus sensors still work well in low light, and image stabilization will let you slow down the shutter with handheld shots. The camera is solidly built and features WiFi for fast image transfer to your phone.
What it's missing: Low light image quality isn't superb, but that's just a characteristic of the M43 sensor. You won't notice it unless you're making massive prints though. The menu can be difficult to navigate until you program the custom settings menu. If you want to shoot video you'll be stuck with the in-camera mic as this doesn't have any audio input. This camera doesn't feature a built-in GPS.
Check current prices at B&H Photo Video | Amazon
---
APS-C: Fujifilm X-E2S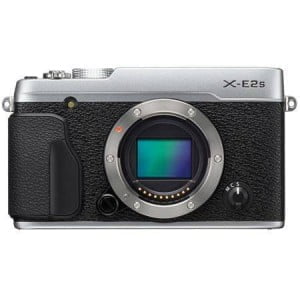 The rangefinder-like 16MP Fujifilm X-E2S replaces the X-E2 and was succeeded by the X-E3, giving the highly-capable X-E2S a drop in price.
What makes it a good travel camera: The small X-E2S gives you some creative flexibility with built-in interval shooting, Bulb setting for long exposures, a hotshoe for external flash units, and Fujifilm's legendary film simulation modes like Velvia and Classic Chrome. Fujifilm makes some great lenses, and even cheaper third-party lenses are available for the X-E2S. This camera will shoot in RAW burst mode up to seven frames per second. Buttons are customizable, and an Auto button on the back allows you to go into a simple one-press Auto Scene Recognition mode.
What it's missing: The X-E2S doesn't have an internal GPS, but you can pair it with your smartphone to get this option. Mirrorless cameras aren't known for battery life, and you'll only get about 350 shots with this one. As mentioned previously, this camera lacks weather sealing.
Check current prices at Amazon
---
APS-C: Sony a6000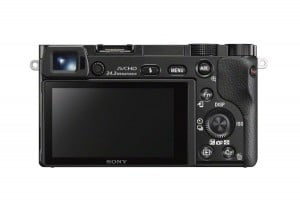 The 24MP Sony a6000 was my first mirrorless body after switching from DSLRs. That was three years ago, and the camera is still in the fight today thanks to Sony being the leader in mirrorless technology.
What makes it a good travel camera: Fast & accurate autofocus & burst shooting of a speedy 11 frames per second. Superb image quality, even today after the introduction of new technology. The a6000 is very small and light, and it almost looks like a cheap camera, helping you keep a low profile. If you want to mix things up with video, the a6000 records great 1080 Full HD video up to 60fps. A hotshoe will let you add some flash for versatility.
What it's missing: The a6000 doesn't have built-in image stabilization like its successors. Like other mirrorless cameras, the battery life is abysmal, giving you around 300 shots on a charge. And the camera doesn't come with an AC charger, meaning you'll have to charge in-camera via USB unless you purchase a separate charger. This camera isn't weather-sealed either, just like the other ILCs on this list. Nor does it contain an internal GPS.
Check current prices at B&H Photo Video | Amazon
---
Point and shoot travel cameras
Ultracompact point-and-shoot travel cameras have a great thing going for them: their small size. Weather sealing is more of the exception and not the rule, as is an internal GPS.
But they're just so small, and affordable. The lenses on this list are generally extremely good. Just don't get enamored by the high optical zoom numbers, because you still need a physically large piece of glass to be able to resolve all of the fine details in the composition. With that in mind, these cameras should get the job done for you.
Waterproof
Fujifilm FinePix XP130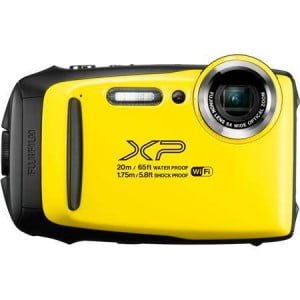 The waterproof Fujifilm FinePix XP130 is the newest camera on this list, released in early 2018, and thus it'll get the first spot in this list of point-and-shoot travel cameras. This is Fuji's 2018 release of their adventurous line of cameras.
What makes it a good travel camera: This 16MP camera features a 5x optical zoom and will give you a nice perspective with the 28-140mm equivalent focal range. The sensor also features shift stabilization technology for reducing vibrations. This camera is waterproof to 65ft, shockproof, dustproof, and features cold weather protection down to 14F. Bluetooth can keep this camera synced to your phone for geotagging, then hand off photo & movie transfers to a WiFi connection. Other modes include interval shooting, panorama, and recording 1080 Full HD at 60fps. Ergonomics make this camera easy to use with one hand.
What it's missing: The maximum aperture of f/3.9 is somewhat disappointing, meaning you'll need higher ISOs in low light and won't get much of a shallow depth of field for portraits. The buttons are small but at least they protrude enough to manipulate easily. This camera is JPG only, no RAW. The "toy look" design may put some people off.
Check current prices at B&H Photo Video | Amazon
---
Olympus Stylus Tough TG-5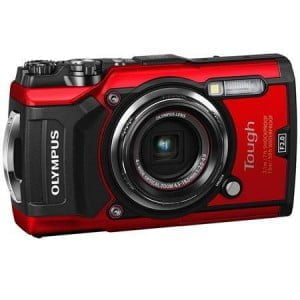 The TG-5 is just a few months older than the Fujifilm XP130 and has a smaller 12MP sensor, but it does hold the edge if you're willing to spend a little extra money. Especially if you spend a lot of time underwater.
What makes it a good travel camera: This little camera can capture RAW photos, 4K video, and 1080 Full HD at 120fps. A Microscope Mode lets you get in as close as 1cm to your subject, and can be combined with focus stacking for greater depth. The bright, f/2.0 lens has a 4x optical zoom with equivalent 25-100mm focal range. A built-in GPS not only logs your location but also speed and temperature. Semi-manual controls will make advanced photographers feel more comfortable with this camera. A range of lenses & lighting accessories are available.
What it's missing: For a camera marketed as an underwater machine, it's surprising it can only go down to 50ft. An Olympus housing is available to bring that down to 147ft. The dual-paned lens keeps it from fogging up but makes it more prone to flaring. If you forget to turn off the GPS logging, you'll see the battery drain quite fast. The menu system is convoluted, but thankfully it can be mostly bypassed with quick access to common settings.
Check current prices at B&H Photo Video | Amazon
---
Not Waterproof
Sony DSC-HX90V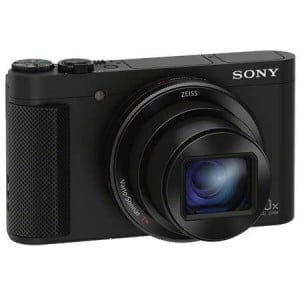 Sony's update to the HX60 is a serious contender to the Panasonic Lumix DC-ZS70's status as one of the best travel cameras. This GPS-enabled ultracompact is equipped with the stellar Zeiss glass, a technologically-superior backlit sensor, and built-in stabilization.
What makes it a good travel camera: I mentioned GPS earlier – the "V" version of this camera can geotag your images. The 30x optical zoom Zeiss lens will give you an equivalent focal range of 24-720mm. The camera is extremely small and compact but still features five-axis image stabilization. Semi-manual modes will appease the advanced photographers. It is quick to focus. The sensor performs well in low light thanks to the 18MP backlit sensor, allowing it to capture light more effectively. WiFi connectivity will let you control the camera and transfer images to your phone.
What it's missing: The backlit sensor helps in low light, but the maximum ISO is 3200 and the maximum aperture is f/3.5 – very much so on the low end for comparable cameras. It's also surprising that this camera, given the semi-manual controls and higher price, cannot output photos in RAW format. Also, the exposure compensation dial and multi-interface hotshoe have been removed from the HX90V. This camera does not have weather sealing.
Check current prices at B&H Photo Video | Amazon
---
Panasonic Lumix DC-ZS70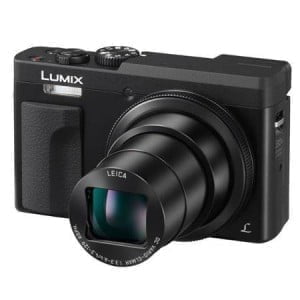 The Panasonic Lumix DC-ZS70 is currently sitting at the top when it comes to ultracompact travel cameras. It has features that will make both the "auto" and "manual" shooters happy, records 4K video, and captures photos in RAW format.
What makes it a good travel camera: A notable Leica 30x optical zoom lens with 24-720mm equivalent focal length with a maximum aperture of f/3.3. An articulating LCD touchscreen gives you more control over the camera, while a Quick Menu gives you access to common settings. Multiple photo modes like panorama, manual focus, and aperture & shutter priority shooting. This camera can capture photos in RAW format, shoot bursts at 10 frames per second, and record 4k video at 30fps and 1080 Full HD at 60fps. Optical image stabilization will help you out in low light.
What it's missing: Oddly, the longest shutter speed is 4 seconds – most comparable cameras at least go to 30 seconds. This camera has no built-in GPS and no weather sealing. Low light capability suffers slightly due to cramming 20 megapixels into such a small sensor, and low ISO limit.
Check current prices at B&H Photo Video | Amazon
---
Sony Cyber-Shot DSC WX350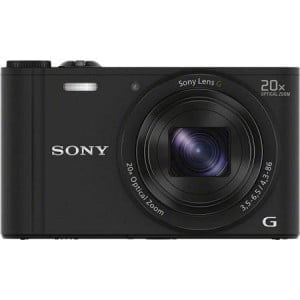 If you're not keen on spending almost $450 for the Sony HX90V, check out the WX350. It's geared towards mostly automatic shooting but still maintains image stabilization and Full HD video recording.
What makes it a good travel camera: This extremely small travel camera with an optical zoom of 20x will give you an equivalent focal range of 25-500mm, with a maximum aperture of f/3.5. It can record 1080 Full HD video at 60fps, and can shoot photo stills in burst mode up to 10 frames per second. Sony still managed to fit Optical SteadyShot into this small body.
What it's missing: One of the things that should have been upgraded is the LCD display – this newer camera still has half the resolution of its competitors. There's not a lot of manual options, like shutter or aperture priority modes or manual focus – you'll have to trust the camera to do everything. It should go without saying that this camera cannot capture in RAW format. Nor does it have a built-in GPS or weather sealing.
Check current prices at B&H Photo Video | Amazon
---
So that's it for 2018! What will we have to look forward to next year?!
While we wait, you may want to check out: