Disclosure: This post may contain affiliate links. I earn a small commission of product sales to keep this website going.
Update 2/6/2019:
As I said when I originally wrote this post, I've never really been a fan of watermarked photos. After almost exactly one year of watermarking my photos, I've decided to remove them. I just don't want anything in between the viewer and the photo. And if people are going to steal, they're going to steal. Just last week I found that someone had lifted one of my photos, watermark and all, to advertise one of their products. Reverse image search has thankfully helped me find these. Because I added the watermark via SmugMug and not directly to the photo, removing them only took a couple of button clicks. I do think I prefer the "cleaner" look. You can read my original post about adding watermarks below:
I've never really been a fan of watermarked photos. Probably because most of the times I see them, they're some gawdy 144-point bold script font across the whole image with hardly any transparency.
When I'm looking at your beautiful pictures, I want to see the pictures!
I totally get why you think you should watermark your images though. In today's age, it's far too easy for someone to screenshot your photo and pass it off as their own.
I always just accepted this reality. It's part of the deal. If you're going to publish photos online these days, you're going to lose a lot of protection. You have legal options but are you really going to track down every use of your photos?
Google Reverse Image Search…surprise!
I was completely sidetracked from my morning checklist yesterday. Maybe I have adult ADHD. I wanted to mess around with Google's reverse image search. You just drag a photo into the search bar and the entire internets is scanned for that exact photo.
I was surprised to see that the first photo I chose to search, a photo that isn't even that spectacular, had been in a number of online publications. It was a photo of the Indian River on the Caribbean island of Dominica.
The most humorous result was that the image had been used to illustrate an article about the drought occurring in India's rivers. I guess someone searched for "Indian river", this came up, and they thought it'd work well to illustrate the arid conditions in India: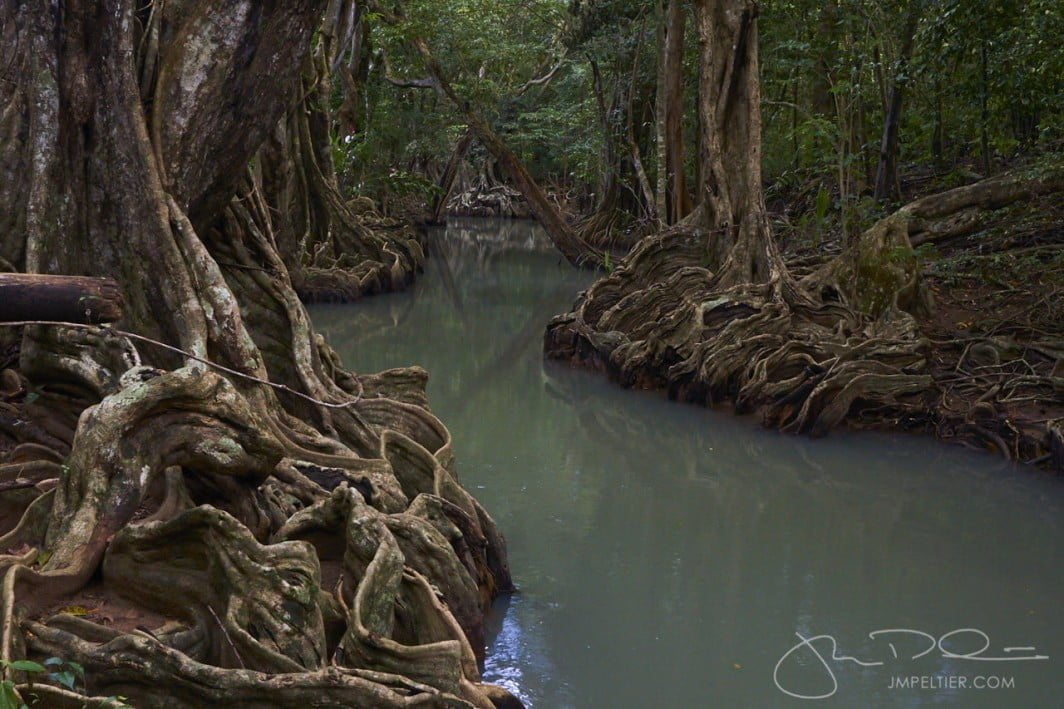 The fact that someone chose this photo for such an illustration makes me more distressed about the future of humanity than the fact people are stealing shit. Anyways…
Do you need to add a watermark to your photos?
Sure. Perhaps. No. I don't know.
This is definitely one of those "personal preference" things, but here's my take.
As I mentioned before, when I browse galleries to look at photos, I want to look at the photos. I don't want to have to look through a giant sign to see what's underneath. It distracts from the qualities of the photo too much – a beautiful photo ends up completely hidden under text.
But if you don't do that, isn't it too easy for someone to steal it?
Yes, and no. If someone really wants to steal a photo, they're going to steal the photo. Sophisticated cloning algorithms can clone out many text watermarks. Just Google "how to remove watermark" and there's tutorial after tutorial to show how easy it can be. If you really want to prevent this, you might as well just replace all of your photos with your name.
Your lazy criminal probably won't want to go through the effort. They can screenshot around the photo, in which case they'll have an obvious crop, or they'll just pass the photo up and look for the next one.
If you're wondering about copyright: you, as the photographer, automatically have copyright to the photo when the shutter is pressed, and all derivatives of that photo. You don't need to add a watermark to prove copyright.
What kind of watermark should you add?
So with all of what I just said, I thought I'd finally try something different and add a watermark to my photos. Not a big one, and not a boring Arial Bold "Copyright Me" sign. Just something small to tell the lazy criminals, "move on to the next guy". The big fish…I'm still coming after you!
Going after copyright infringement is an entirely other topic I'll touch on later, once I have enough data from folks I've chased down – I'm sending invoices as we speak.
So I just added my signature. That's me. Photography is the only art form I'm good at (and that can also be debated), so why not sign the photos in a semi-tasteful manner?
How to add a signature watermark in SmugMug
I use SmugMug as my photo hosting service. The plans are affordable, they have an e-commerce platform and print lab partners that I like, and it's easy to customize your portfolio site. It's also easy to integrate into my blog. Every time I edit a photo, it's updated on my SmugMug portfolio, and those changes are automatically propagated throughout this blog.
First, you need to digitize your John Hancock! I use the Wacom Intuos tablet for photo editing (it's so much easier than a mouse!) and the stylus makes it super easy to add a signature. Just open Photoshop, create a blank canvas, and use the "brush" tool. I used a brush size of 6 and just kept signing away until I got one I liked. Then I erased the background color, scaled it to 150 pixels wide, and saved it as a transparent 24-bit PNG.
Second, go to your SmugMug account and click on Organize. Doing this from your root directory will make these watermark changes global.

Go to Settings…

Again, you should be in your root directory to make these changes global. In the Settings, go to Photo Protection. Notice all of the other options are greyed-out because I have different settings for each gallery. But I want the watermark to be global. From here you can go to "Create Watermark", then follow the instructions to upload your PNG file. You can adjust the placement and the transparency – I did bottom right at 35% transparency. Select the watermark in this settings screen and they'll all have the watermark within minutes!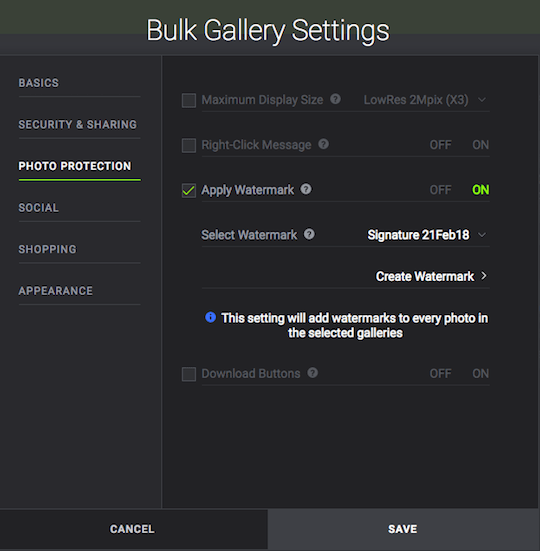 So now all of my photos are watermarked with a signature that gives the photo some personality unique to me, without hiding the photo.
And if you're wondering, the watermark will not show up in digital downloads or prints ordered through my site. Just the displayed image.
And since all of my blog images are embedded, if I ever decide to remove the signature, you won't see it in the photo below and will know I changed my mind.
How do you like this style of watermark? How do you watermark your images, if you do at all?