Disclosure: This post may contain affiliate links. I earn a small commission of product sales to keep this website going.
I've been a big fan of Think Tank Photo bags ever since purchasing my Retrospective 20 shoulder bag. Why?
On the outside it doesn't look like a camera bag – I'm not advertising to the world the expensive camera gear carried within.
The bag has been to hell and back and still seems like new.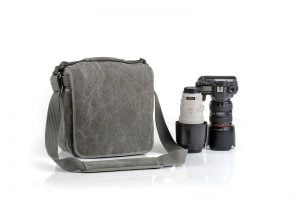 The Retrospective line comes in a variety of sizes and three colors – black, pinestone, and blue slate. It is one of the most inconspicuous, voluminous specialty camera shoulder bags I've seen.
The bags are made of a soft cotton canvas, making it a very durable bag and also flexible. The main compartment comes with foam dividers allowing you to customize "pockets" for your gear. The bag is tall enough that in my Retrospective 20 configuration, I can keep my Canon 5D Mark II with 70-200mm f/2.8L lens in the main compartment, and on both sides of that I have room for a 580EX II Speedlite and both a 24-105mm & 17-40mm f/4L lenses.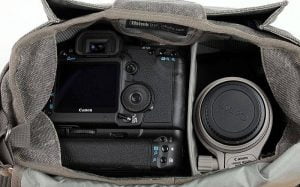 An expandable pocket is on the front of the bag, giving you room for more Speedlites, a spare SLR body, or an iPad or 13-inch laptop. More padded organizer pockets are on the inside of the bag, and this is where I keep a notepad, pens, spare batteries, cable release, lens cleaning supplies, and CF cards in dedicated pockets. The rear of the bag contains both inner and outer zippered pockets, in which I have room for a gray card and collapsible diffuser/reflector.
The flap covers the entire front expandable pocket when closed, and is secured with two large velcro squares. To shoot in an even more "stealth" mode, these velcro squares come with silencing flaps that cover them to avoid that velcro ripping sound every time the bag is opened.
If you still don't have enough room with what's provided, thick webbing straps are on each end of the bag. These can accommodate carabiners for other accessories and/or lens pouches.
The shoulder strap is very comfortable, though this is a bag that I don't want to hike with – after about four or five hours, with all of the gear mentioned above, I find myself having to switch shoulders due to the weight. It is, however, my go-to bag for urban shooting when I want to be inconspicuous and can set the bag down every so often. I'd want a backpack-style bag if carrying that much weight all day, regardless of how comfortable the shoulder strap is on this bag.
Two more things – this bag is a perfect carry-on "personal item" when flying. You probably don't want your camera gear in your checked luggage and this is a perfect option for a carry-on and also allows easy access to an iPad, magazine, or laptop.
I also want to add that I used this bag on my 8-month sailing journey. It was sprayed with salt water every time I went ashore a new island and always kept my gear dry, and has not been ruined by the salt. The bag also comes with a rain cover for even more protection.
Don't need a Think Tank camera bag this big? Check out some of the other sizes available in this line or any other product they have available- you won't be disappointed!