Fujifilm just announced the X-T100, an APS-C interchangeable lens mirrorless camera in its X lineup. On first look it appears to be awesome, but how will it work as an entry-level mirrorless camera for travel and backpacking?
Fujifilm X-T100 Basic Specifications
Sensor: APS-C CMOS with standard color filters
Sensor size: 24.2 megapixels
Viewfinder: Electronic viewfinder + 3″ Tilt/swivel LCD touchscreen
ISO Range: 200 – 12800, expandable 100-51200
Stills: JPG & RAW; burst to 6.0fps
Video: 4K
Dimensions: 4.8″ x 3.3″ x 1.9″
Weight: 15.8 ounces (without lens); 20.6 ounces (with kit lens)
Get more into the weeds at Fujifilm's X-T100 website.
Related: Setup Guide for the X-T100
Fujifilm X-T100 for Backpacking & Travel
Price
The X-T100 is initially being offered at $599, including the 15-45mm f/3.5-5.6 image-stabilized kit lens. This is a great price point for pros looking for a small compliment to their kit or amateurs just starting out. The body only is $599.
The kit lens will give you a 35mm equivalent focal range from a semi-wide 23mm to 69mm. You'll need to purchase a telephoto zoom like the 55-200mm if you want to photograph wildlife or get really close to your subject.
But for most backpacking photographers who typically shoot landscapes, the kit lens should be sufficient.
Size
No arguments here, the small size and light weight of the X-T100 make it a great backpacking & travel camera. It won't quite fit in your pocket with a lens attached but it's pretty close. The camera alone is just shy of a pound at a lightweight 15.8 ounces.
The nice thing about the Fujifilm X APS-C lenses is that they're smaller and lighter than their full-frame equivalents. This is one of the reasons why I stopped being a full-frame sensor snob and switched over to Fujifilm.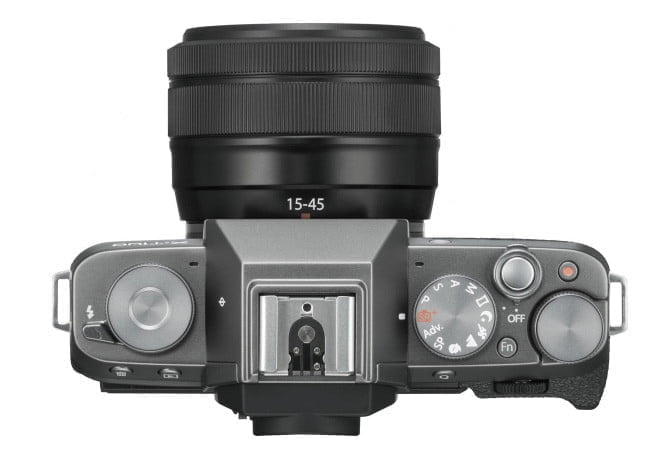 Build features
Like Fujifilm's other X cameras, the X-T100 looks like a classic film camera from a distance. The numerous small buttons give away the fact that it's digital once you get closer. It's available with black, silver, or gold trim.
All of those numerous small buttons may be a challenge for large fingers or gloved hands. Thankfully most of them are raised just enough to allow for an easy press.
And like the other Fujifilm cameras, it has a number of large dials on top for changing shooting modes, exposure compensation, and so on.
The X-T100 isn't environmentally sealed. Only the X-T1, X-T2, X-Pro2, and X-H1 are sealed at this time. This may not be a dealbreaker for you, but it does mean that you'll have to be extra careful with it when the skies open up or when you're in fine sand & dust.
Something like the small Peak Design Shell will add a nice layer of protection and let you still use the camera. The X-T100 does also have a self-cleaning sensor.
The X-T100's battery can be charged via USB cable, eliminating the need to carry a separate wall charger. If you're on the road or the trail for an extended period of time, all you need is the USB cable and something like the Goal Zero Solar Charger or the Anker PowerCore battery pack. Tested battery life is 430 exposures, on par with current small mirrorless cameras.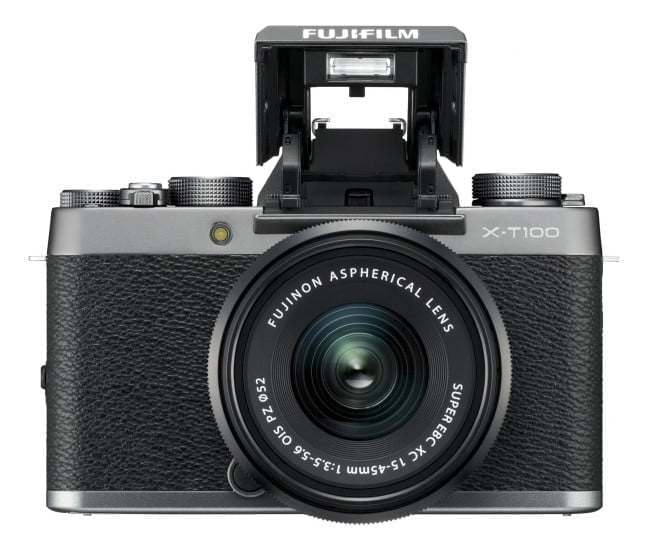 The X-T100 has a well-disguised pop-up flash in front of the electronic viewfinder and a hot shoe for attaching external flashes and remotes.
There is no built-in hand grip with the X-T100, but it does include a small detachable grip that may be sufficient for most people.
Finally, the X-T100 sensor utilizes the traditional Bayer pattern & anti-aliasing filter, versus the normal X-Trans processor without a filter found on other Fujifilm X cameras. If you know what this means I don't have to explain it any further; if you don't know what it means don't worry about it. You'll get great images no matter what.
Shooting with the X-T100
Here's the meat of it all.
The X-T100 will appeal to everyone from amateurs who have never used an interchangeable lens camera to pros looking for a small travel camera companion.
New or hobbyist photographers will love the advanced SR+ Auto Mode that recognizes both your scene and your subject. Flip the screen up for selfies in front of landmarks around the world and use the touchscreen to navigate settings. Take advantage of the other creative exposure modes like Landscape, Snow, and Night.
Professional photographers can go into full Manual mode, Aperture priority, or Shutter priority. Record uncompressed 14-bit RAW+JPG capture with Fujifilm's excellent film simulation modes, emulating their classic Velvia, Astia, and Classic Chrome films, among others. Send the JPGs off to social media while you preserve the uncompressed RAW for later editing.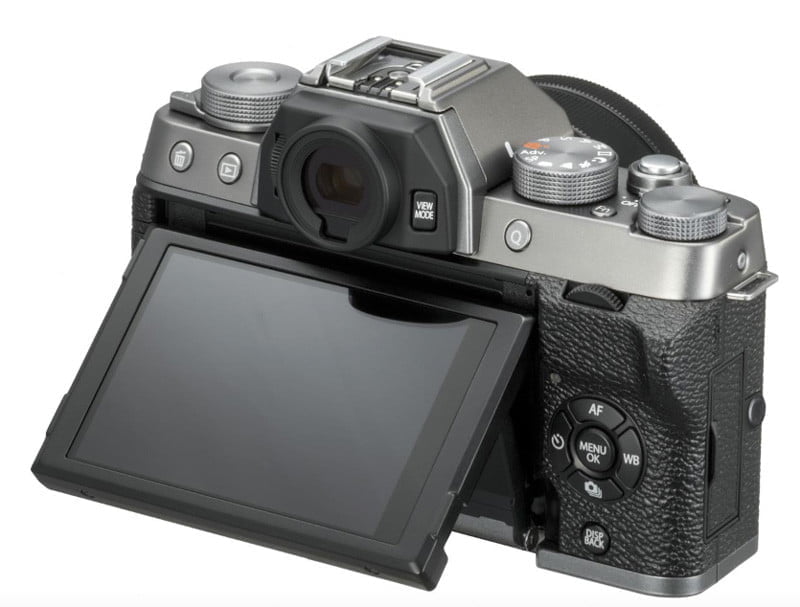 Shutter speeds can be programmed as long as 30 seconds, and there's also a Bulb mode to take longer exposures at night while you're camping in the middle of nowhere.
The hybrid autofocus system of the X-T100 is quickly approaching that of Sony's amazing mirrorless focus system. It utilizes both phase detection and contrast detection to focus on moving subjects and can shoot in a burst of up to six frames per second.
Like the other X series cameras, the X-T100 has a bright, high-resolution electronic viewfinder. I've gotten away from using the LCD screens and have gone back to looking through the viewfinder. The EVFs on Fujifilm cameras are getting that good. You can program which information it displays and use awesome manual focus assist features while getting a preview of what your white balance & exposure settings will look like.
And for those times when you're sitting at a café in Florence and Snookie from Jersey Shore walks by you, hungover and getting sick right in front of you (yes that really happened to me), you can quickly record Full HD at 60 frames per second. 4K recording is available but at a mostly useless 15 frames per second.
Connectivity
Like its more expensive brethren, the X-T100 offers Wi-Fi and Bluetooth connectivity. You can keep the low-power Bluetooth constantly connected for using the Fujifilm smartphone app as a remote control. The pairing will switch over to a faster Wi-Fi connection for image transfer. And in less than a second you can have it on social media.
The X-T100 does not have a built-in GPS, a feature desirable in a good travel & backpacking camera to keep track of where your photos were taken. You can use your GPS-enabled smartphone to geotag the images during a Bluetooth connection. Sometimes I will record my hiking tracks with Gaia GPS and then geotag everything in Lightroom later.
Verdict: the X-T100 as a lightweight travel & backpacking camera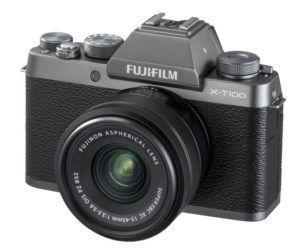 I'd get it if I didn't have enough cameras already! I do hope to get my hands on it once it's released for a trial run, and maybe it'll convince me that I need to add it to my expanding kit.
Other than not having robust environmental sealing, this camera meets all other criteria for a great travel camera. Even then, I've been in plenty of austere conditions with the delicate Sony Alpha cameras and never had a problem with water.
It's easy enough for amateurs to use and offers features that pros always look for. No matter your skill level you'll get accurate, rich colors and sharp images.
You can order the X-T100 from both B&H Photo Video and Amazon. The camera body only is $499 and the kit lens increases the price to $599.