Disclosure: This post may contain affiliate links. I earn a small commission of product sales to keep this website going.
There are many different types of memory cards out there, from dirt cheap to cards as expensive as camera lenses. So how do you choose one? This post will explain memory card specs and give you some insight into that.
We'll primarily discuss SD cards here as those are the most common standard, but the numbers apply to microSD also.
Memory card capacity
The capacity type of the memory card is often found in the name. Here's a breakdown of the differences between SD, SDHC, SDXC, and SDUC.
SD: These were the first SecureDigital (SD) cards and had a capacity up to 2GB. You may also see this called SDSC.
SDHC: The next generation of SD cards, SDHC (High Capacity), increased capacity up to 32GB.
SDXC: The third version of SD cards, SD Extra Capacity, significantly increased storage up to 2TB, or 2,048GB.
SDUC: The latest generation of SD cards announced in summer 2018, the SDUC (Ultra Capacity), will have a maximum capacity of 128TB.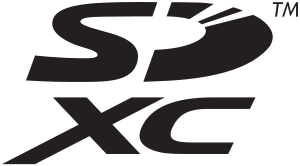 Memory card bus speed
Different SD cards also have different data transfer speeds, and this is important to note based on the type of media you are recording. It will also affect how quickly you can retrieve the data in post-production.
Here's an explanation of memory card UHS-I, UHS-II, and UHS-III bus speeds.
UHS-I has a theoretical bus speed of 104MB/s, but actual transfer speeds may vary between 50-95MB/s, depending on your device and the card manufacturer.
UHS-II maximum bus speed is 312MB/s. Actual transfer speeds will likely top out around 299-300MB/s depending on the card manufacturer and your device.
UHS-III was just introduced, with a maximum speed of 624MB/s. We have not seen any cards of this speed on the market, and it's probably unnecessary for most creators.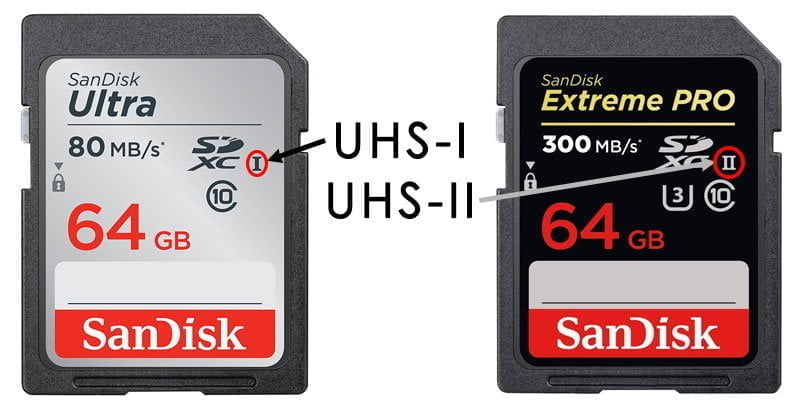 Memory card speed class
This is the final specification that you'll see in memory card names. This specification becomes more important for videographers requiring a minimum constant write speed for video recording. It has to do with technical details regarding data fragmentation that are above the scope of this article; all you need to understand is which specification you'll need.
There is a difference between memory card bus speed and speed class.
"Speed Class" is the number in the big "C" and will be 2, 4, 6, or 10. These numbers correspond to the minimum number of MB/s sequential write speed. It doesn't require UHS-I, II, or III.
"UHS Speed Class" defines the minimum sequential write speed over the Ultra High-Speed bus. It's the number in the "U" and is either a 1 or 3. U1 has a sequential write speed of 10MB/s, while U3 has a sequential write speed of 30MB/s. This requires a UHS-I, II, or III data transfer bus. UHS class 3 is NOT UHS-III.
"Video Speed Class" is a newer speed class designed for higher-resolution video recording. It's the number next to the "V" on capable cards. The number next to the V will be either a 6, 10, 30, 60, or 90, and specifies the minimum MB/s sequential write speed. This requires a UHS bus.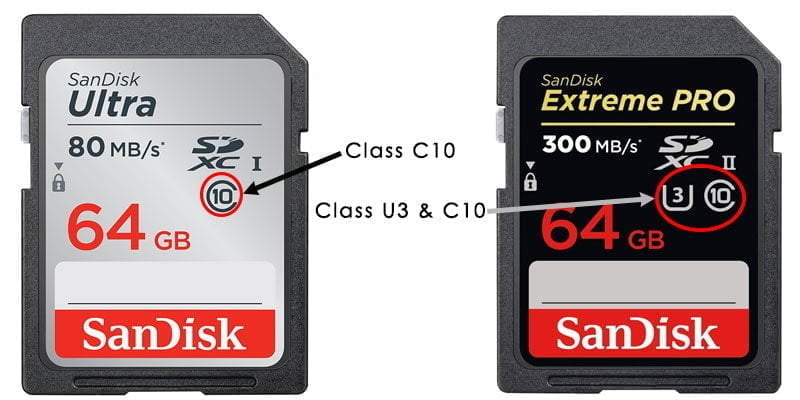 Device compatibility
Your device may require a minimum standard to get the highest performance out of it.
For example, if your camera records 4K video at 100MB/s, the instruction manual may note that you require a UHS-II class U3 card. You can use a UHS-I class C6 card, but your video may show artifacts and have dropped frames.
This is called backward compatibility; the cards will work, but you won't get the expected performance. Know what kind of minimum card your device requires.
Note that many cameras today have two SD card slots. One may be a UHS-I slot ideal for photos, while the other may be a UHS-II slot ideal for video. Know which slot is which for the appropriate memory card.
---
Putting it all together: How to choose the right memory card
Photographers
If you're only shooting still photos, you're lucky that you generally won't require the most expensive memory cards.
This doesn't mean that you'll be OK with the slowest, cheapest card.
Here are some considerations for memory cards for photographers.
Storage
Storage is dictated by file size, a factor of file type, and resolution.
If you're shooting RAW on a 24MP camera, you'll only get about 28 photos on a 2GB card. However, if you're shooting JPEG with the same camera and memory card, you'll get about 280 pictures on that memory card.
You can further extend the life of your memory cards by treating them like film and not holding the shutter button down all the time.
Temper this by looking at the worst-case scenario: if you get a 256GB card because you shoot RAW and want to fit thousands of photos on that card, what would you do if that card became corrupt, lost, or stolen on a trip?
It's the old "don't put all your eggs in one basket" mentality – I prefer 32 or 64GB cards; I don't have to swap them out much, but if I lost one, I wouldn't lose everything. I recently acquired cameras with higher resolutions, so I've increased my needs to 128GB cards in those cameras.
For a rough picture of your own storage requirements depending on your file type & resolution, check out http://memorycardcalculator.com.
UHS speed & speed class
Landscape photographers have far different requirements than professional sports shooters.
A sports or action photographer shooting 41MP RAW photos at eight frames per second will need the fastest card possible to avoid filling up the camera's memory buffer. So, in this case, a UHS-II class U3 card should prevent any problems. This assumes your camera has a UHS-II bus (a UHS-II card will still work in a UHS-I slot but at UHS-I speeds).
A landscape photographer who takes their time composing photos will be perfectly fine with a UHS-I class C6 card – but think about upgrading for future compatibility.
Videographers
Video capabilities have been exploding recently, and with it, speed & storage requirements. If you shoot primarily video or a mix of photo and video, you'll need larger and faster memory cards.
SD cards for video will generally be more expensive.
Storage
Storage requirements for video are all over the place, depending on video size, framerate, and bitrate.
Your standard 1080 HD video shot at 30fps will take up approximately 130MB of storage per minute with regular compression and lower bitrates.
A 4K video at 30fps can start to push 400MB per minute with regular compression and lower bitrates.
Most DSLR & mirrorless cameras have a limit of 30 minutes of video due to overheating problems. So if you max this out, you'll need 4GB if shooting in HD and 12GB for 30 minutes of 4K – at the lower bitrates and higher compression. But you don't want to swap out a card every 30 minutes, so think about a minimum of 32-64GB if you record 4K.
If you're using higher-quality codecs and higher bitrates, your storage requirements could increase to 64GB for 30 minutes of 4K video.
UHS speed and speed class
The minimum UHS speed and speed class for video are again dictated by the maximum resolution of the video you anticipate recording.
According to sdcard.org, 1080p HD video requires a minimum UHS-I class C6. To avoid dropped frames and to get the maximum bitrate possible out of your device, a C10, U1, V10, U3, or V30 class card is recommended.
If you're shooting in 4K, you should get a minimum of UHS-II class U3 or V30. For the few of you shooting in 8K, a V60 or V90 UHS-II card is required.
SanDisk has many different choices appropriate for video. They're fast and reliable. Sony is also recommended.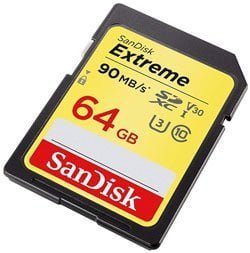 ---
Both I and others have had some problems with counterfeits on Amazon – one of the risks of purchasing memory cards on this platform.
I'll only buy from a dedicated, legitimate camera stores like Adorama or B&H Photo Video.
Once you know which memory card to buy, you can go to B&H Photo Video and sort by specs to get the authentic card you need on which you can trust your valuable photos and videos.