Disclosure: This post may contain affiliate links. I earn a small commission of product sales to keep this website going.
Keep Your Camera Dry
Water Resistance
Most cameras these days have a certain level of water and dust resistance. I can keep shooting my Sony a7ii camera in light to moderate rains for short periods of time, uncovered, without worrying about losing the camera. Does that mean it's the right thing to do? Probably not…I know there's a certain level of Russian Roulette to that.
So what should we be doing to keep our sensitive electronics dry and our lenses clean? If you're like me and spend a lot of time on the water, this is probably a larger concern.
I would also encourage you to get out in wet conditions – it sometimes provides for the best photographic experiences.
In the rain
Bags
Invest in a bag with a built-in rain cover, if it's not already a waterproof camera bag to begin with. My everyday bag is a Think Tank Retrospective 20 shoulder bag (review here). It provides easy access and a certain level of stealth, but more importantly, it has a rain cover that I can slip on and secure with clips in a matter of seconds.
This works well in even heavy rains, but if I'm going to stay in a rainy environment for longer periods I prefer something more waterproof like what's listed later.
When Shooting
First and foremost – USE THE LENS HOOD!
I once heard a photographer say, "using a lens hood is like flossing. You know you have to do it, but you just don't."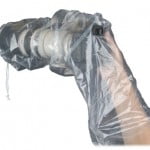 There are a number of reasons to leave the hood on your lens all the time, and keeping rain drops off the lens is one of them. It won't keep all the rain off of the front of your lens but it sure will minimize it.
Nothing beats a cheap old shower cap! Throw it over your camera to temporarily protect your camera from the rain.
If you're actually going to be shooting in the rain for extended periods, you have a few options for photography rain gear. There are cheap, disposable waterproof camera covers like the OP/Tech Rainsleeve ($6.95 for 2-pack)
to more durable cloth covers like the ThinkTank Photo Hydrophobia ($149.74 at Amazon).
My preference is the new Peak Design Shell – the price point is perfect, it's extremely durable, not too prohibitive, and allows shooting with the shell installed. A Medium size will fit a medium mirrorless or small DSLR; a Large will fit a mirrorless like the Sony a7ii and pro DSLR. Prices start from $39.95.
On the water
Rafting, sailing, surfing…you might need something with a little more "waterproofness", especially if you anticipate water spray coming at the front of the lens or the camera being submerged at any point (plan for the worst!). If that's not a problem, use one of the above rain covers. But remember…
Salt water will eventually kill a camera! Keeping your camera dry in salt environments is crucial.
You might want to invest in a real watertight & waterproof camera case.
You don't need a $2,000 polycarbonate dSLR waterproof case for 200′ dives, but just something that you can at least keep submerged for a few minutes. Since these are specific to each camera model I can't really recommend anything in particular.
I just learned about the Outex dSLR waterproof housing; I haven't used one yet but they definitely have my attention! I'm tired of carrying my heavy polycarbonate dive case for shallow swims when this one looks so light and portable. Their lens port is durable and scratch-resistant but the camera controls are difficult to see. It will keep your camera dry in the above situations, and down to 30′.
Fighting fogging
All waterproof camera cases can fog up. To combat this:
When you put your camera in the case, do so in a cool, dry environment if you can to prevent introduction of moisture.
Keep newly-charged desiccant packets (1 or 2) in the case during your shoot.
Never leave the case directly in the sun, as this will cause any moisture in the case to condense and the lens can fog. Keep it covered with a moist towel if you can.
Storage & Transportation
Even just salt in the air can cause invisible damage. I had kept my Canon 5DII in a regular camera bag while I was gone sailin', and after a while noticed some green corrosion on the lens contacts and hot shoe. Most of it cleaned up, but it scared me to imagine what was going on inside the camera.
A waterproof camera bag or dry bag is a must in these environments. You can still use your day-to-day camera bag if you can find a dry bag big enough for it.
There are also dedicated camera dry bags. I used the older Lowepro DryZone Rover years ago and was very happy with it. Lowepro makes other camera dry bags, like the newer DryZone bags pictured here, and they all come with a removable padded inner bag. These outer bags can then be used as regular dry bags for other items after removing the padded inner bag.
These are great bags to transport your gear to and from the boat, and also used to store your gear while on the boat or beach. You'll want to use desiccant packs in these as well, and probably larger ones capable of holding more moisture like 40 Gram Silica Gel Desiccant
.
In summary…
Don't fear the water! Bad weather makes for great photos. Get out in it!
What'd I miss here?