Disclosure: This post may contain affiliate links. I earn a small commission of product sales to keep this website going.
So I'm totally impressed with what Sony has done with its latest mirrorless camera. The differences between the a7II and a7III are huge, and they're differences that matter.
Now I recently jumped from Sony to Fujifilm a few months ago, and the introduction of the a7III won't win me back – the reasons why I switched don't have anything to do with these improvements.
Regardless, the a7III looks like an amazing camera for those looking at mirrorless or are already shooting Sony. If I stuck around, I'd definitely upgrade to the a7III.
Differences between the Sony a7II and a7III
Sensor & Processor
Sony has introduced a backlit sensor to their flagship a7 camera. This isn't the same sensor in the $4,500 Sony a9 as some initial reviewers have claimed, but it's very similar and a valued addition.
A backlit sensor drastically improves a sensor's light-gathering capability. This sensor, coupled with their new processor, doubles data transfer speeds and boosts the dynamic range up to an impressive 15 stops of light – at least one full stop higher than the a7II.
You'll really be able to get more natural-looking photos in high contrast situations.
The native ISO range has been boosted to 100-51200, expandable to 50-204800. Sony has introduced some exciting noise reduction technology, though it is yet to be seen how well it really performs. Instead of applying noise reduction to the entire image, it will identify high-noise areas and reduce the noise there, while maintaining detail in other areas.
Sony has also improved on their five-axis stabilization, claiming that the a7III's IBIS is 0.5 stops better than the a7II.
Battery & Memory
This may be one of the more exciting differences with the a7II. The a7III now uses the a9 battery, a behemoth more than doubling the number of shots you can get on a single charge. Testing standards now show 710 shots with one battery. Mirrorless cameras have always had abysmal battery life before this.
Sony has also added a memory card slot with the a7III, one of which is UHS-II compatible, for your 4K video shooting (which has also improved).
Controls
The a7III now features a touchscreen LCD. You can use it as a touchpad when setting the focus point while looking through the electronic viewfinder. That's pretty cool.
Aside from that, the buttons and dials are similar to the a7II, so you won't have to retrain your fingers.
Shooting
The continuous shooting speed has doubled over the a7 II, now at 10fps for 14-bit RAW files. You can also shoot in silent mode up to 10fps.
Sony has applied the a9's 4D focus technology to the a7 III. What's the fourth dimension? Time. The camera analyzes where your subject is moving and how fast, and preemptively starts to focus there. This is huge for sports shooters.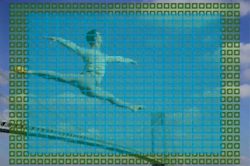 The entire sensor is pretty much covered in phase detection points now, with 693 points versus the a7 II's 117 phase detection points. The a7 II also had 25 contrast detection points, while the a7 III now has 425 points. That's not a typo. 425.
Sony also claims to have doubled the autofocus speed over the a7 II.
All of these improvements mean that the a7III can now reliably focus down to -3EV. While this isn't as dark as more expensive cameras, it's still a valuable improvement over the a7II.
Do you use Eye Autofocus? It worked pretty well in the a7II when the eye was clearly visible, but you could only use it with single-shot autofocus. You can now use it with continuous autofocus on the a7III.
Movies
The a7III also has some significant improvements in the video department and is at the top now for cameras in the price range.
A new Hybrid Log-Gamma profile will make it easier for you to process your videos with a wide tonal range, reducing the amount of work you need to do while giving you a more realistic picture.
4K video is also recorded up to 100Mbps and oversampled 2.4 times, giving you super-smooth and highly detailed 4K video.
Size
Ah yes, I was afraid you were going to get to that.
Sony couldn't pack all of these features into a body the same size as the a7II, which was already bigger and heavier than the a7.
It's not dramatically larger or heavier than the a7II. Just a half-inch deeper and almost a quarter of a pound heavier. New dimensions: 5″ x 3.7″ x 3″ and 1.45 pounds.
Conclusion
There are some very exciting differences between the a7II and a7III.
For me, those big improvements are the new backlit sensor and drastically improved battery capacity. I couldn't possibly go over every single improvement here, but those are the main ones that on their merit alone would make you want to upgrade.
There's still a lot of bells & whistles that I don't care about and would never use. But overall I'd definitely upgrade from the a7II to the a7III if I were still shooting Sony.
Alas, my once-loved small, light, and simple mirrorless cameras are becoming larger, heavier, and more complex. Still, they're awesome. Just not for me.
Check out all the specs and current prices at B&H Photo Video or Amazon.
You may also want to visit my Sony alpha Comparison page.