Disclosure: This post may contain affiliate links. I earn a small commission of product sales to keep this website going.
[et_pb_section bb_built="1″ admin_label="section" transparent_background="off" allow_player_pause="off" inner_shadow="off" parallax="off" parallax_method="on" make_fullwidth="off" use_custom_width="off" width_unit="off" custom_width_px="1080px" custom_width_percent="80%" make_equal="off" use_custom_gutter="off" fullwidth="off" specialty="off" disabled="off" prev_background_color="#000000″ next_background_color="#000000″][et_pb_row admin_label="row" make_fullwidth="off" use_custom_width="off" width_unit="off" custom_width_px="1080px" custom_width_percent="80%" use_custom_gutter="off" gutter_width="3″ allow_player_pause="off" parallax="off" parallax_method="on" make_equal="off" parallax_1="off" parallax_method_1="on" parallax_2="off" parallax_method_2="on" parallax_3="off" parallax_method_3="on" parallax_4="off" parallax_method_4="on" disabled="off" background_position="top_left" background_repeat="repeat" background_size="initial"][et_pb_column type="4_4″][et_pb_text disabled="off" background_position="top_left" background_repeat="repeat" background_size="initial" _builder_version="3.4.1″ module_alignment="left"]
Updated July 2018 to add the SPOT X to the comparison
No matter how "mature", "responsible", "traveled", and "experienced" I am, Mom always wants to know that I'm okay.
Sure, I get it. Like during my first offshore sailing passage from North Carolina to the Bahamas, via Hurricane Sandy, she slept a little better when she got an email reading "My current coordinates. Everything is OK."
This is just one application of the increasingly popular GPS tracker and satellite messenger devices. Here we'll look at the two most popular satellite messengers on the market.
Personal GPS Tracking
There are three reasons why people use satellite messengers:
Let the family know you're safe with pre-written "I'm Safe" messages when out on solo treks or travel adventures.
Let social media fans engage with your activities by being able to track your progress when it posts to Facebook, Twitter, etc.
Get emergency help should you find yourself in a situation where you know you won't otherwise be able to get home.
Now some words of caution to go with that.
These satellite messengers are not a "get out of jail free" card. Do not allow yourself to feel invulnerable to natural disasters or major accidents just because you're carrying a satellite messenger, and don't do things you wouldn't otherwise do without one.
Don't abuse the emergency SOS system. Years ago I read an article in Outside Magazine about this abuse. Check it out, it's rather interesting, and notes that 48% of all rescue calls have no merit. This not only costs money but puts rescue crews at risk.
GPS Satellite Messengers Are Not PLBs
There is a difference between satellite messenger devices and personal locator beacons (PLBs). PLBs are "emergency only" devices which utilize the military GPS satellite network, and they also operate on the radio frequency spectrum to aid rescuers to your exact position. REI offers a great comparison here.

GPS satellite messengers use a different network of satellites and do not use radios, limiting their accuracy and field of view (requires an unobstructed view of the sky).
If you read reviews of these devices you'll see one-star ratings crying, "it wouldn't get a signal in the jungle!" No, of course not, it needs a clear view of the sky. Keep that in mind.
First Glance, Comparing the DeLorme inReach vs SPOT GEN3 and SPOT X
All devices are built to withstand abuse, with freezing temperatures, water, dust, and drops.
They all have the same tracking, sharing, and emergency functionality.
They have two-way messaging capability with the introduction of the SPOT X; SPOT GEN3 only has one-way messaging.
The DeLorme inReach and SPOT X will give you verification that your SOS has been received while the SPOT GEN3 will not.
DeLorme also gives you handheld GPS device functions while SPOT, even SPOT X, is basically only for messaging.
SPOT GEN3 Personal Satellite Tracker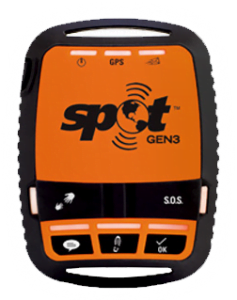 Buying options: Amazon.com
or at REI.com for $149.95.
Requires an annual subscription of $149.99 (or $14.95/mo). Upgrades available. Click Here for details.
I've been very happy with the predecessor to the GEN3, and this unit only improves on the original design. What I like about these SPOT satellite messengers is that they're small, rugged, and waterproof. The batteries seem to last forever.
The GEN3 allows tracking (leaving breadcrumbs) at intervals from 2 1/2 minutes to 60 minutes. And here's the really cool thing about this one – it has a vibration sensor so that it only transmits the information while you're on the move, further saving the battery.
I only turn on the device for tracking every twelve hours while sailing and every couple of hours while hiking, for ten minutes at a time, to further increase battery life.
Buttons on the SPOT GEN3:
S.O.S. This is your 911, and the device will send a message to the GEOS International Emergency Response Coordination Center to get rescue assets moving in your direction. Only to be used when all other options have been exhausted!
Check In. Your pre-programmed message with coordinates is delivered via email or text message to your contacts. You can also choose to have the message repeated on social networks with a link to your map.
Help/SPOT Assist. This is the "I don't want to call 911 but maybe I should flag down a car for help" button. Sends a message and coordinates to a pre-programmed contact. Can also be integrated with roadside or maritime towing.
Custom Message. This is similar to the Check In function, allowing you to program another message of your choice that will go out to contacts in your list.
Tracking. Enabling this button will leave the breadcrumbs along your trail at an interval you choose, and only when you're on the move.
These units come with a strap, carabiner, batteries, and a USB charging cable.
Why it works for me and might work for you:
It's small and simple. If you don't need custom text messages on the trail, it's perfect.
NEW: SPOT X
Buying options: Amazon.com for $279.99 or REI.com for 249.95.
Requires minimum annual subscription of $143.40 (or $14.95/mo). Upgrades available. $19.95 activation fee. Click here for details.
The SPOT X is SPOT's answer to the popular two-way DeLorme trackers mentioned below, an upgrade from their one-way GEN3. The rollout seems to have been plagued with bugs, however, and reviews so far haven't been stellar.
The SPOT X gives you your own U.S. mobile number that works on the satellite system, so you can send or receive texts from this device while outside of cellular range.
It's tracking and check-in features are the same as the GEN3, but the added two-way messaging functionality is a big advantage. You'll know when SAR is on the way and you can even communicate with rescue crews through the device. It can also store GPS waypoints for you to use for navigation. There is no other map functionality with this device.
The SPOT X weighs seven ounces and is approximately the size of a smartphone.
Like the GEN3, it offers an annual subscription for full-time adventurers or a flexible subscription for the weekend warriors.
DeLorme inReach SE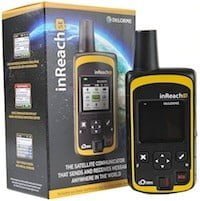 Buying options: Amazon.com
for $259.59.
DeLorme just rolled out a new Freedom plan for $24.95 annually plus reasonable usage fees for occasional users. Annual plans for regular users go from approximately $145/yr to almost $1,000/yr. Click Here for details.
The inReach SE is also being phased out, to be replaced by the SE+ and Explorer+. The SE+ adds basic track navigation, breadcrumbs, and markpoints, while the Explorer+ adds preloaded topographic maps and an accelerometer & barometer.
This is a SPOT device on steroids (and so is the price). It's about just as close to a satellite phone as you can get, without the voice functionality.
Like the SPOT, it's also very rugged and can withstand a lot of abuse. It's slightly bigger, a requirement of its enhanced functionality.
The inReach allows you to both send and receive text messages of up to 160 characters via satellite. Most of this functionality takes place on the screen, where you can activate tracking, send and receive messages, post to social media, and send an SOS, all like SPOT.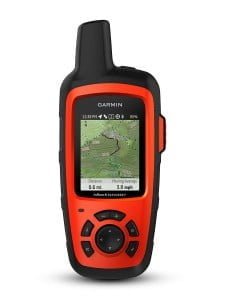 The SOS also has a hard key on the exterior (with a lockout) so that you don't have to fight with the screen when you're in desperate need of help.
If the screen seems a little clunky (remember predictive text?), the inReach will pair to your iOS or Android device with a free DeLorme app. You can access the unit's functionality through your smartphone, and also have access to pre-loaded maps that show your location.
As mentioned earlier, you can find the SE+ (basic navigation) at Amazon.com or REI.com for $379.
The Explorer+ (topo maps & sensors) is available at Amazon.com or REI.com for $450.
Why it would work for you:
If you don't mind the small interface (and smartphone app), it's great. The cost is more, but you get some great functionality that could replace a separate GPS unit.
Cost Comparison for SPOT GEN3, SPOT X, and inReach
Price of owning a SPOT GEN3 for one year, year-round use: $150 purchase + $150 plan = $300.
Price of owning a SPOT X for one year, year-round use: $250 purchase + $20 activation + $150 plan = $420.
Price of owning an inReach for one year, year-round use, basic plan: $260 purchase + $20 activation + $144 Safety Plan = $424.
Price of owning an inReach for one year, using only three months per year: $260 purchase + $20 activation + $45 Freedom Safety Plan = $325, then $45 annually.
Price of owning a SPOT GEN3 for one year, using only three months per year: $150 purchase + $150 plan = $300 then $150 annually.
Conclusion: SPOT vs inReach
I loved my SPOT. I was very stubborn to not get the inReach, mostly because I didn't like the interface and saw no need for two-way messaging. But after using SPOT for five years, I went ahead and purchased the basic inReach SE. It's been great. It's not nearly as difficult to use as I thought it would be once I got the hang of it.
For explorers who are going to be using their device throughout the year, the above cost comparison shows that the SPOT GEN3 is the cheapest in the long run.
But for those who will only be using it a few months per year, the inReach will be significantly cheaper in the long run (you make up the difference after only one year then save $100 annually). But, check out their plans and see what would work for you.
SPOT X is still too new, in my opinion, to trust your life to it. Let's wait and see if they get the bugs worked out.
Questions, Comments, Corrections? Leave a note below!
[/et_pb_text][/et_pb_column][/et_pb_row][/et_pb_section]