Disclosure: This post may contain affiliate links. I earn a small commission of product sales to keep this website going.
The sound of the waves at my campsite at Gold Bluffs Beach last night led to a great night of sleep. It was cold, damp, and foggy, so I didn't have much of a reason to stick around all morning. I made some oatmeal for breakfast, skipped my normal coffee, and packed up.
Fern Canyon
Fern Canyon has always been on my list of things to see in the National Parks, and I don't know if it was coincidence or not that the campsite recommended to me was a mile away. Better yet, it would give me access to a different trail to take me up to my car. The James Irvine Trail is longer than Miner's Ridge, but it'd offer me some different scenery so I'd have to go through Fern Canyon to get there anyway.
Fern Canyon Camping
There's no campground directly at Fern Canyon, but Gold Bluffs Beach is the closest campground to Fern Canyon. It's about a mile and a half to hike from Gold Bluffs Beach to Fern Canyon.
Getting to Fern Canyon
Hike Miner's Ridge from the Prairie Creek Visitors Center, which I did yesterday.
Hike the James Irvine Trail from the Prairie Creek Visitors Center, described later in this post.
Drive in on the rugged Davison Rd and park at Gold Bluffs Beach. Trailers and RVs prohibited, high-clearance cars recommended. Limited parking at Gold Bluffs Beach.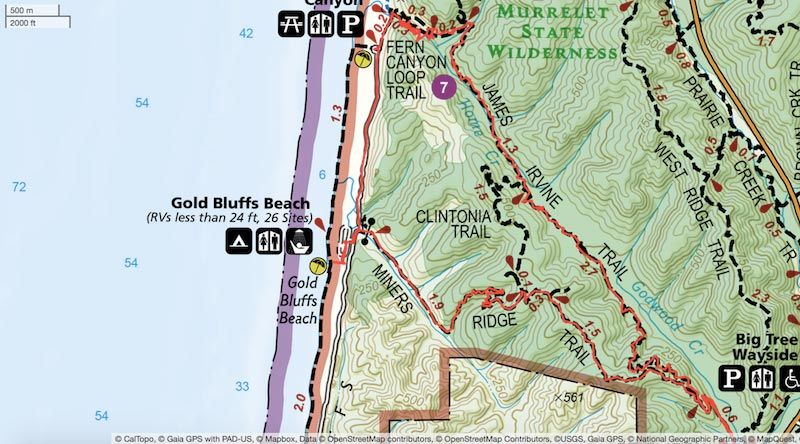 Exploring Fern Canyon
It just feels prehistoric in the canyon. And I'm not saying that because one of those dinosaur movies was filmed here (a velociraptor scene, I heard). The canyon itself dates back millions of years. The handful of different fern species clinging to the 50-foot walls are even older. A foggy, early morning just added to the atmosphere that you would expect in a place like this. Not to mention I was the only person in here. Perfect.
The ranger warned me that hikers had reported water up to a normal person's knees. I don't know what "normal" they were referring to, but I barely got wet up past my ankles and I was walking in the creek for most of the hike. The water wasn't too cold. I didn't have any water shoes with me but my hiking shoes dry out really fast.
The Fern Canyon Trail isn't a trail per se. The walk through the canyon to the James Irvine Trail is only a half of a mile, but you could easily spend an hour in here, especially if you're a photographer.
A polarizer is necessary to cut the reflections on the water and foliage, giving you some really rich greens and reds. Some winds can come through here and shake up the ferns, so even though you may have your camera on a tripod the whole time you'll still want to bump up the ISO to prevent blurry vegetation. I did have my camera on my tripod for the whole hike today, unlike yesterday when I just kept my ISO up regardless. You can check out yesterday's post to see about the camera bag setup I use while backpacking.
James Irvine Hike
The ranger also warned me that the James Irvine Hike was longer than what maps showed and what other people would tell me – the National Geographic Trails Map that I downloaded onto my Gaia GPS app showed the trail at 4.6 miles, but it was closer to 5.5. The James Irvine Trail gently climbs 350 feet before quickly descending 400 feet back down to the car at Prairie Creek. This is another awesome trail. The trail follows Home Creek for half the hike, constantly through towering redwoods, and occasionally entering big open areas with low ferns. I'll just let the photos speak for themselves.
Emerald Ridge Hike to Redwood Creek
My campsite for tonight would be along Redwood Creek. The trail starts at the Tall Trees Grove trailhead. This area of the park is accessed by permit only; you can get the free permits at the Kuchel Visitor Center but there's a limit to the number of permits they'll issue every day. The road to get here is gated and the ranger will give you the rotating gate codes with your permit.
The trail to the camping areas is short, along the 1.1-mile Emerald Ridge Trail. This trail is rather unspectacular with its new growth, and quickly descends to Redwood Creek. From here you have your pick of camping areas up and down Redwood Creek. You can set up camp anywhere along the gravel bar upstream of McArthur Creek and no closer than 1/4 mile to the Tall Trees Grove.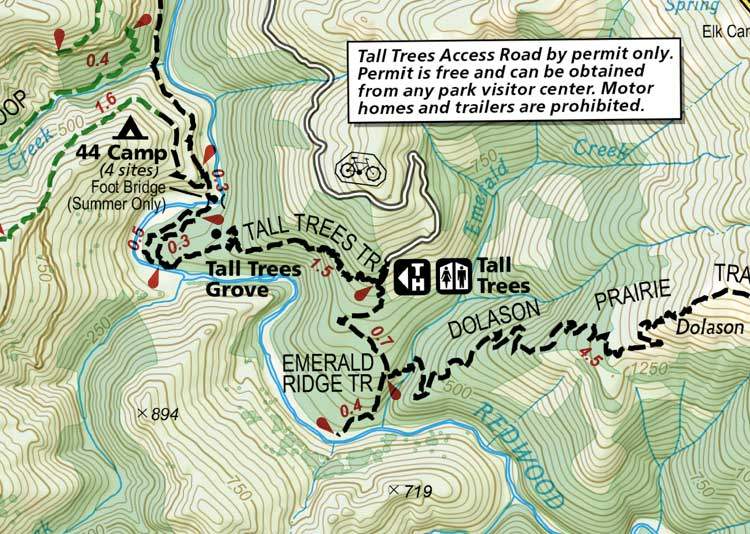 Redwood Creek was still flowing pretty fast here in late April. When I arrived at the banks, I was immediately impressed by the beauty of this area. There was one family down here, camped out across from a small waterfall surrounded by ferns feeding into Redwood Creek. I walked downstream, hoping to take advantage of spreading out. The ranger said that she hadn't issued any other camping permits for this area tonight besides us.
There's really no trail, you just kinda walk along the gravel towards the Tall Trees Grove. The river bank became quite steep at one point so I meandered through a small meadow next to the creek where it looked like some people have camped out before. Then I arrived in a huge plain of gravel and mud that looked – and smelled – like it was recently covered in water.
I was hoping to continue to the Tall Trees Grove to check that out tonight, and then go through there again in the morning to make a loop out of these trails. But the river had cut me off. The only place to cross was too dangerous. I'd have to go back up the same trail tomorrow morning, then hike back down to almost the same spot via a different trail. Crossing is possible in the summer when the water is lower.
Either way, this place looked like the perfect place to camp, barring the smell that I could get over. It had a beautiful view of Redwood Creek down through the redwoods and firs. I could safely set up camp in this wide open gravel area and not be crowded by cottonwoods and tall grass, and be next to the water.
Then I saw the bear tracks. They looked like they had been there a while, and the swelling of the creek after a heavy rain had washed over them, but they were easily identifiable as bear tracks. I followed them across the gravel and into the woods where they disappeared. Some deer tracks crossed the bear tracks. Seems like a popular place for wildlife. Some different tracks caught my eye. They looked like dog tracks at first. Dogs aren't allowed here, so either someone was breaking the rules or there are coyotes here too. I followed them for a few yards in the sand then saw a feature of the tracks that actually identified them as being from a mountain lion. The three little ridges at the rear of the track is what made me confident these were cat tracks. And they were fresh, following deer tracks.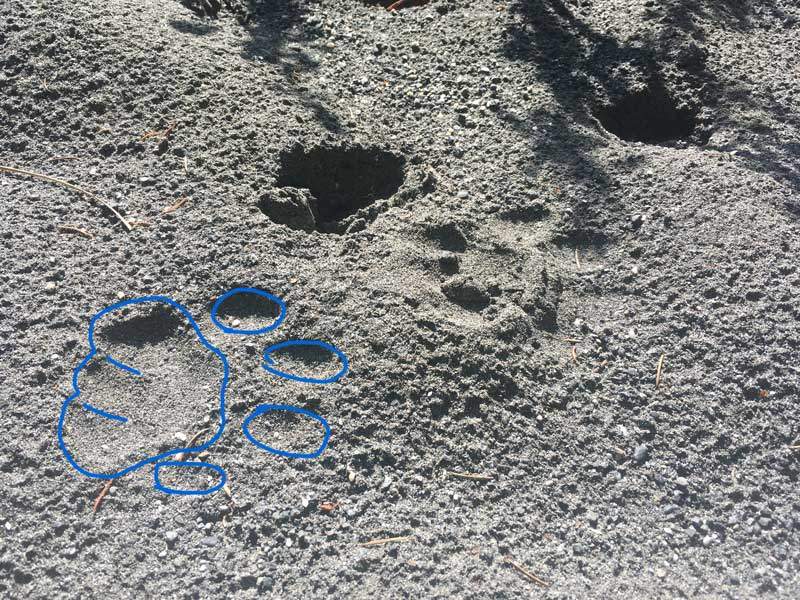 Nope, not camping here. Back towards that family where I'd at least be within yelling distance of another person. I had already marked a good, open campsite next to the creek but just out of eyesight of that other family, so that's where I ended up for the night. I made one of my favorite backpacking meals – instant mashed potatoes with a package of beef jerky dumped into it. What a serene setting.
Tomorrow I'll head back up to the car, dump the pack off, and go down into the Tall Trees Grove and see what that's all about.