Disclosure: This post may contain affiliate links. I earn a small commission of product sales to keep this website going.
Peak Design Hand Clutch At-A-Glance
Current model: CL-2, retails for $39.95 (Aug 2018)
Includes Arca-type tripod plate for mounting quick-release anchor
Compatible with DSLRs and mirrorless cameras, including with battery grips
Constructed of Hypalon, Dyneema, nylon, and aluminum; microfiber padding on strap

Advantages of the Peak Design Hand Clutch
Small & light
Wide, padded strap won't cut off circulation, dig into your skin, or leave your hand sweaty
Strap can be easily loosened or tightened as needed with minimal effort
Compatible with Slide strap, Capture Clip, and tripod mounting – no need to ever remove it
Rugged construction
Disadvantages of the Peak Design Hand Clutch
Difficult to access controls when tightened
Strap may be difficult to get through some camera's stock strap eyelets
Strap has a tendency to loosen over time
Hiking with the Peak Design Hand Clutch
Peak Design Compatibility
I own a few products by Peak Design that are meant to keep your camera secure in different environments. The combination of the Slide Strap and Capture Clip keeps the camera secure & accessible on a backpack strap or belt, great for hiking & backpacking.
I also wanted to get some kind of hand strap to address one of the disadvantages of mirrorless cameras – the small hand grip. If you're in a situation where you're holding the camera for a long time, the small grips can quickly lead to discomfort. If your fingers are sweaty you run the risk of the camera slipping out of your hand. A hand strap will address both of these.
I was pleased to see that Peak Design not only made a hand strap but what appeared to be one of the most comfortable hand straps on the market. And it's compatible with the rest of their system – an extra bonus if you already own Peak Design products or are thinking of getting some.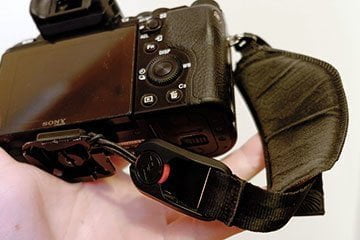 The bottom of the strap connects to a tripod plate that comes with the Hand Clutch kit via one of their Dyneema quick-release buttons – a tripod plate and button that is also compatible with any Arca-type tripod head, the Capture Clip, Slide Strap, and other Peak Design accessories.
The other end of the strap slides through the stock camera strap eyelet and connects to the aluminum buckle. The strap just barely fit through my Fujifilm strap eyelet; I had to struggle a bit to get it through the smaller Sony strap eyelet. The aluminum buckle allows for easy tightening and loosening.
Carrying the Camera
I went on a ten-mile hike through Pinnacles National Park for my first little outing with the Peak Design Hand Clutch. I normally don't hike holding the camera in my hand, but it was a non-technical trail and I wanted to see what this was like.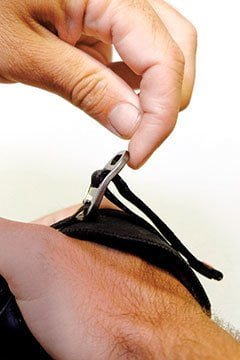 In short, the hand strap worked very well. I used a combination of three different lenses on my X-T1; a 16mm f/1.4, 18-55mm f/2.8, and a 55-200mm f/3.5. Even with the longer zoom attached, the camera hung off of my hand quite comfortably while I was walking. The grip stayed secure against my palm and the camera didn't bounce around.
I probably wouldn't want to do this with a full-frame DSLR and 70-200mm lens attached, that's for sure. But for a small mirrorless setup it's great.
I do like to shoot in Manual mode every now and then, and the shutter speed dial was difficult to reach with the strap tightened. Fortunately, the buckle can be loosened very easily by simply lifting it up; I could then manipulate the shutter speed dial and then retighten the hand strap. I don't have any problems with this when I shoot in a priority mode that uses the compensation dial closer to the strap.
That was just about my only complaint with the Hand Clutch. Also, I would have to retighten the strap every so often, but this didn't bother me at all. The slippery nylon can slowly work itself through the buckle.
The Hand Clutch has a low profile and is constructed extremely well. It's an excellent combination of comfort and ruggedness. Because of its low profile and light weight, I've just kept it attached to the camera, even if I'm also using a Slide Strap and tripod. If I want to lose the Slide Strap, I disconnect the two quick-release buttons on each end and now I'm left with a hand strap. Very versatile.
Hand Clutch Review Final Verdict: Worth it!
If you shoot mirrorless cameras, the Hand Clutch will greatly assist with the problems of the smaller mirrorless camera grips. Leave the camera securely hanging from your hand when you're not actively shooting.
If you shoot DSLRs, this system will give you peace of mind by keeping it secure in your hands, and also provide some relief from periods of extended shooting.