Disclosure: This post may contain affiliate links. I earn a small commission of product sales to keep this website going.
Reviewing the SidePath, a low-profile mirrorless camera daypack from MindShift Gear
I fell in love with MindShift's BackLight 26L (review here) the first time I took it out. It comfortably carries my entire Sony alpha kit & accessories wherever I need to go. But for those quick outings where I just need to carry one camera body and maybe two lenses, with food, snacks, and a jacket? The SidePath daypack is the perfect compliment to the BackLight 26L.
About MindShift's SidePath daypack
The SidePath is a low-profile, lightweight 14-liter minimalist daypack. There's actually more room for personal gear than there is dedicated for camera gear, and there's absolutely nothing wrong with that when you're wandering around the city. That's why I chose this pack over other similar-sized daypacks in MindShift's lineup, others that are almost completely made up of camera compartments.
The SidePath is made of durable, lightweight nylon and is water-resistant on its own. The pack does come with a waterproof shell for the times when that unexpected storm rolls in.
There are two main compartments. The top zippered compartment opens up to storage for your personal gear. A zippered mesh pocket inside will keep your phone, keys, and sunglasses separate while a pocket on the other side of the main compartment will hold a small tablet or hydration bladder.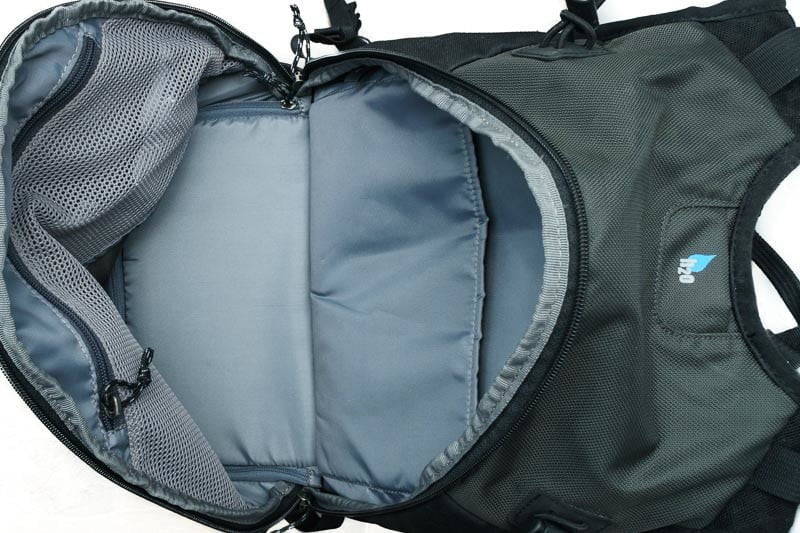 The camera compartment is accessible by taking the backpack off and opening a zippered compartment on the bottom of the bag. A few dividers are included; this compartment will hold one mirrorless camera body and two medium-sized lenses or one DSLR body and two smaller lenses.
Two large elastic pouches conform to the sides of the pack; I can easily fit a small tripod in one and a 1L water bottle in the other. Elastic loops above the pockets will keep trekking poles secure against the pack.
And if you just want to use this as a daypack without carrying camera gear, the top divider of the camera compartment zips open, opening up the entire pack for personal gear.
Hiking with the SidePath daypack
The shoulder straps have the standard adjustments and there's an adjustable, elastic sternum strap to keep them in place. There is no hip belt, but you really have to put lead bricks in here to get a lot of weight in it.
Because you have to take the pack off to get the camera out, I attached my Peak Design Capture Pro Clip to the shoulder strap so that my camera would always be accessible.
I love hiking with the SidePath. It really feels (and looks) much more like a daypack than a camera bag. The low profile means it doesn't get in the way; I had to scoot my butt down some sharp granite rocks during my first hike and didn't have to take this bag off to clear them. I didn't even know it was there until it finally scraped against the rock where it got steeper. It got a scuff that wiped right off but the fabric fared way better than my hands.
This stealth is perfect in areas where you're worried about your gear.
With a Nalgene bottle in one side pocket and my Sirui tripod in the other, I had plenty of room inside the pack for my radio, basic first aid kit, a snack, lightweight jacket, and headlamp. I also fit my Mavic Pro drone in there.
Travel with the MindShift SidePath
When I go overseas I like to put all of my camera gear inside my BackLight for transport and that's my carry-on.
But when I just want to go out for a quick exploration the BackLight is too much. Being able to switch to the SidePath is the perfect solution. Throw in whatever body & lens(es) I plan on using with some personal items and go explore.
So what I do for packing is unzip the inside divider of the SidePath. I can fit 3 Eagle Creek Compression Packs inside, carrying all of my clothes. I zip this up and put it in my larger duffel, like a bunch of nesting dolls.
What the SidePath isn't good for
If you're on an assignment where you need to constantly access camera gear, this isn't the bag. I prefer waist packs and shoulder bags for that, and use the Hubba Hubba Hiney or Retrospective bags (also from Think Tank – no I'm not sponsored). I'm also eyeing the Speed Demon which is a slightly larger version of the Hubba Hubba Hiney.
Where you can find the SidePath
I know ThinkTank & MindShift's quality builds will mean I have this bag for a long time.
You can purchase the SidePath direct from MindShift Gear for $99.99. Shipping is free and faster than any other company I've bought direct from. I think this is a great deal compared to some of their other products that may be priced on the high side.
If you're an Amazonite, it's available on Amazon for the same price.
The SidePath is available in both Charcoal and Cardinal Red.