Disclosure: This post may contain affiliate links. I earn a small commission of product sales to keep this website going.
My big goal for my recent trip on the 211-mile John Muir Trail was to go as light as possible. I had an Osprey Aether 70L pack that works great in the winter, but at a hefty 5 lb 3 oz I knew I could find something lighter. Do lighter, strong packs exist?
I firmly believe that Parkinson's Law applies to packing as well. If you're not familiar with Parkinson's Law, it says that "work expands to fill the time available for its completion".
The same goes for backpacks. You'll pack as much gear as the room you're given to do so. Getting a smaller backpack was vital to my lightweight evolution.
The Gossamer Gear Mariposa
I accidentally found out about Gossamer Gear, a company that specializes in lightweight backpacking packs and other lightweight backpacking supplies. I read about their highly-reviewed Mariposa lightweight pack, a sub two-pound pack with a total capacity of 57 liters and a maximum load of about 35 pounds, as listed in their specifications. There! Someone gave me a weight limit to motivate me!
I took it on a ten-mile overnighter to try it out, making sure it's the pack I wanted on the John Muir Trail the following month.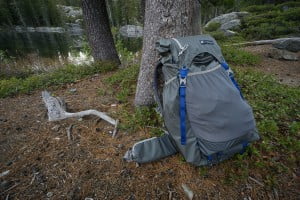 I packed my sleeping bag, tent, and sleeping pad in the bottom of the pack, with a wool fleece on top of that, then a BearVault canister with two days worth of food. In the outer pockets I had a water filter, first aid kit, stove cookset, headlamp, some snacks, hat and rain jacket, and one liter of water, with plenty of room to spare (I'd later rearrange the loading).
First thoughts on my Gossamer Mariposa backpack
It's so damn light! Going to a lighter pack and thus lighter load was euphoric, especially after being a slave to heavier packs. I don't know how else to explain it. I could hurdle up and over boulders without any effort.
It's comfortable too! Being light has a lot to do with that, but the padding is great and in the right spots; this pack also has load lifters unlike many lightweight packs; and the removable inner frame/padded back feels great against the spine.
I went on a few more overnighters to experiment with loading and make sure the pack would be right for me on longer trips. It seemed to work so far…
But was This the best backpack for the John Muir Trail?
I think I did a good job packing for the John Muir Trail. You can read about my lightweight backpacking gear list & lightweight backpacking tips and lessons learned from the John Muir Trail at the respective links for more information (will open in a new window).
I packed my Gossamer Gear Mariposa exactly as outlined in the above link…the sleeping bag and all clothes (except rain gear) went into a trash compactor bag in the bottom of the pack and the BearVault, sleeping pad, and stove went above that. The large side pocket held my tent (and American Flag on a stick for our July 4 summit of Mt. Whitney). The large mesh pocket on the back held my rain gear, first aid kit, headlamp, and the day's snacks. The smaller side pockets held one liter of water (sometimes two when needed), my beanie, handkerchief, and headlamp. My Aquamira bottles were in one of the hip pockets.
My base weight with an empty bear canister and no water was 18 pounds (the book, trail journal, pen, and contact lens supplies set me over my normal 16).
My colleagues on the trail all had big Osprey packs like the one I left at home or packs similar to it. I was definitely the outcast…I was also the outcast when I was the only one not treating foot problems a few days into the trail!
Observations using the Mariposa Backpack
The short of it is that the pack exceeded my expectations on the trail. By the time I was almost out of food and my pack was closer to base weight, I was almost running up the passes. It was never uncomfortable or fell apart except for the following times:
About halfway through the trip, the hip pocket carrying my Aquamira busted the seam in the bottom of the pocket. My Aquamira almost fell out. I discovered this was due to my camera hip belt putting a lot of downward pressure on the bottles, straining the seam.
Towards the end of the trip I could no longer cinch the hip belt down tight enough. See, when you buy the pack, you buy the hip belt separately. They have four different sizes to fit better than the one-size-almost-fits-all solution offered in most packs. I was right on the transition between Medium and Large, and I sized up to allow for bulky clothing. But when I shed my stored beer calories by the end of the trip, I needed a Medium. Still, since the pack was so light by this point, I had no problem with some of the weight on my shoulders. I'll be ordering a Medium belt as motivation to keep the weight off…
I did pass many hikers going the other way (on the PCT) with Gossamer Gear Mariposa packs. A large portion of them were using this same pack, and they all had great things to say about it. Some were very dirty and looked like they definitely had at least 800-900 miles on them by that point, but none had any patches or emergency repairs. Some looked like they were definitely loaded past the 35-pound recommended limit, but they were still holding up well.
It was awesome being able to resupply my water without ever taking the pack off. Because of its small size and weight, I could scramble on rocks in creeks and kneel down without fear of toppling over. The side water bottle pocket allows you to reach back and grab the bottle without taking the pack off (eliminating the need for heavier Camelbak-type systems). And my Aquamira drops were immediately available in the hip belt pockets.
This pack also comes with a removable foam pad where the pack rests against your spine. I used this pad to rest my butt when I was on break, and also as the "doormat" for the tent. I also learned from a PCTer that a larger foam sleeping pad (like a small Thermarest Z Lite), folded, will also fit in this space, making your packing even more efficient.
I never needed a rain cover for this pack, saving even more weight. Because I kept everything that needed to stay dry in the trash bag in the bottom of the pack, I was never concerned about water. We did get caught in the remnants of a tropical storm towards the end of the trip. While everyone else had to stop to put their rain covers on, I just kept going. Multiple layers of ripstop nylon with the Over-the-Top closure system actually did a good job of keeping water out of the main compartment in these downpours.
Final thoughts on the Mariposa Backpack
Backpacking light has helped me enjoy the scenery more, helped my battered skeletal system, and kept the smile on my face. I think I found my favorite lightweight backpacking backpack to do this! I don't see any need to try anything else right now.
It's made me excited about shedding even more weight from my backpacking gear.
I don't know why I can't use this pack for not only backpacking trips, but also for other travel, like on planes, now that I have my lightweight packing system down. I could probably travel to another country for backpacking trips without ever having to check luggage.
I just wish I had done a better job sizing the hip belt!
If you'd like more information about this pack or other lightweight backpacking gear, please visit Gossamer Gear. They have a large selection of other packs and they're more than just a website trying to sell you stuff; they have a great lightweight blog as well.
Their motto is "Take Less, Do More" and they want to help you get there.
This was an unsolicited, unpaid review.
Questions, comments, suggestions?