Disclosure: This post may contain affiliate links. I earn a small commission of product sales to keep this website going.
Fujifilm added a peculiar Mode Dial position to the X-S20: Vlog. This replaced the X-S10's "SP" position which allowed you to choose an automatic "scene" mode. I guess they're further investing in video, so what is Vlog mode and how do you use it?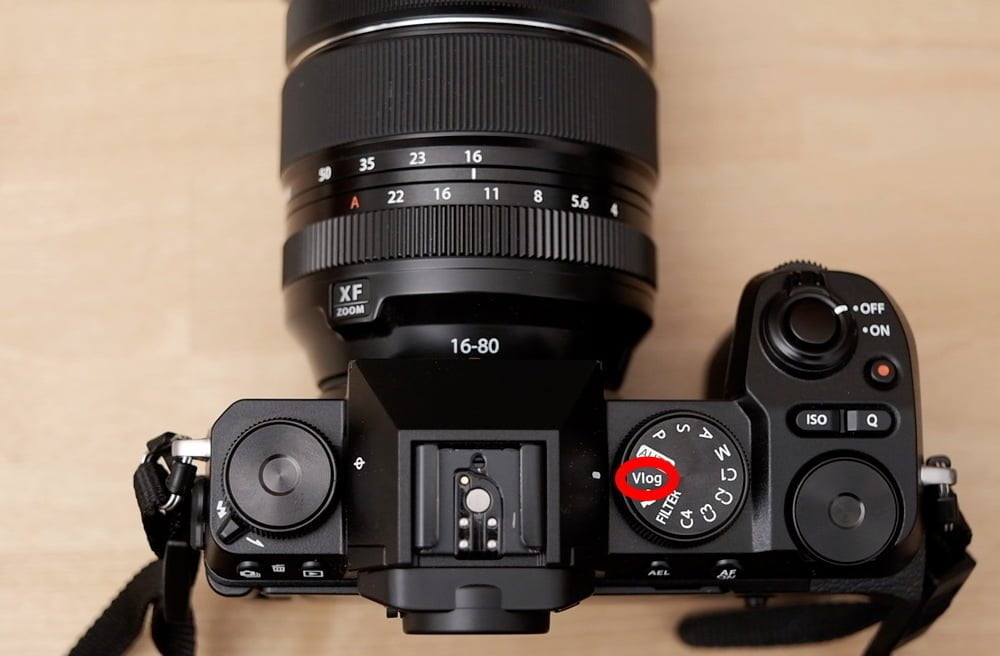 When would you use the X-S20 Vlog Mode?
Vlog mode is useful for creators who want to step in front of the camera to record a trip diary, product review, YouTube video, etc.
There are two main differences between the X-S20 Vlog and Movie Mode Dial positions:
Vlog enables a touch menu on the LCD screen, allowing you to quickly change some movie settings with the LCD screen flipped towards the front.
Vlog enables two additional features: Background Defocus Mode and Product Priority Mode. More on those later.
Vlog Menu Settings
The X-S20 has an entirely different menu system when the Mode Dial is rotated to either Vlog or Movie (different than what you see in the still photography modes).

The nice thing about these two modes is that you can have two separate setups for both modes.
You can set your Movie position to record a 4K F-log video directly to an HDMI monitor in Manual exposure mode for when you're recording high-quality movies for clients. Then you can flip it to Vlog where maybe you've set it up to record a Full HD video to the SD card using the Nostalgic Neg film simulation and Program Auto exposure mode.
This capability gives video creators the flexibility to go back and forth between high-quality productions and casual "vlogs" without having to change settings each time they switch.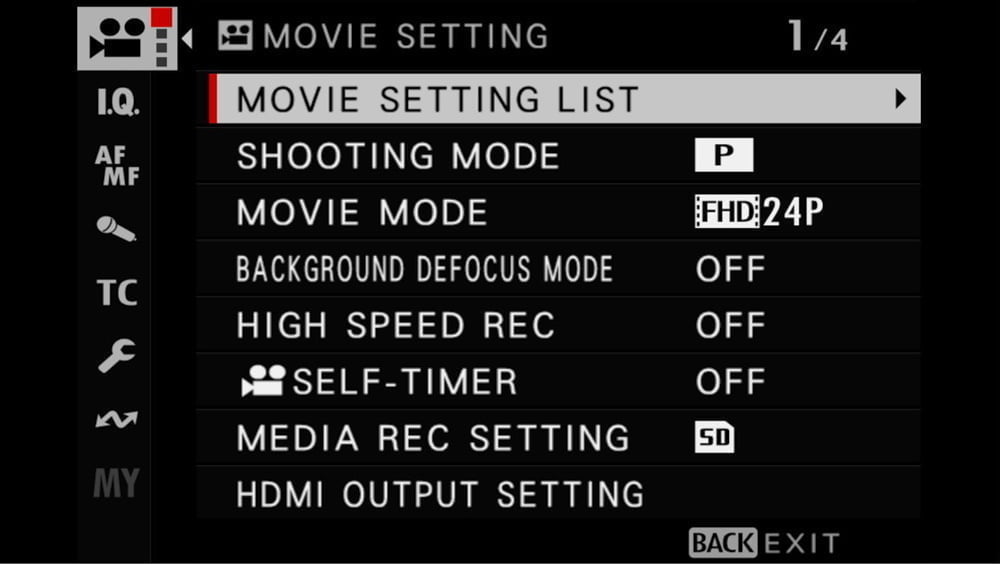 Further, you also have the C1-C4 custom settings that allow further programmable customization for movie settings.
Be sure you have the Mode Dial set to the appropriate mode as you're setting up each mode.
The Vlog Touch Menu
When you're recording a "vlog" and have the screen flipped towards you, there may be some settings you want to be able to change without going into the menus.

You'll see a little box on the right side of the screen labeled "Vlog" when you're in this mode. Tapping on this will pull up a touch menu where you can:
Set a 3, 5, or 10-second self-timer to begin movie recording
Set Image Stabilization modes
Toggle Face/Eye Detection settings
Enable High-Speed Recording settings
Toggle Product Priority and Background Defocus modes
X-S20 Vlog-specific features
Now let's look at those two modes we mentioned earlier: Background Defocus and Product Priority.
Background Defocus Mode
You may think this mode has a lot of processing magic to blur the background.
When you turn on Background Defocus Mode, all you're doing is telling the camera to open up the aperture to the maximum f-stop. The aperture will appear in yellow on the screen, telling you it's fixed at the widest.

With that in mind, this mode is not some magic mode to blur your background whenever you need it blurred. If you're using a 16mm f/4 lens and are some distance away from it, you won't be able to "defocus" your background much at all. However, if you're using a 50mm f/1.4 lens, you'll be able to "defocus" that background quite a bit more.
It's all based on several factors that affect your depth of field.
Product Priority Mode
Product Priority Mode is going to switch the focus priority from "you" to a "product."
The X-S20 will do this by disabling Face/Eye Detection and changing the Focus Mode to Continuous if not already set to AF-C.

Now, whenever you bring a "product" into the frame, the X-S20 will attempt to lock onto that so it appears to be the "priority."
Just note that when a "product" is not in the frame, the X-S20 may have a tough time keeping focus locked on you, especially since Face/Eye Detection is disabled. Only use this mode when you are working with some kind of product.

Final thoughts on the X-S20 Vlog Mode
Fujifilm is fully embracing the "creator economy" with the release of the X-S20 Vlog Mode.
Video creators can quickly switch between high-quality movies and "lower" quality Vlogs without constantly changing Movie settings. I think this is one of the main advantages of the X-S20's Vlog Mode.
I don't consider myself a "vlogger," but there have certainly been times when I've had to record commissioned video for a client and then wanted to get in front of the camera for a quick instructional video. Trying to remember which settings I needed to change and then remembering to change them back for the next high-quality video was burdensome and opened the door to costly errors.
This felt extremely gimmicky at first. But the more I thought about it, the more I saw the value in the ability to have two completely different movie "types" that you could quickly toggle in the camera.
For anyone who does any kind of video, this alone could justify a purchase of the X-S20. Check out current deals at B&H Photo.
You can learn more about operating the X-S20 in my X-S20 Tutorial Course and use the code "blog20" for 20% off.