Disclosure: This post may contain affiliate links. I earn a small commission of product sales to keep this website going.
So I recently went on the eBay and bought a used Fujifilm X-T1 with a kit lens. Would it be the catalyst for me switching from Sony to Fujifilm?
Yeah, I downgraded to a four-year-old used 16MP camera with a kit lens. 2016 John would have admonished 2018 John for doing this.
But I had a few reasons for wanting to try this out and you can read them in this post.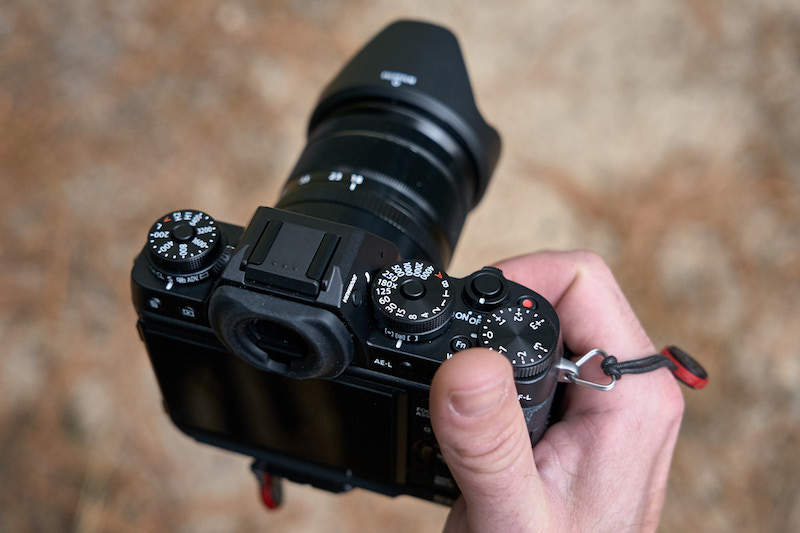 And let me say this about Fujifilm's 18-55mm kit lens – when you think about "kit lenses", you think about that cheaply-made plastic f/5.6 lens that's super-soft and crap around the edges of the frame. I'd normally be embarrassed to say I used one if I admitted to it at all.
But Fujifilm's f/2.8, image-stabilized metal kit lens can compete with the big boys. I'll let the images speak to its quality.
The three cameras in my collection as I made the transition, shown with equivalent focal length lenses:

---
The Good
The RAW photos that came out of the X-T1 had a great dynamic range. I was really able to push the shadows up and pull the highlights down without noticing any unwanted artifacts. The X-T1 seems to have low color noise, and I didn't notice much of this at all.
Here are the only "comparison" photos I'll post, showing exposure adjustments in Capture One Pro 11. For a four-year-old 16MP APS-C camera…for real?
I brought the overall exposure up +2EV, further Shadow Recovery to 50, and Highlight Recovery to 100.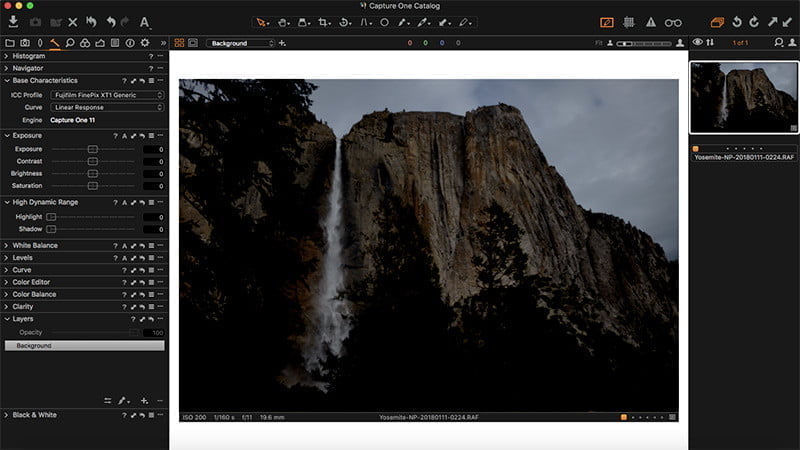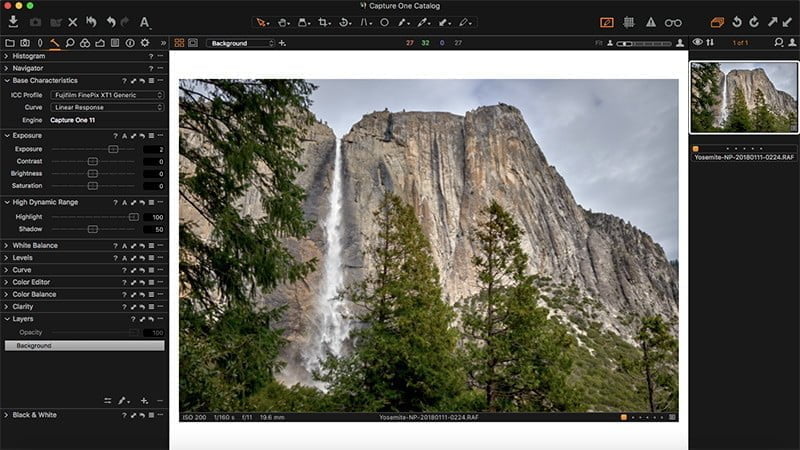 And now for the details, before and after. Minimal sharpening & noise processing done.
Look at the tonal range it was able to recover in the greens, from near black.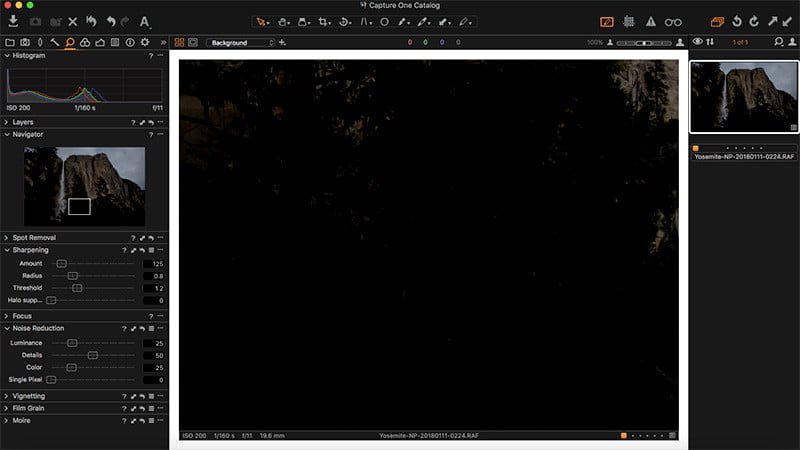 I didn't suffer from any inadvertent switch actuations on the X-T1. This seemed to happen a lot with my Sonys – all of the wheel controls moved freely and I'd often catch myself saying something like, "Why the hell is that aperture set?" This didn't happen to me with the way the knobs on the X-T1 are designed. And I loved the mechanical feedback of clicking through the settings. One more vote for switching from Sony to Fuji.
Auto white balance works wonderfully. There are certain situations that will confuse even the best AWB sensor, but overall the camera got it right and was consistent between images.
Landscape photos came out with colors rich and vibrant. I was very impressed with the unprocessed RAW images. They didn't take much tweaking at all, especially with regards to color.
The X-T1 has some great manual focus aids. If you just stay in MF the whole time you'll have autofocus available whenever you want it by using the AF-L button as "back-button autofocus". This was fast & accurate. Out of 600 images, only a couple were out of focus, and those were all instances where I used AF-L in low-contrast scenes.
The X-T1 also features an on-screen depth-of-field calculator. The focus distance in the Sonys was fairly ambiguous with its little white tick mark that didn't really tell me much; the X-T1 displays a breathing graph showing near, far, and hyperfocal distance that changes with my zoom & aperture settings. Super helpful for a quick at-a-glance.
I only used Interval Shooting once, in my final hour in Yosemite, and I can't wait to use it more. This may be a major reason for videographers to switch from Sony to Fuji. It'd be a simple firmware upgrade but Sony doesn't do these. I don't need to carry an external intervalometer anymore. All of this is done from the camera menu.
Robust in-camera processing. Push or pull exposure, set different film simulations, adjust white balance, noise reduction, crop, resize, and set ratings. This will create a JPG from a RAW exposure, like having a basic RAW converter in the camera. You can then transfer the JPGs to your phone using the Fujifilm app.
The Electronic Viewfinder (EVF) of the X-T1, and all Fujifilm X series cameras, is the best in the mirrorless market. I didn't realize how bad Sony's EVF was until after switching from Sony to Fujifilm. Sony's was choppy, smaller, and useless. So I always used the rear LCD screen, which felt sacrilegious every time I clicked the shutter. The EVF of the X-T1 brings back the fun in actually pulling the camera up to your face. It's bright, detailed, and smooth.
It seems ridiculous to keep repeating this, but I just love how much simpler it is to make a photo. Look at the dials – set ISO, aperture, shutter, drive mode, and metering mode – all without having to look at any screens. Check the histogram, set the focus, click. It's like using a real camera again.
---
The Neutral
The menu isn't much better than Sony's; the X-Pro2 and X-T2 have a much-improved menu structure but the X-T1 has more of a legacy menu. I found I didn't have to go into it much though because everything I'd need is accessible with the Quick Menu button.
I was initially hesitant about the minimum native ISO of 200. I always try to shoot at 100 if possible, but that's a holdover sentiment from ten years ago. I don't know why I still feel that way; it's unnecessary with today's technology. The low pixel count combined with current (2014) technology leads to less noise, and Fujifilm also has a different ISO standard, so you can't really compare numbers alone.
The battery life is comparable to other mirrorless cameras. I turned off the viewfinders & auto-review to maximize the battery life. I took almost 600 photos total – I recharged the battery after 250 photos at the end of the first day and then drained it down to dead after 330 photos at the end of the second day. I should also mention it was extremely cold by then, reducing the battery life.
Would 16 megapixels be enough? I haven't shot with a pixel count that low in years. But it is enough for me, shooting mostly for stock & prints up to 40″ wide. Will the image be super-sharp printed 40″ wide? Well, no, and neither is a 24MP image. But you won't notice at normal viewing distances. Just know that you don't have a lot of room to crop – get the composition correct at capture.
---
The Bad
The X-T1's battery can't be recharged in-camera. This is a bit of an inconvenience because I like to travel with as little as possible, and was hoping I could just get away with my Anker PowerCore and a USB cable. Instead, I had to bring a car inverter and the supplied giant charger. I ended up buying a dual-USB charger (works great so far and includes two batteries for less than $30 – all in a light, small package). The X-T2 does allow in-camera charging.
To further complicate things, the battery can't be removed with a tripod plate installed (not a problem in subsequent models). Even a small plate obstructs the battery door. I always have a Peak Design plate installed and had to take it off for charging.
The X-T1 grip leaves a little more to be desired, especially if you're coming from larger cameras. The camera is small and the grip is proportionally small. Anything but the smallest hands won't comfortably contour around the grip.
I was able to address all of this by getting a third-party MEIKE metal hand grip. The grip feels solid and is comfortable to hold; it features a standard Arca Swiss design for mounting on a tripod ball head; the battery compartment is fully accessible; I can attach my Peak Design strap clip to the grip. The grip adds three ounces and costs less than $40.
Crises averted.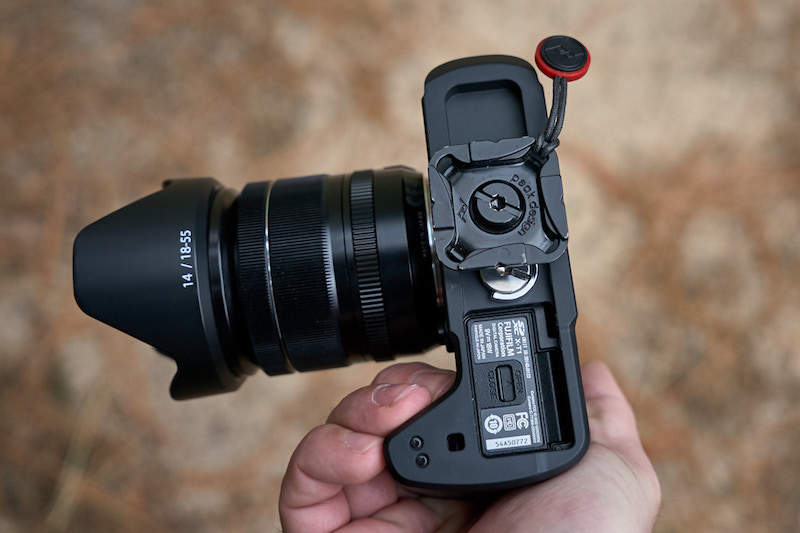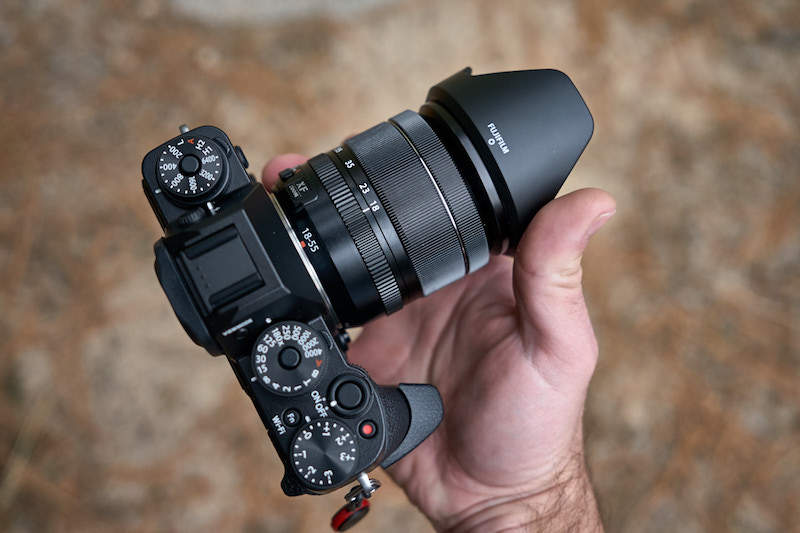 One thing I noticed that others have complained about is how easy the memory card door opens if you brush it. It doesn't open on its own, but it may slide open if you bump it in the direction it opens. This happened a couple times. Later models have addressed this issue. I always carry a little gaffer's tape rolled around my note-taking pen, so I might use this if it's raining.
---
Overall – thoughts on switching from Sony to Fujifilm
My only complaints about shooting with the Fujifilm X-T1 are more utilitarian, all items that can be fixed and don't affect what I can do as a photographer. As far as the meat of it goes, I think this is a great alternative to shooting with Sony.
I had my Sony a7ii with me on the trip but didn't take it out of the bag once.
Back to basics
I love how the X-T1 simplifies shooting, allowing me to focus more on creativity. The controls are arranged in a way that makes sense, especially if you're from the film camera generation.
Capturing the images closer to my vision in-camera simplifies & speeds up post-processing, allowing me to spend less time in front of the computer and more time enjoying life (switching to Capture One Pro from Lightroom also helps!).
The X-T1 also feels more robust than the delicate Sony Alpha cameras. The 16MP is just fine for me because I never did anything with 24MP.
Fujifilm also releases regular & significant firmware updates, even on older cameras, bringing older bodies up to speed with the newer ones as much as they can. Obsolescence is less of an issue, and that's good insurance.
Interested in Fujifilm? You can read my Fujifilm camera comparisons here.