Disclosure: This post may contain affiliate links. I earn a small commission of product sales to keep this website going.
For the past several months I've been – to put it politely – pissed that I haven't been able to transfer photos from my Fujifilm X cameras over to my phone (iPhone) using the Fujifilm Cam Remote App. It was working fine one day then just stopped.
Since I always strive for perfect JPEGs now and often get them, I love sharing photos right after I capture them. Capture, play back, start transfer, share. Or I can just transfer them over to the phone for a quick crop or straighten and my processing is complete.
Lately, the Cam Remote App has been hanging up when I try to transfer photos. I could connect my phone and my camera, but image transfer was impossible. It'd forever get stuck on "trying to connect" no matter which order of things I tried doing. The Bluetooth connection was fine but WiFi was out to lunch.
But I really wanted to get this figured out before heading to Peru since electricity is limited and I wouldn't always have my laptop with me.

So I went over to the App Store to see who else was having these problems. The app was last updated 11 months ago and has a rating of 1.4 stars. Not promising. I started going through the reviews.
Then I found one review with help that made the app work flawlessly.
NOTE (3/31/2023): These problems have all been solved with the new Fujifilm XApp! If you have a Bluetooth-capable camera and have not started using the new app yet, read how to use Fujifilm XApp.
Update your iPhone recently?
In this review, the user mentions that he could no longer transfer images after updating his iPhone.
Bluetooth was still working but no WiFi after the phone update. Must be a software incompatibility after the iOS update. Though I couldn't remember if my problems started after a phone update, it sounded very similar.
This user thankfully noticed something wasn't right.
The back of the camera said it was connecting to iPhone-5002 (or whatever number), but the app said his phone was called iPhone-5003 (a different number). The camera will never make a WiFi connection if it thinks it's supposed to connect to a different device. Bluetooth will work, but WiFi not so much.
When you're connecting a camera to your phone via WiFi, you have the option of pressing OK on the camera to connect to a different device than the one it's currently trying to connect to. Pressing OK allowed him select the new number, iPhone-5003, and it worked.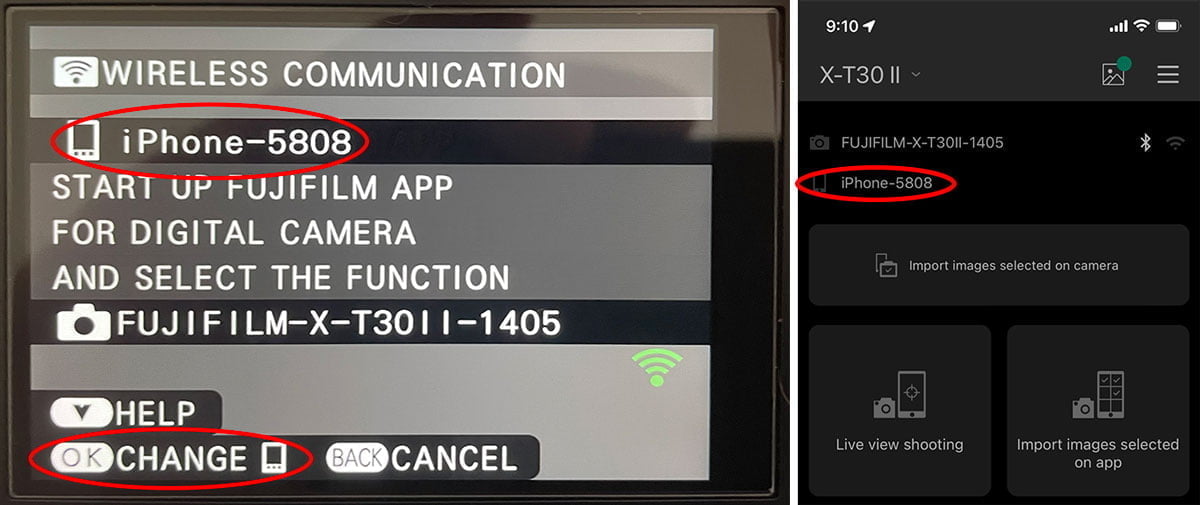 So that's exactly what I did too. I tried starting the connection as I've been unsuccessfully able to do for months now. Looking at the back of the camera screen, I noticed that it was trying to connect to a different named phone than the name on the Fujifilm Cam Remote App. I pressed OK on the camera, selected the "new" phone, and voila, image transfer works.
An easy fix
I don't know how or why this happened. Did the iOS update rename the phone in the app? I sure as hell didn't rename the phone. A mystery.
That's not important.
What's important is knowing that this is the cause for many people's frustrations, and there's a fix to it that only requires you to hit one button.
I could have sworn that I also tried deleting the pairing registration and then starting over with a new pairing registration and still couldn't get it to work. You could try that too, but just pressing OK to fix the phone's number is a quick guaranteed fix.

If any Android users are having similar problems, I'm afraid I don't have any specific experience with that. But you may want to look to see if the name of your phone is the same on both the camera connection screen and the Fujifilm Cam Remote App screen.
Ever since doing this fix I've been able to transfer images from my camera to my phone with lightning speed and a 100% success rate over the past ten days while on this trip.
One other thing to make sure you always do is to initiate image transfer from the camera playback screen. While reviewing an image, press the Function button (usually the little one next to the shutter button) to start the connection. Then once it connects, on the app, select either "Import images selected on camera" to select the currently displayed photos for transfer, or "Import images selected on app" to select from a grid displayed on the app. I find it easier and faster to "Import images selected on camera."
I hope that helps!