Disclosure: This post may contain affiliate links. I earn a small commission of product sales to keep this website going.
The Lake Tahoe region is under several different jurisdictions with different drone laws. So I've created a map file that you can download below and load into a GPS app, so you can quickly see where you can fly a drone in Lake Tahoe.
For a more general idea of where you can & can't fly drones in the great outdoors, see this descriptive post.
How much do you know about the rules in general? Take a free FAA Part 107 practice test to find out!
State parks, recreation areas, wilderness areas, national forests, and municipal parks surround Lake Tahoe.
It makes knowing where you can and can't fly a drone around Lake Tahoe a little difficult, especially when you throw a couple of airports in the mix.
---
Map of Lake Tahoe No-Drone Zones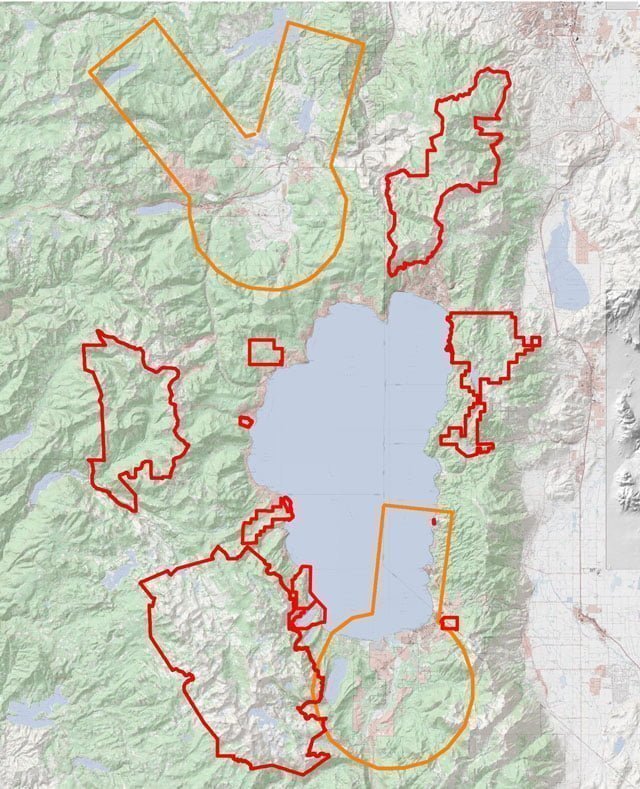 This map was created using Gaia GPS. Some of the boundaries were already drawn, and some I had to draw myself.
Red lines indicate where drones are prohibited.
Orange lines indicate where ATC authorization is required.
It is designed to give you an excellent first-glance idea of where you're legally allowed to fly launch a drone in Lake Tahoe when you're planning an outing.
Obligatory disclaimer: these are only for reference only. You are ultimately responsible for checking the status of the airspace you're flying in, and for flight restrictions in place for firefighting, presidential visits, etc., using tools such as the FAA's B4UFLY App or AirMap.
Download the Lake Tahoe drone restricted areas:
Map updated November 2019
Import this file into your favorite GPS app and you're all set! I recommend Gaia GPS.
Boundaries included in these files:
California State Parks: Edwin Z'berg Natural Preserve, Emerald Bay State Park, D.L. Bliss State Park, Ward Creek State Park, Burton Creek State Park, Sugar Pine Point State Park
Nevada State Parks: Lake Tahoe State Park (Sand Harbor, Spooner, Cave Rock)
Van Sickle Bi-State Park
Wilderness Areas: Desolation, Granite Chief, Mt Rose, Mokelumne, Carson-Iceberg
Airports: Lake Tahoe Airport Class E surface area and Truckee Class D & E surface areas.
---
Lake Tahoe drone laws in more detail…
Airports – RESTRICTED
New FAA rules dictate that you can't fly over these areas without authorization from the FAA sUAS web portal and apps like AirMap. This rule applies to both recreational flyers and FAA 107 certified pilots.
Learn how to get FAA LAANC authorization here.
South Lake Tahoe: ATC authorization is required for all drone flights within South Lake Tahoe Class E airspace. This includes over the city of South Lake Tahoe, Fallen Leaf Lake, all South Lake Tahoe beaches and Nevada beach, Heavenly, and Echo Lake.
Truckee: ATC authorization is required for all drone flights in Truckee's Class D & E airspace. This includes over the town of Truckee, Northstar, Martis Valley, the Truckee River between Donner Lake and Boca, Prosser Reservoir, Carpenter Valley, and Independence Lake.
California State Parks – PROHIBITED
As of publication, the California State Parks website says that recreational drones are allowed in California State Parks except where posted. This is not entirely accurate.
I recently spoke with the superintendent for the Lake Tahoe Region, and she told me that recreational drone flying is illegal in all California State Parks, classified as a dangerous recreational activity under California Code of Regulations Title 14, Section 4319.
The chief ranger for the Lake Tahoe sector was also recently quoted in the news stating that drone flights are prohibited in Lake Tahoe California State Parks.
Locations where you may not fly your drone in Lake Tahoe California State Parks include:
Emerald Bay State Park
D.L. Bliss State Park
Sugar Pine Point State Park
Burton Creek State Park
Kings Beach State Recreation Area
Lake Valley State Recreation Area and Washoe Meadows State Park also lie within the Lake Tahoe Airport Class E Surface area.
Nevada State Parks – PROHIBITED
Nevada's official policy does not allow any recreational drone flying from Nevada state parks. Lake Tahoe State Park includes:
Sand Harbor
Cave Rock
Spooner Lake
Marlette Lake
Tunnel Creek & The Flume Trail
All shoreline from the Ponderosa to Bonsai Rock (Bonsai Rock does lie just outside of the boundary)
I have heard of a few instances where park rangers will allow 107 certificate holders to fly in some of these areas during the off-season without obtaining a permit, but you didn't hear that from me 🙂
Wilderness Areas – PROHIBITED
The Wilderness Act prohibits motorized vehicles in Congressionally-designated Wilderness areas (with a capital W). This includes aircraft, and aircraft include drones.
The Wilderness Act was created to preserve specific areas of land in their most natural state, and allow people & wildlife to enjoy these areas without the distractions of modern life. Nothing with a motor is allowed to operate from these areas.
Regardless of how you may interpret that rule, the Department of Agriculture directs that drones not be flown from Wilderness per the Act.
Wilderness included in this restriction in the Tahoe area:
Mount Rose Wilderness
Mokelumne Wilderness
Carson-Iceberg Wilderness
Desolation Wilderness
Granite Chief Wilderness
National Forest – ALLOWED (But prohibited in Wilderness)
There are currently no restrictions for flying drones in strictly National Forest land unless it's a Wilderness area or land leased to private operators, like the resort at Angora Lakes.
I have verified this with some people in the Lake Tahoe Basin Management Unit.
National Forest land makes up the majority of land around Lake Tahoe.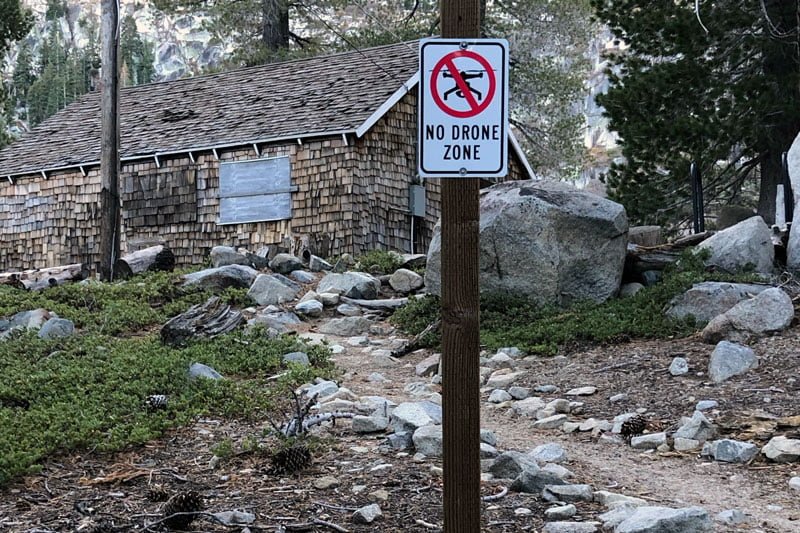 Municipal areas – ALLOWED
No towns in the Lake Tahoe area outright prohibit drone flying yet. Some specific areas, like a few beaches in South Lake Tahoe, do have "no drone" signs, and those also fall within the Lake Tahoe Airport Class E.
Please respect the privacy of others. In California, for example, you can be prosecuted for flying over someone else's backyard.
Best practices for flying in populated areas:
Always fly over "public" land, not private homes or businesses
Do not operate directly over people
Always keep your drone in sight
---
Flying drones in other areas of Tahoe
The best thing to do is to put yourself in someone else's shoes!
Visitors come to Lake Tahoe to escape the noise of city life and enjoy this treasure in as much of a natural environment as they can.
Buzzing over their heads in parks & wilderness areas ruins their experience and makes them hate drones even more. Especially when they think that they're being filmed against their will, or worse yet, hit by one.
We don't want them to hate on us, right?!
Tahoe pilots: join the Lake Tahoe Drone Pilots Facebook group for networking and updates.
Please contact me or leave a comment below if you have any suggestions or corrections. Thanks!