Disclosure: This post may contain affiliate links. I earn a small commission of product sales to keep this website going.
There are a number of camera bag manufacturers out there, all claiming to sell the best travel camera bags. Sorting through all of them can be a difficult, time-consuming task.
Instead of listing specific bags, I wanted to introduce you to my favorite manufacturers. I've had personal experience with four of the five over the past ten-plus years, and the other one is on my shortlist after being recommended by numerous other travel photographers.
All of these bags are superbly constructed and have some degree of weatherproofing and water resistance, so these features won't be mentioned with each brand. They're all built with quality that will give you plenty of life.
The Five Best Travel Camera Bag Brands
My first "adventure travel camera backpack" was an F-stop Tilopa backpack. This rugged pack survived an entire load of abuse. It was made of ripstop nylon, had heavy-duty zippers, plenty of compartments and pouches, and external attachment points. It's still their flagship camera backpack today. I later bought the smaller F-stop Kenti for outings with a smaller kit; this backpack featured side-access compartments and a rolltop for extra gear.
The heart of these stylish F-stop bags is their Internal Camera Units (ICUs), a removable padded gear container. They're customizable and come in different sizes. You could also just get their ICUs alone and put them in your own backpacks – this is an economical alternative to keep your camera gear organized and safe without having to get a whole new backpack.
MORE ABOUT F-STOP GEAR:
Their design team is made up of true adventurers, mountaineers, and backcountry skiers, and it shows in their products,
They've also recently introduced an "Urban" series for those who prefer to stay on the pavement, made with the same quality.
Most of their bags also pull double-duty for carrying personal gear – some of them may be the only bag you need.
I know this is petty, but the bag is emblazoned with their "F-stop" logo, telling everyone there is valuable camera gear inside.
A purchase of a large backpack and an ICU will set you back the price of a lens. However, you'll have it for the rest of your career.
Check out their website for more on their bags.
Think Tank Photo & MindShift Gear – For nature & general travel
MindShift started as an offshoot of Think Tank; just recently they've joined up into one company. I own six bags between Think Tank & MindShift and will continue to add to the collection, I'm sure. The Think Tank Hubba Hubba Hiney is the perfect mirrorless camera bag for backpacking, which I wear on a belt as a hip bag. It doesn't get in the way, holds my minimal mirrorless camera gear, and allows me to keep shooting without stopping to mess with my backpack. The BackLight 26L organizes all of my travel mirrorless photography gear while I'm home and safely transports it through airports.
Think Tank makes some of the best travel camera bags for the general all-purpose traveler. They offer inconspicuous shoulder & messenger bags, highly modular hip belt systems, and drone carrying systems. The MindShift offshoot was directed more at nature & outdoor travel photographers, with those types of shoots in mind specifically.
MORE ABOUT THINK TANK & MINDSHIFT:
The interoperability of their products is very well thought out.
Almost all of their bags are inconspicuous and don't scream "camera inside!", a highly desirable trait in a travel camera bag.
MindShift Gear is all about conservation and their line was designed with input by conservation photographers; Moose Peterson has his own line within MindShift.
They're still expensive, but more reasonable than F-stop and they last just as long.
If you like subtle colors, you may have some issue with MindShift's color schemes.
I am an affiliate for Think Tank; use this link for free shipping and a free gift with your order.
Peak Design – For urban and general travel
Peak Design is one of those examples of an ultra-successful crowdfunding campaign. They started designing some bags with travel photographer Trey Ratcliff and have since expanded their line. I had already been a fan of their Hand Clutch, Capture Clip, and Slide Straps. They also have a great line of stylish backpacks, messenger bags, slings, totes, and accessories. I'll be trying out their Everyday Sling 5L and get back to you once I've had a chance to carry it around for a while.
Peak Design's signature bag is the Everyday Backpack, available in either 20 or 30-liter sizes and multiple color schemes. This bag is all about organization and is highly customizable, brimming with pockets and folding dividers. Carry your portable drone, DSLR, a couple lenses, speedlight, laptop, tripod, personal gear, and a handful of accessories in this handsome backpack. It's perfect for air travel, walking the streets of Paris, and simple hikes. Their other bags are just as functional in different situations.
MORE ABOUT PEAK DESIGN:
Subscribe to their platforms as they're constantly announcing new campaigns for new products.
While these bags can withstand outdoor adventures, I wouldn't want to get them dirty. Their other accessories are meant for abuse though.
If you want inconspicuous, these products fit the bill. Nothing about them says "camera bag" at first look.
These products will also serve as – like the name says – everyday bags even if you're not carrying your camera gear. Multifunctional and economical.
Shimoda Designs – For adventurers
Shimoda has been my most recent acquisition to fulfill my need for an ultra-rugged adventure camera backpack. I opted for the Explore 40, and once I spend some more time with it I'll write up a review of my experiences. They're another crowdfunding project that was extremely successful, meeting their funding goal within 30 hours and exceeding it by 600%. Like F-stop, their bags are designed by and for adventurers (a former F-stop designer, in fact). The "system" starts with a rugged, weather-resistant nylon backpack, and is finished off with your choice of core units and accessory packs for organization. They promise to have the best travel camera bags for adventurous photographers.
Check out their Kickstarter launch video to learn more about their features:

Shimoda's product line so far includes a 40L daypack, a 60L multiday pack, an airport roller, and a variety of camera core units and accessory organization pouches. Their core units also come with shoulder straps for short excursions from base camp. If you already have a generic backpacking pack you love, you can still purchase a core unit to insert into your pack to protect & organize your camera gear.
Check Shimoda's current prices on Amazon
Tenba – For general travel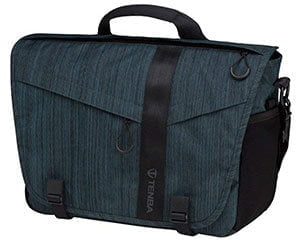 Tenba is the only brand on here that I don't have personal experience with yet, but they have come highly recommended by numerous successful travel photographers. Like Think Tank & MindShift, their bags are targeted more towards the general traveler, though their Solstice line is perfect for hiking & outdoor photographers. Their products include airport rollers, messenger bags, accessory & lens pouches, sling bags, shoulder bags, and backpacks. Tenba is slightly more affordable than Think Tank & MindShift.
Already have a great backpack? Tenba's BYOB (Bring Your Own Bag) inserts will organize & protect your camera and lenses and then fit snugly in your duffel, suitcase, or backpack.