Disclosure: This post may contain affiliate links. I earn a small commission of product sales to keep this website going.
Let's look at the differences between the Mavic 2 Pro vs the Mavic Zoom from a practical travel & backpacking perspective. They're both great drones for travel but cater to two different types of photographers.
But first…
The Mavic Air, Mavic Pro, and Mavic 2
I bailed on the original Mavic Pro for the Mavic Air, favoring its smaller size, lighter weight, and improved video capabilities. Much easier to travel with. I later realized that I would have been better off sticking with the Mavic Pro, mostly due to the following:
Lack of camera controls on the controller
Loud, high-pitched noise
Unstable in strong, gusty winds
Limited visibility
The Mavic Pro is better than the Mavic Air in these regards, and the Mavic 2 series improves on these further. The controller has the standard Mavic Pro buttons plus an additional Tripod mode switch. The advanced motors and redesigned propellers eliminate the high-pitch whine found on the Mavic Air. And finally, the larger size and heavier weight make it more stable and easier to see.
Smaller tech isn't necessarily better tech. At least for my needs, the Mavic Air hit the point of diminishing returns as far as a travel drone is concerned.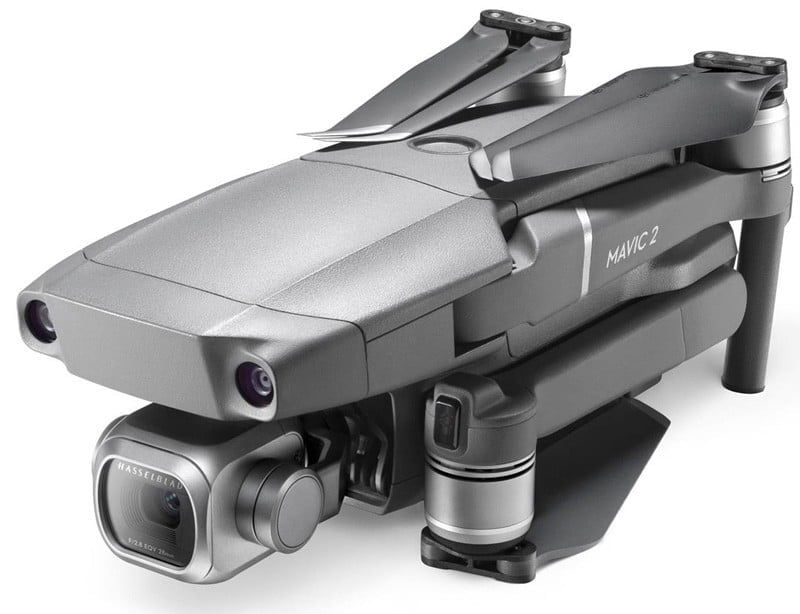 Similarities between the Mavic 2 Pro vs Zoom
Except for the camera, these drones and the controller are identical.
Size & Weight
Both drones weigh exactly two pounds with the battery. For comparison, the original Mavic Pro weighs 1.6 pounds – or 6 ounces lighter.
Folded, the Mavic 2 is 3.3″ x 3.6″ x 8.4″. The original Mavic Pro is 3.3″ x 3.3″ x 7.8″. So, the Mavic 2 is more or less the same size, just imperceptibly longer. The Mavic 2 is just shy of one inch larger diagonal distance when unfolded.
Flight
As far as the specs go, the Mavic 2 has a flight time of 31 minutes, or 4 minutes longer than the original Mavic Pro. The Mavic Platinum is spec'd at 30 minutes. As we all know, actual flight time is probably a few minutes shorter.
The Mavic 2 can also fly up to 45mph. This is helpful when fighting a headwind.
The advanced motors on the Mavic 2 also make it much more stable than any portable drone produced to date.
Sensors
The Mavic 2 really adds a lot more sensors for enhanced safety. It has the same two forward camera sensors and two bottom sensors. There are also two rearward camera sensors and a camera sensor on each side. It has infrared sensors looking both up and down. During low light, there are two LEDs on the bottom to illuminate the landing zone for the downward cameras.
The Mavic 2 has an improved Advanced Pilot Assistance System (APAS) introduced in the Mavic Air. This allows the drone to create a three-dimensional map of its environment and fly around most obstacles.
Controller
You'll find the controller is more like the original Mavic Pro controller with customizable buttons, control wheels, telemetry display, and the P/S switch also adds the capability to switch into Tripod mode. The buttons & wheels do different functions depending on if you have the Mavic 2 Pro or Zoom.

Differences between the Mavic 2 Pro vs Zoom
It's all in the cameras. You may want both cameras. And no, you can't swap them out at home, but DJI can do that for you if you send it in.
The price is also slightly different; the Mavic 2 Pro is slightly more expensive than the Mavic Zoom, and that's all in the cameras. Check current prices here.
If you're going to upgrade to the Mavic 2, you're going to do it for the cameras.
Mavic 2 Pro vs Zoom camera differences (along with older Mavics):
| | Mavic 2 Pro | Mavic Zoom | Mavic Pro | Mavic Air |
| --- | --- | --- | --- | --- |
| Sensor size | 1" CMOS | 1/2.3" CMOS | 1/2.3" CMOS | 1/2.3" CMOS |
| Resolution | 20MP | 12MP | 12MP | 12MP |
| Aperture | f/2.8-f/11 | f/2.8-f/3.8 | f/2.2 | f/2.8 |
| Focal length | 28mm | 24-48mm Optical zoom | 26mm | 24mm |
| Field of view | 77 degrees | 83 to 48 degrees | 79 degrees | 83 degrees |
| ISO range (video) | 100-6400 | 100-3200 | 100-3200 | 100-3200 |
| ISO range (photo) | 100-12800 | 100-3200 | 100-1600 | 100-3200 |
| Video resolution | 4K 30p to Full HD 120p | 4K 30p to Full HD 120p | C4K 24p to HD 120p | 4K 30p to Full HD 120p |
| Video bitrate (max) | 100Mbps | 100Mbps | 60Mbps | 100Mbps |
| Color depth | 10bit (includes HDR-Log, or HLG) | 8bit | 8bit | 8bit |
| Video codec & format | H.264/H.265 MP4 & MOV | H.264/H.265 MP4 & MOV | H.264 MP4 & MOV | H.264 MP4 & MOV |
As you can see, the camera on the Mavic 2 Pro is obviously better. The sensor is much larger, allowing for a higher dynamic range, better light sensitivity, and higher resolution. It's a Hassleblad, so you know you'll get great glass. The aperture is also adjustable, allowing for on-the-fly exposure corrections during video to maintain a certain shutter speed, and change depth-of-field with close subjects.
However…
The Mavic Zoom's camera allows for some amazing creative possibilities you can't simulate with any other Mavic camera. The optical zoom equivalent of 24mm to 48mm will give you some more tools for your toolbag, like background compression and the "dolly zoom" effect. The aperture is variable through the zoom range from f/2.8 to f/3.8; it isn't adjustable.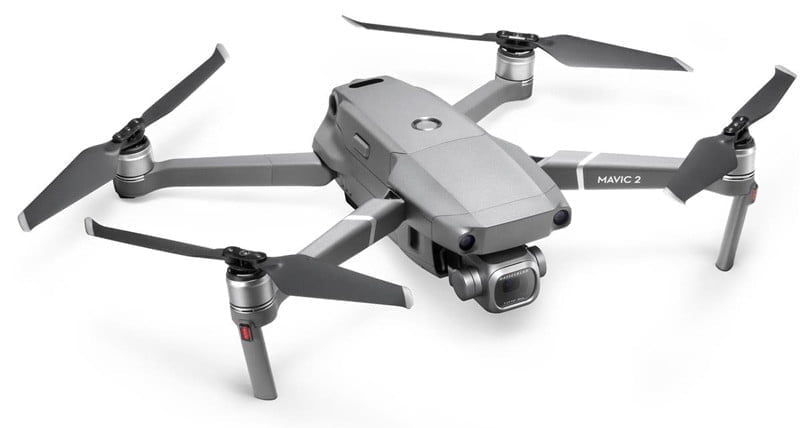 So should you upgrade from the Mavic Pro or Mavic Air to the Mavic 2?
When I first got the Mavic Pro I said, "this drone would be awesome if it had a one-inch sensor like the Phantom 4". Well, now one of them does. If you said the same thing, then yes I'd consider it.
If you do any paid work, it's definitely worth upgrading from the Mavic Pro to the Mavic 2.
I was going to get a Mavic Platinum after realizing my Air didn't suit my needs, but with this, I'll definitely be going straight to the Mavic 2 Pro instead.
But now that leads to another question…
Should you get the Mavic 2 Pro or the Mavic Zoom?
It all depends on what your specialty is.
I waffled between the two. First, it was definitely the Mavic 2 Pro because of the more capable camera. Then it was the Zoom because of the possibilities I could have with a zoom camera. Now it's back to the Pro – I had to tell myself that no, I don't do any serious video, all of my paid work is with stills, so I instead need a better still camera. It'll work great for the occasional video I do.
If your primary work is photography and/or landscape video: upgrade to the Mavic 2 Pro, no question. The increased dynamic range and higher pixel pitch will yield smooth tones and amazing colors.
If your primary work is paid video for anything other than landscapes: upgrade to the Mavic Zoom. If you've been happy with the Mavic Pro or Mavic Air's video output, you'll really love the Mavic Zoom. If you're shooting any kind of sporting events, cars, boats, people, etc. – the optical zoom capability will add a whole new dimension to your video!
Did this help with your decision-making at all? Which one are you getting?
You can order from B&H Photo for Free Shipping.