Disclosure: This post may contain affiliate links. I earn a small commission of product sales to keep this website going.
I got a fun email in my inbox this morning, alerting me to a new version of Capture One! The upgrade from Capture One 11 to Capture One 12 is significant. It's even closer to perfect for me.
If you've waffled on switching over to Capture One from Lightroom, this update may push you closer to Capture One.
And if you're a Fujifilm shooter, you may have been excited to hear about their collaboration with Fujifilm in Capture One 11.3. Capture One 12 adds even more functionality for Fujifilm photographers. Capture One has always handled Fujifilm RAW files better than Lightroom, and now it can do even more.
Capture One 12 or Lightroom?
Earlier this year I wrote a blog post about switching over to Capture One 11 after over a decade of using Lightroom. I was impressed with its amazing color control, faster performance, adjustment layers, and pricing. There were still a few things missing:
Only Lightroom had luminosity masks and radial filters. Despite the awesome adjustment layer functionality, there were few masking options. The gradient filter in C1 offered little control. I had to use a brush for all dodging and burning in C1.
C1 was missing a GPS import function; I got around that by using Photo Mechanic.
There were no third-party plugins for C1. I used a SmugMug plugin with Lightroom to automatically update my galleries; I had to do this manually with C1.
The interface panel in C1 took some getting used to. It had a small font and they crammed a lot in to a single panel, but I got used to it.
Capture One 12 Changes
The update with Capture One 12 adresses most of these concerns. In fact, all but the geotagging feature have been included.
Here's what's new with Capture One 12:
Radial masking with refined controls, making dodging & burning even easier, and faster.
Luminosity masks allowing adjustments to be made based on the brightness value of each pixel.
Linear masking with better edge & gradation controls, like what's available in Lightroom.
Larger fonts & clearer icons, making editing sessions easier on the eyes.
Extensive keyboard shortcut mapping, allowing you to customize your preferences for a faster workflow.
Third-party plugin functionality. Expect numerous plugins to be available with C1 in the coming months!
And it's even faster than C1 11, which means it's much faster than Lightroom.
In C1 11, if I wanted to dodge this group of people to make them brighter, drawing the eye over there, I had to use multiple brush strokes of different opacity to feather the adjustment. This took a few minutes to get right:
In C1 12, it's as easy as dropping a radial filter, just like Lightroom: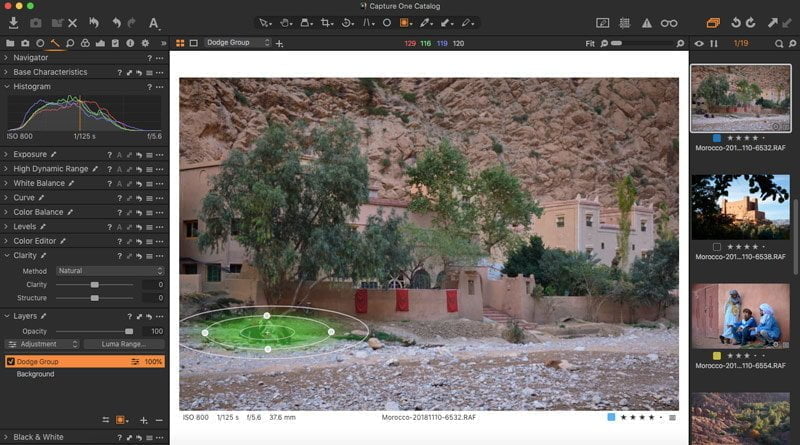 Making a linear gradient to drop the exposure of the sky, but not the mountains, was a tedious process of drawing the initial gradient mask and then erasing out the areas of the mountains with a brush. It wasn't precise and took forever to minimize the effects of the edge. You can complete this in seconds using the new Luma masking, and make it more precise also.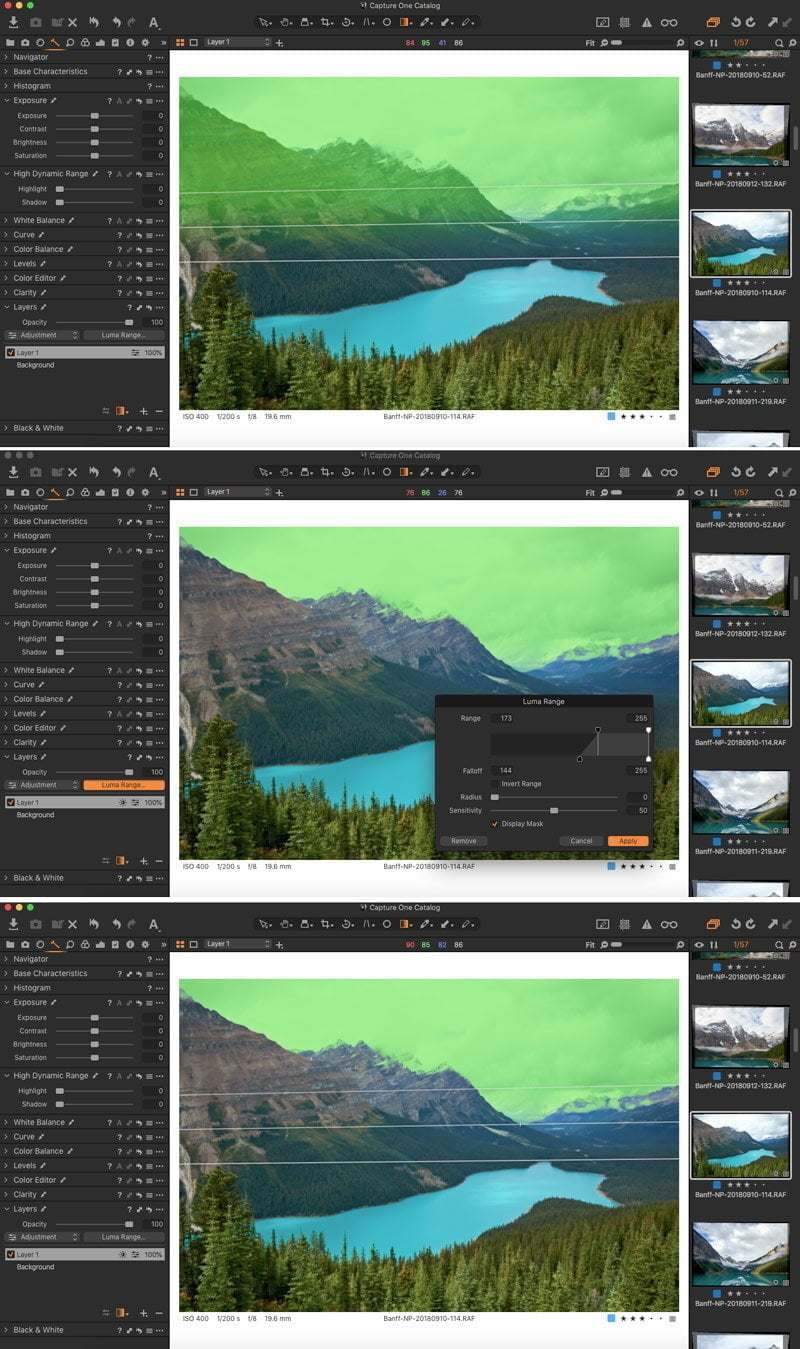 Capture One Pro and Capture One Fuji also include Fujifilm film simulation modes. I, along with many other Fujifilm photographers, had been using homemade ICC profiles to try to emulate the look of the Fujifilm film simulations. Capture One's collaboration with Fujfilm means that the engineers who actually designed the film stocks have created more accurate profiles for use with Capture One.
I should disclose that I still have a Lightroom subscription solely for Lightroom Mobile. Capture One doesn't have a mobile app yet. I do all of my image editing on a tablet while I'm traveling, and I do find Lightroom great for these quick edits. All of my heavy editing when I finally get home is done on Capture One.
Try Capture One for free
Capture One still offers Capture One Sony, specific to Sony cameras, for a lower price. This is the same as Capture One Fuji for Fujifilm cameras. I've downloaded the full version since I've shot with a number of camera manufacturers over the years.
I am not an affiliate with Capture One and I did not recieve any perks for writing this post. I just wanted to share the excitement! Download the fully-functional 30-day trial to see if it's right for you.
You, like me, may discover that your post-processing becomes more efficient and closer to your original vision. I'm heading back to some of my favorite images to use the new tools now!