Disclosure: This post may contain affiliate links. I earn a small commission of product sales to keep this website going.
At some point as a photographer, you're going to realize that you need to grow an email subscription list. But how do you grow an email list for photography? How do you attract subscribers so that the list has value?
Why have an email list for photography?
Let's back up a minute and look at why photographers need an email list and newsletter.
I discussed alternatives to Instagram for sharing your photos in this article from the previous month. Instagram is sadly no longer a photo-sharing app. And that's straight from the CEO.
And it's not just Instagram. Any free platform you use to get your work out that someone else owns will control who sees your work.
That audience you worked so hard to grow doesn't actually belong to you. It belongs to that platform that you're using.
This is why you need your own email list. You need to own your audience. Don't let a different platform own it. That platform can disappear at the drop of a hat, and when they do, so does your audience. Then you need to start over.
When I post something to Instagram, I'm lucky if 20% of my audience sees that post. When I send an email to my list, not only is that email delivered to 99% of my audience, but 60-70% of that audience opens each email.
Tools to collect email addresses
You'll need a tool to collect these email addresses. These are mostly called email marketing platforms.
But you don't need to market a product to use them. It's just a way to collect a list and compose & send an email to that list.
I have an entire module called Your Ultimate Social Network in my After the Capture course (link applies 20% off), where we go into some comparisons of the main email marketing platforms for photographers and how to use them. But here's a brief list of some of these email marketing platforms for photographers:
These platforms offer some sort of free plan, then various paid plans with different features. You're just going to have to compare them and see which service and which plan offers the features your specific situation needs.
For example, ConvertKit's free plan is available for up to a whopping 1,000 subscribers. It doesn't include automating sequences of emails or advanced analytics reports. But if you just want to send emails to an audience, this is a wonderful free option. Please note that I am an affiliate for them and receive referral commissions, but I wouldn't recommend them if I didn't firmly believe in the product and how much they've helped me.
Whatever you do, just be sure that you're planning for growth. Choose a service with plans that might serve your future growth and your current situation.
But the most important thing is to just stop wasting time and start collecting emails now.
How to collect email addresses for a photography list
How will you grow that photography newsletter once you decide on an email marketing platform?
Messaging
The first thing you want to do is clarify your message. Why are people going to sign up for your list?
Do not ask them to subscribe to your newsletter. We're bombarded with emails every day. Who wants another newsletter?
Give them a reason to sign up for your email list.
This blog is mostly educational in nature. So the reason I have on these subscription forms is to "subscribe to monthly photography tips." People know that they'll get photography tips that will help them improve their photography every month. They're not signing up for a "newsletter"; they know exactly what they're getting.

What if you don't have an educational blog? What messages can you use to grow your photography email list? Here are some reasons you can give people to sign up:
Exclusive behind-the-scenes photos & stories
"How I got the shot"/"How I processed the photo" rundowns from your favorite photos
Photography diaries/journals
Subscriber-only discounts on prints or digital products
Limited-edition signed prints only available for subscribers
Subscribers get priority for signing up for photo workshops or other upcoming events like mini-sessions
Developing presets only available to subscribers
Tips for photographing in your favorite locations or locations near your audience
You can offer all of those things as incentives for people to sign up for your email list. They need an incentive.
Segmentation
It also helps to think about segmenting your audience if it makes sense. That's why I love ConvertKit. They make this easy.
Okay, wait, what's segmentation?
Let's say you're a wedding photographer but also supplement your income by selling metallic prints of your landscape photos.
You have one email list collected from your wedding messaging and landscape prints messaging.
What do you think is going to happen to the subscribers most likely to purchase your landscape prints if you're sending them wedding emails all the time?
If they don't just automatically start deleting all emails from you, they're going to unsubscribe because the emails aren't relevant.
Segmentation allows you to send emails relevant to specific segments of your audience. They will appreciate this!
You still only need one list in most email marketing platforms, but you can segment that list using tags or other means.
On this site, anyone who subscribes from a Fujifilm-specific page is tagged fuji. Anyone who subscribes from a more general photography page is tagged photographer. Fujifilm photographers get emails in both segments, but photographers who could be using any brand of camera just get the photography emails.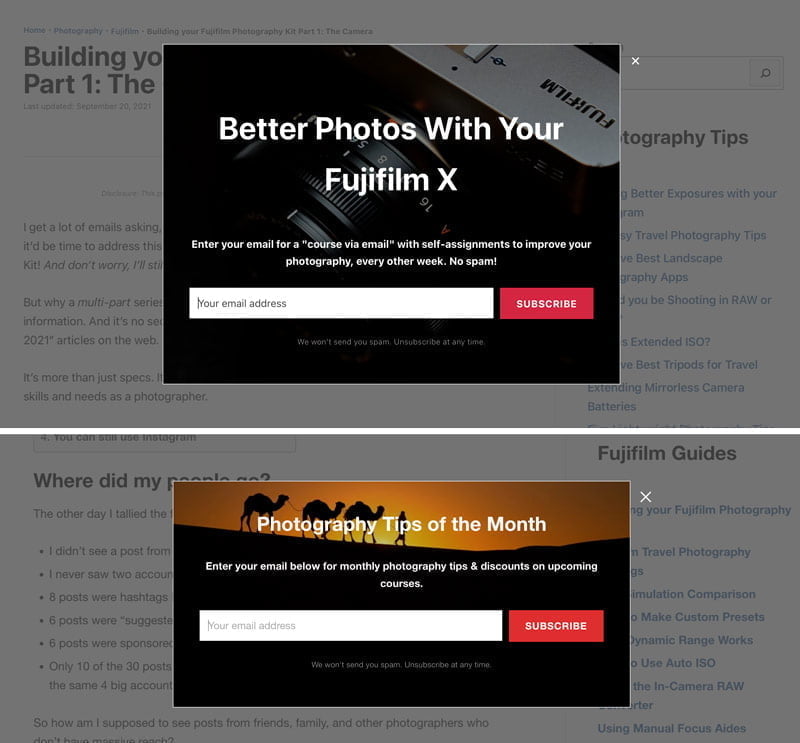 In our previous example, anyone who subscribes from wedding posts can be tagged weddings, and anyone who subscribes from your landscape prints can be tagged prints.
Segmentation will grow your photography email list because it ensures people get emails that are relevant to them.
Forms
Once you know your message and if/how you'll segment your list, now it's time to collect email addresses!
To grow your photography email list, you want to give people as many frictionless opportunities as possible to subscribe, but without being annoying.
Frictionless meaning easy and unobtrusive.
If you can present them with a form to enter their email address right then and there, that makes it easy, and they're more likely to do it.
And if you don't make them angry at the same time, they're also more likely to do it.
I don't know about you, but I can't stand it when I'm two seconds into an article and get a popup that takes up the entire screen, asking for my email, and then I can't find a way to close the popup and get back to the article. Screw that, I'm outta here.
On this site, I use exit intent to show the popup. People have time to read the article. I ask for the email once the browser detects that they could be going off or closing the page. I hope you enjoyed your time here. Would you like more? Not, hey, before you know what this site is about, how about giving me your email address?
Within the article, you might notice I've also inserted a link that says something like, is this helpful to you? You can click here to subscribe for more tips. That takes them to a page where they can enter their email. You could also put inline forms here.
And then, I also have links to my Subscribe page in my website header menu and footer. Many different opportunities to subscribe without being pushy or annoying (at least not like other sites I've visited!).
Most of the different email marketing platforms have ways of diversifying how you collect emails.

Other places you can insert forms & links to forms include:
Photo hosting sites like SmugMug (menu & photo pages)
Social media profiles & posts
YouTube profile & videos
Have existing subscribers forward to friends who might be interested
Receipts/invoices (electronic & print)
The whole idea is to know where your existing audience & customers are and lead them to opportunities to subscribe to your list. Include the incentive.
In summary: Growing your photography email list
You need to have your own email list if you want to share your photos – even if you don't plan on marketing anything. Don't let other companies – Instagram, YouTube, Facebook, etc – own your audience. You shouldn't rely on them for success.
Find an email marketing platform that matches your budget and your specific needs.
Think about your messaging. Do not say, "subscribe to my newsletter." Do say, "here is what's in it for you."
What about segmenting your list? Should you put subscribers in specific categories so that they get the most relevant emails possible? Do this if you send emails on different topics or themes. It will keep your audience more engaged.
Give your audience as many opportunities as possible to subscribe to these valuable emails that you send. Everywhere they are – blogs, social media, YouTube, photo hosting sites – ensure they have multiple, different opportunities without being pushy.
Even if you don't have a solid plan, don't worry, you can develop that later. Just start collecting emails now!
Your list will grow, and so will your photography.
What other ideas do you have to add?