Disclosure: This post may contain affiliate links. I earn a small commission of product sales to keep this website going.
The Best Lightweight Tripods for Travel & Backpacking
I like to travel light and tend to abuse my gear. So it was important to find the best lightweight tripod to withstand this abuse but not weigh me down. A compromise between ruggedness, portability, quality, and light weight.
Here's my criteria for choosing lightweight tripods for backpacking and travel:
The tripod shouldn't be too heavy, bulky, or fragile.
All tripods should be sturdy enough to stabilize your camera in windy conditions.
It should readily fit in your carry-on and backpack.
The tripod should meet height requirements and have a good ball head with a quick-release.
You will also have to be able to afford it!
Does such a tripod exist? Well, no, but these will get you close.
Here's a breakdown of five different portable & lightweight tripods with their pros & cons, based on your own needs and requirements. They're all capable of holding DSLRs with telephoto lenses. If you're interested in cutting your weight down even further, you can check out my lightweight backpacking tips for photographers.
---
Your basic lightweight travel tripod
1 – Sirui T-005KX: cheap, rugged, portable
The cheapest lightweight travel tripod is going to be made of aluminum. Aluminum is still reasonably sturdy; it isn't quite as light as carbon fiber, but it's much cheaper.
A lightweight tripod for backpacking & travel by itself isn't very stable when extended in windy conditions. Thankfully the Sirui T-005KX has a hook in the center column for hanging ballast, like your backpacking bag.
The Sirui T-005KX with Ball head has been my backpacking tripod of choice for years. It's going to be a little more expensive than some of the cheaper tripods you'll see, but those other tripods don't have these features:
Lightweight. The tripod and ball head weighs 1.9 pounds.
Portable when folded up. It's less than 12″ long by 3″ wide, yet extends up to 54″.
Versatility. The legs lock at three different angles, and you can remove the center column for even lower shots.
Stability. This tripod has done well in windy conditions and comes with a carabiner to attach weight to the center column. I also use the carabiner when folded up to fasten to a pack.
Smooth, robust ball head. The Arca-style plate is compatible with many other tripods.
Foam grips on the legs to keep your hands from freezing.
This tripod has survived many backpacking trips with me, including 210 miles on the John Muir Trail. I've exposed it to salty ocean conditions continuously, and everything still moves smoothly.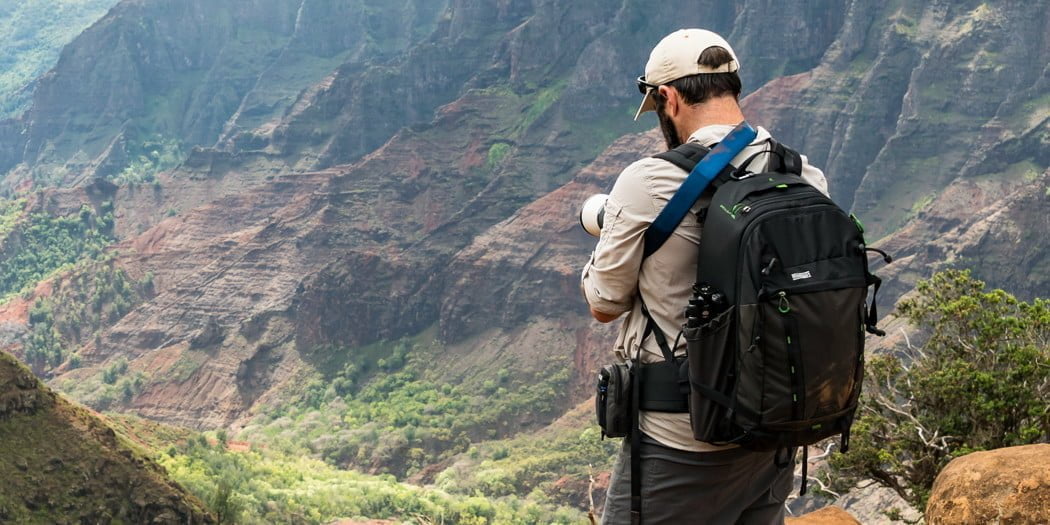 ---
2 – ZOMEi Z668 – cheaper but heavier
If you're not looking to bust $100, you can take a look at the ZOMEi Z668. This aluminum travel tripod extends to 65″ and folds down to 18″ x 5″. It's slightly larger than the Sirui T-005KX but it's cheaper and also converts to a monopod.
The most significant disadvantage of the ZOMEi tripod is that it's almost two full pounds heavier than the T-005KX at 3.7 pounds. I wouldn't consider this a lightweight travel tripod at this weight.
If you want something really light, you're going to have to pay for it, regardless of if it's made of aluminum or carbon fiber.
---
Ultra-portable lightweight tripod
3 – Joby GorillaPod
Some of you may not need a tripod that can extend to 60″. Especially if you can find something like a rock, wall, or tree to prop the tripod on.
Many of you have probably heard of the GorillaPod. The flexible arms have heavy-duty rubber grommets, allowing it to grip to a variety of surfaces. You can secure it to almost anything. You won't find a more versatile ultralight tripod.
This tripod is always in my pack – even when I don't want to carry my regular tripod, I'll have this one available because it's useful in places I cannot stabilize my other tripod. It's just over 2″ in diameter and 12″ long when folded.
The GorillaPod SLR Zoom w/ Ball head is capable of holding most DSLRs; the GorillaPod Hybrid will work with smaller mirrorless cameras while the GorillaPod Focus is made for larger pro DSLRs with larger lenses. My only complaint is that these don't use the Arca-Swiss plates that every other tripod uses; using this tripod requires changing out plates.
Update: Joby has recently released the GorillaPod 5K that does have Arca-Swiss plates so that you can easily swap out this tripod with other compatible tripods. It's slightly heavier and more expensive but adds convenience.
---
Lightweight tripods for deeper pockets
4 – Sirui T-025SK
If you're looking for ultralight and rugged, the best lightweight travel tripods are going to be made out of carbon fiber.
Carbon fiber has the following advantages over aluminum:
Lighter for the same dimensions
Resists temperature changes better (ever pick up an aluminum tripod in freezing temps?)
More durable and withstands more abuse
The new Sirui T-025SK is the successor to the highly-reviewed but discontinued T-025X. This tripod is almost identical to the T-005KX above, but it's made out of carbon fiber. It is just slightly longer folded and weighs negligibly less than the T-005KX, but you do get a more durable tripod.
---
5 – ProMaster XC525C
I wasn't willing to spring an extra $100 for a slightly lighter tripod even though it's made out of better material. I'm happy traveling with the Sirui T-005KX. However, you may have a different opinion on price. Leading is to another highly-reviewed carbon fiber lightweight travel tripod, the ProMaster XC525C.
Three things about this tripod:
It's heavier than the T-025SK by almost a pound (2.7 pounds total).
It's taller than the T-025SK (59″ not including the head).
It can convert to a full-size monopod, unlike the T-025SK.
So if the 52″ of the T-025SK isn't enough for you, you want monopod convertibility, and you don't mind the extra pound or $50, this is a great reliable travel tripod.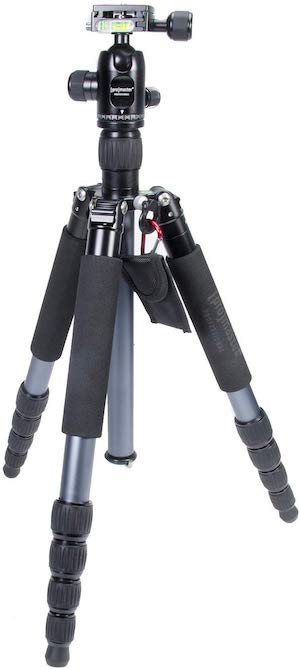 ---
Update to this initial post, May 2018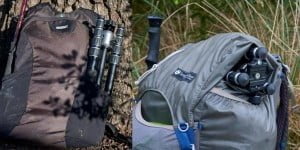 My Sirui tripod was starting to struggle after five years of hellish abuse. Although I have been very impressed with their products, I wanted to check out these MeFOTO guys as a replacement backpacking & travel tripod. I think I might be sold on them now; I recently reviewed one and highlighted the differences between their three main tripods. You can read more about the MeFOTO travel tripods here.