Disclosure: This post may contain affiliate links. I earn a small commission of product sales to keep this website going.
Fujifilm X & GFX cameras started including the ACROS film simulation in their digital film simulations in 2016, offering photographers a completely new black & white digital experience. The ACROS film simulation, based on their popular black & white film stock, comes in four flavors that might confuse people. What are those color filters?
Learn more about Fujifilm film simulations in a free online course – click here.
---
Color filters with black & white photography
Why use color filters for black & white photography? There's no color in the final image, so why does it matter?
It actually matters a lot.
Those colors still do pass through your lens before reaching the film or sensor. The overall brightness of those colors is recorded by the film, or sensor, as different shades of gray.
Say you're making a black & white photo of a scene with a deep green and a rich red. The colors are opposite each other on the color wheel, but they have the same "brightness." The resulting photo would be one similar gray tone, with hardly any tonal contrast at all, despite the high color contrast.


Reclaim that contrast by adding a color filter! That's what color filters for black & white photography are all about. Separating colors and adding contrast.

How color filters work
A color filter will "pass" its respective color and block opposite colors to varying degrees.
For our red-green example, the red filter passes the red color, making it appear relatively brighter. It blocks the greens, opposite of red, making those appear darker.
Not all colors are created equally, so you'll have different intensities out of different color filters. But the concept is the same and is what's important to understand about how color filters work.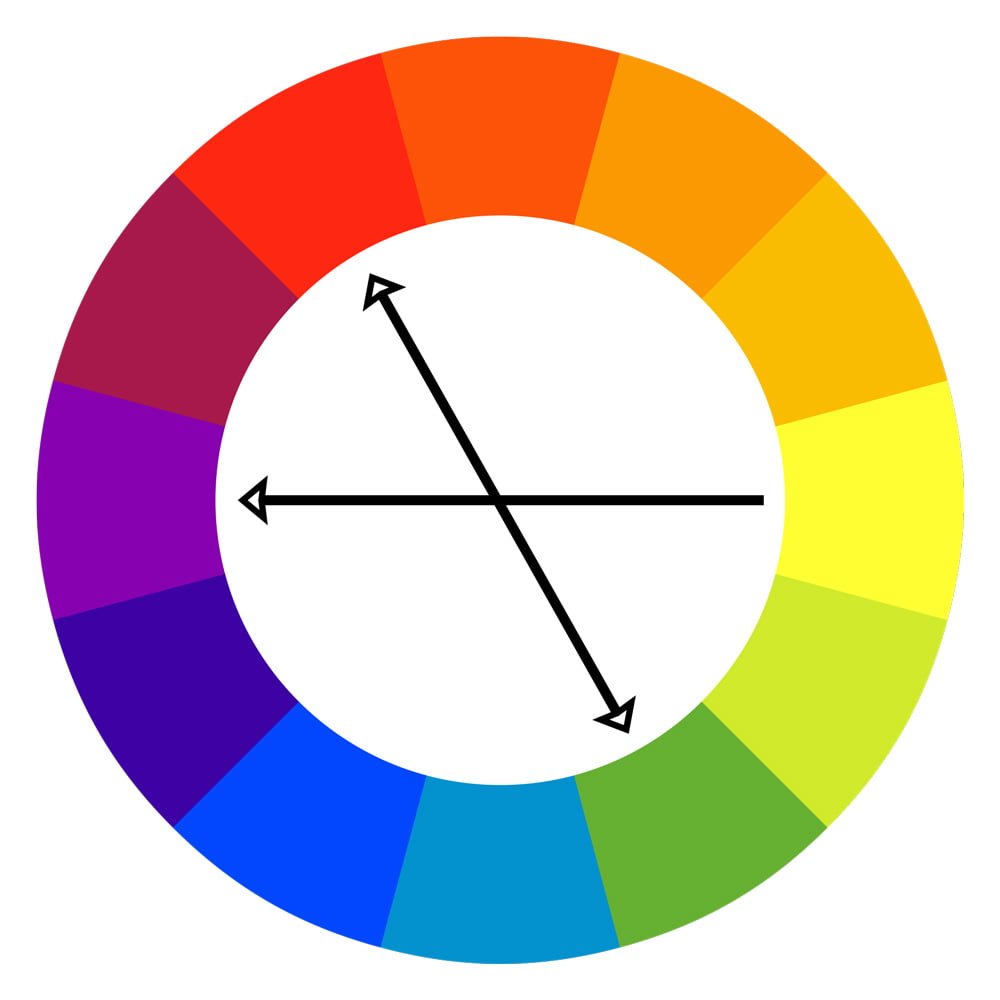 Film vs Digital filters
Traditional color filters were colored pieces of glass that you'd screw on to the front of your lens, affecting how the film recorded overall luminance of each color wavelength.
These kinds of filters don't really mesh well with the microscopic color filters that are already on top of your digital sensor to separate red, green, and blue.
Instead, many digital photographers recreate these filters in post-processing using digital equivalents. They capture the RAW file and then adjust the "grayscale tone" of each color that appears in the color version of the photo.
But why waste time on the computer doing this when Fujifilm gives us three popular filter options in the camera?
---
ACROS film simulation filters
All of the images you'll see below are RAW conversions of the ACROS simulations with no other tonal processing applied.
The ACROS film simulation has four options – ACROS STD (no color filter), ACROS+Yellow, ACROS+Red, and ACROS+Green.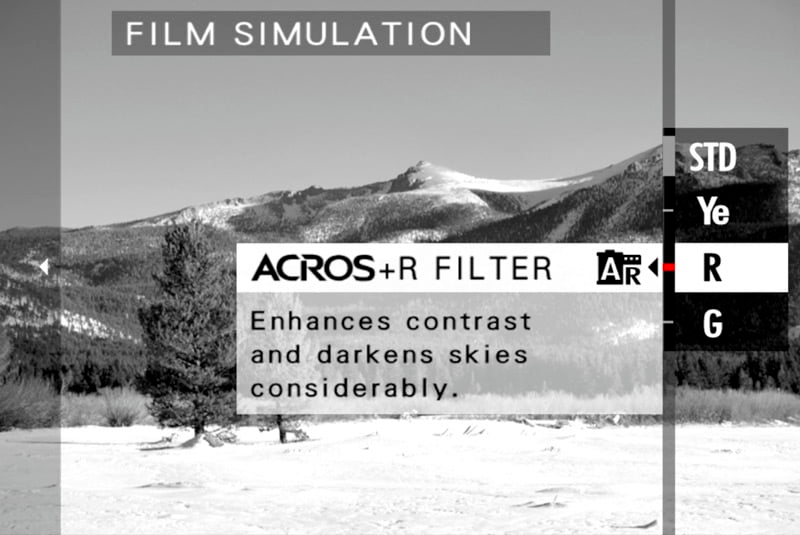 These filters will never be absolutely faithful renditions of what a glass color filter will do to black & white film, but they're pretty darn close and a great alternative to post-processing.
When do you use each filter? As mentioned above, use these filters to separate colors, adding contrast and depth to your black & white photos when regular ACROS won't do it.
Here's a chart of what the four different ACROS film simulation options do to different colors, taken from my free Fujifilm film simulation online class.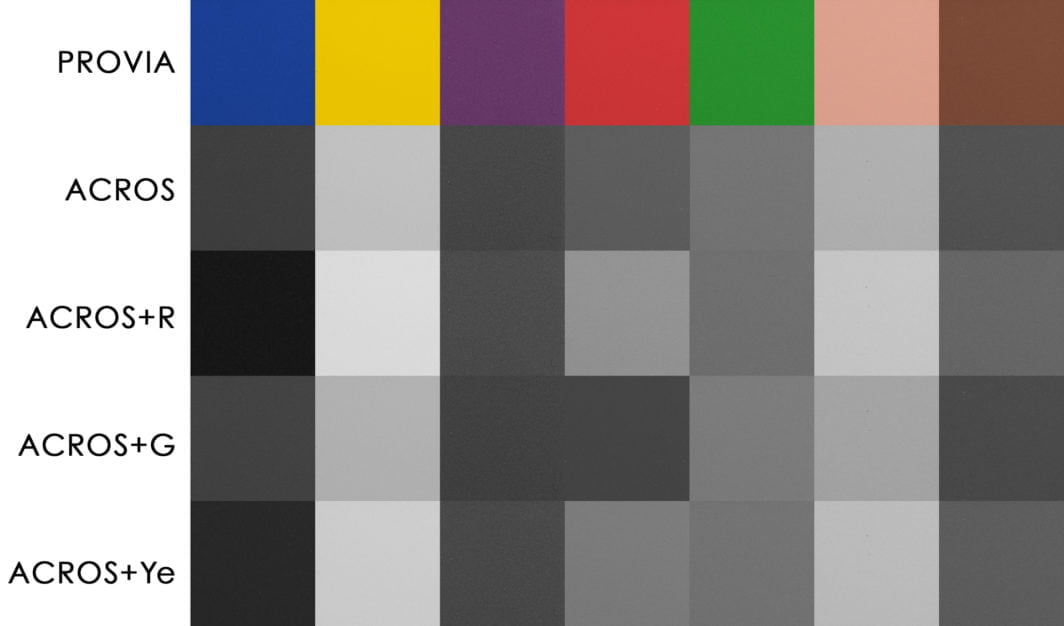 ---
ACROS+Red Filter
The red filter is especially popular for landscape & nature photography. This filter will separate the greens and reds found in flowers & foliage, brightening red flowers and darkening leaves. It will also darken blue skies, creating contrast with clouds.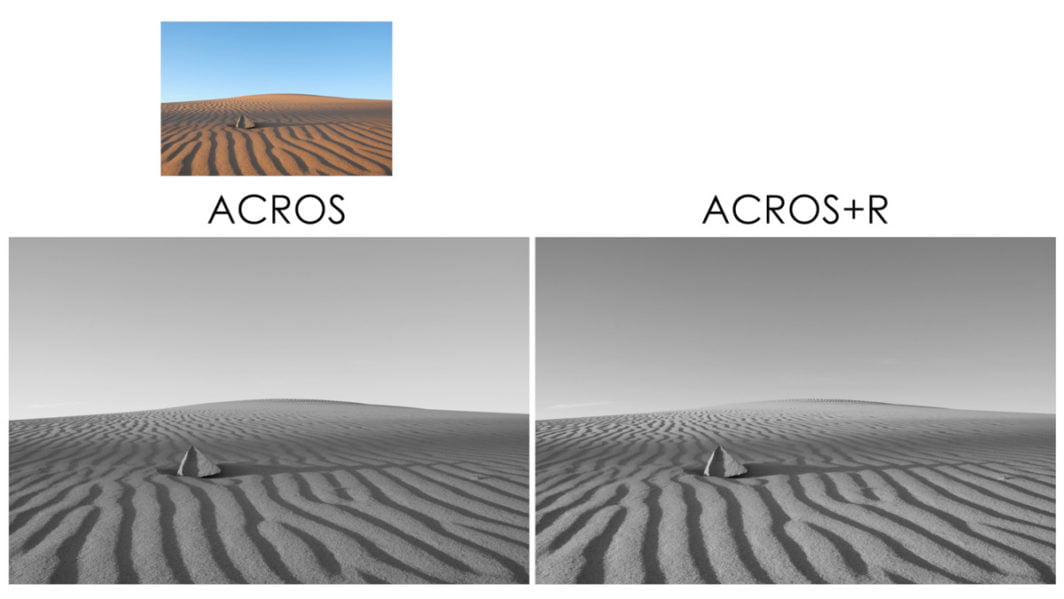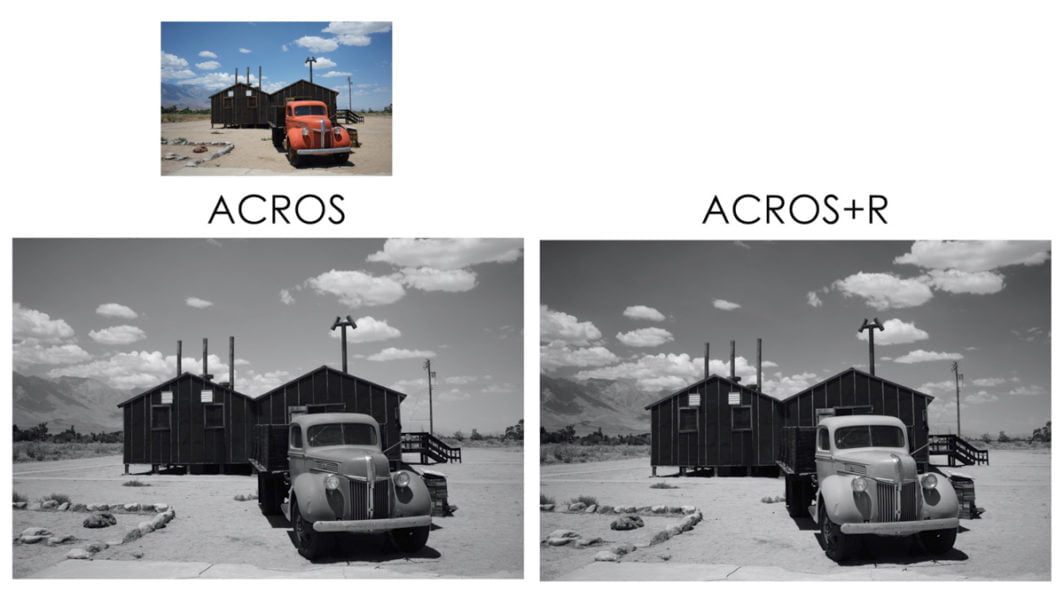 A red filter can also add contrast in urban photography, a popular genre used with the ACROS film simulation.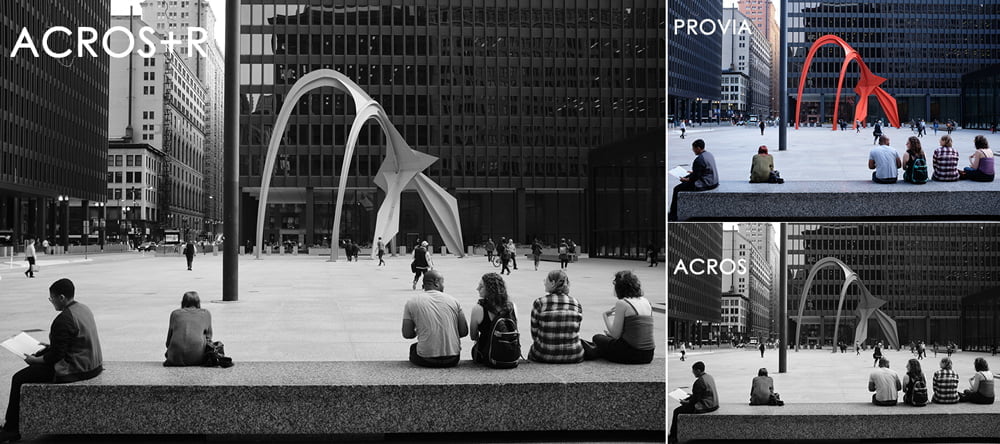 Just be careful with portraits – the red filter can lighten lips, especially those with red lipstick, for an unnatural look.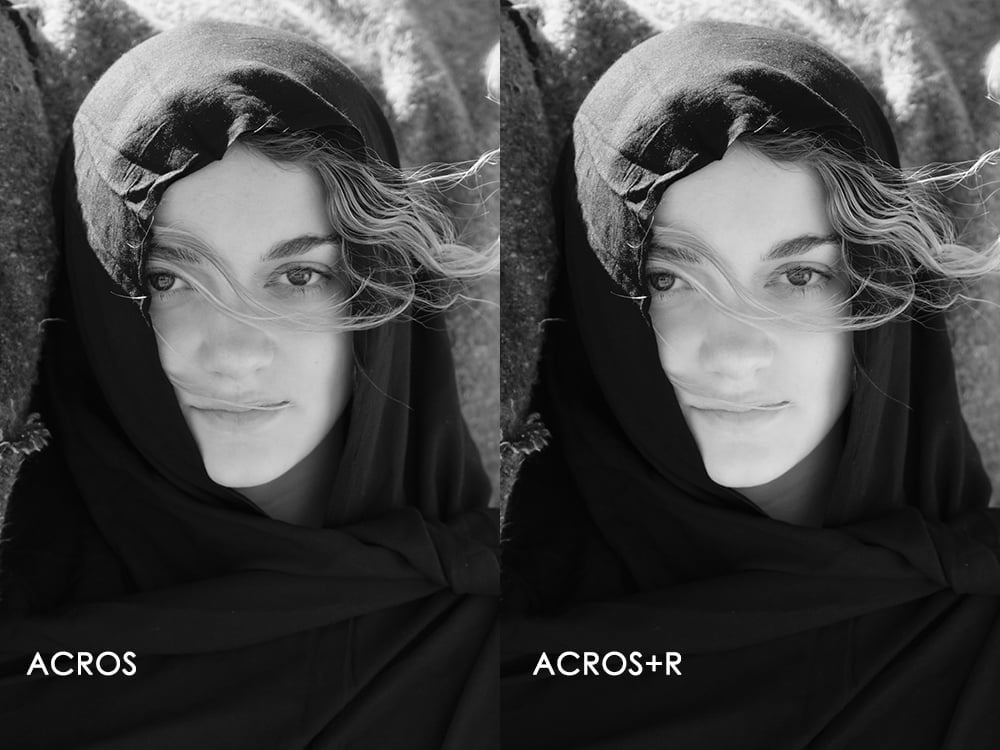 ---
ACROS+Green Filter
The green filter with ACROS doesn't have as much utility as the red filter, but it can make a world of difference in certain situations.
It will do the opposite of the red filter – instead of making reds brighter than greens, this makes the greens brighter than reds. This is the same relationship as regular ACROS – just accentuated with ACROS+G.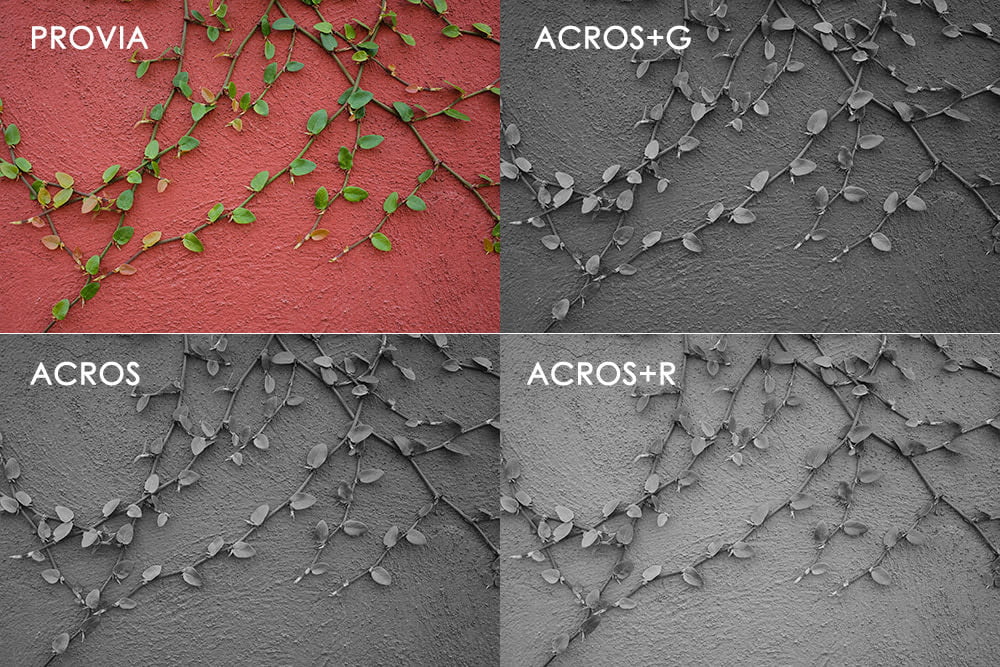 Green filters were traditionally used to lighten foliage. But you'll barely notice a difference in this with the ACROS green filter. It may even make your foliage darker if it has a yellow color cast.
The green filter is also sometimes used in portrait photography for creating rich texture in faces and providing contrast in facial features, a little more than ACROS by itself can do. It also helps cut reflections from lighting on the skin. Be careful though because the green filter can actually accentuate blemishes in blotchy skin.

---
ACROS+Yellow Filter
The yellow filter for the ACROS film simulation is kind of the "jack of all trades" or "I don't know which filter to use" filter.
You can see in the chart above that it will add contrast between the different colors, more than ACROS, but nowhere near the extent of the red filter, which can sometimes be too much. Think of it as a subdued red filter.
Many photographers will just use the yellow filter all the time to increase the contrast of their black & white photos, only going to red or green in exceptional situations.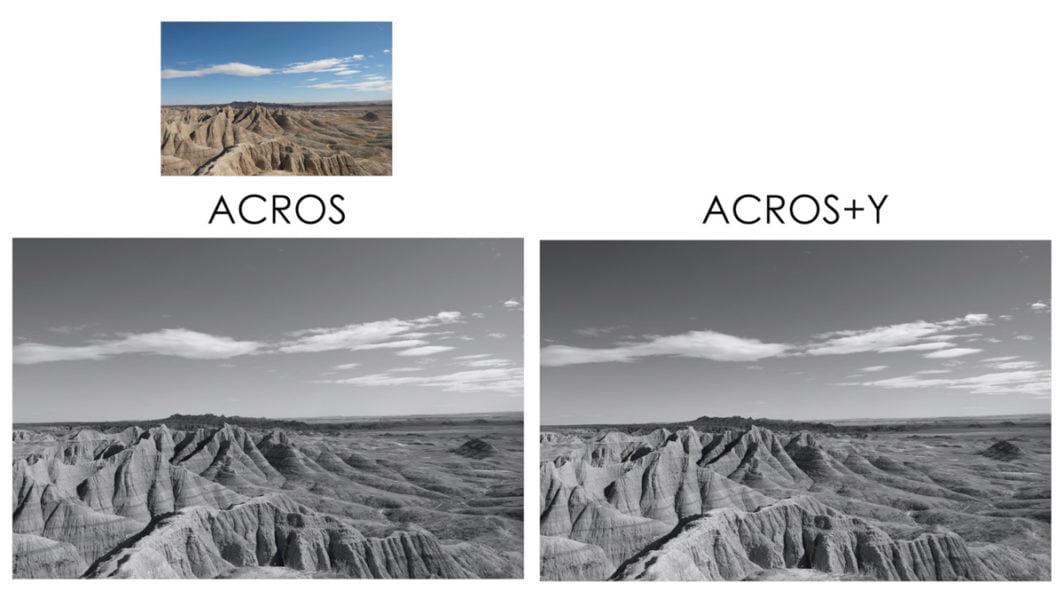 ---
What about white balance with ACROS?
Yes, your white balance will affect how the ACROS filters render your photos.
Leaving your white balance in AUTO is usually "good enough" when using ACROS, but you can really get creative by introducing manual Kelvin temperatures and white balance shifts.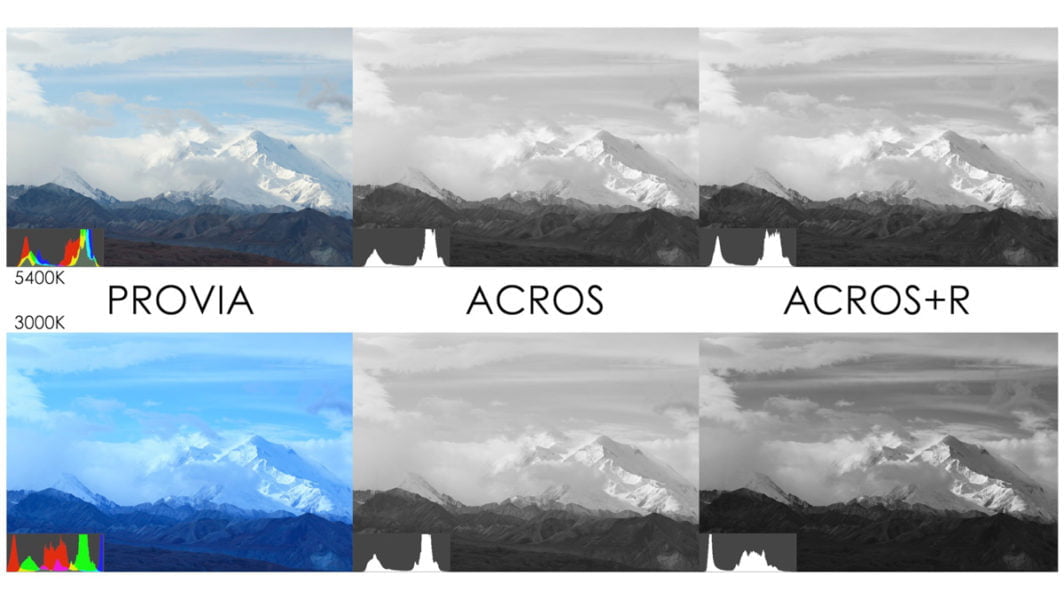 ---
How is ACROS different than Monochrome?
Monochrome is simply the PROVIA film simulation but stripped of all color. A straight black & white conversion of a color photo.
The ACROS film simulation was designed by the Fujifilm engineers to specifically emulate their black & white film. It has completely different characteristics than PROVIA in the way it handles tones & texture, especially in the shadows.
---
It's all about experimentation
Nothing beats going out to practice to really see what the different ACROS film simulation filters will do to your photos.
I hope that now you have an understanding of why and when to use each filter.
You can also try film simulation bracketing if you're unsure. This will create three different photos using three different filters with one press of the shutter.
For more ACROS color filter comparisons, a PDF download, film simulation quiz, and in-depth videos, check out my free Fujifilm Film Simulation Course. Yeah, it's free, and not even spammy like other free stuff! I designed this course to complement my main film simulation comparison post.